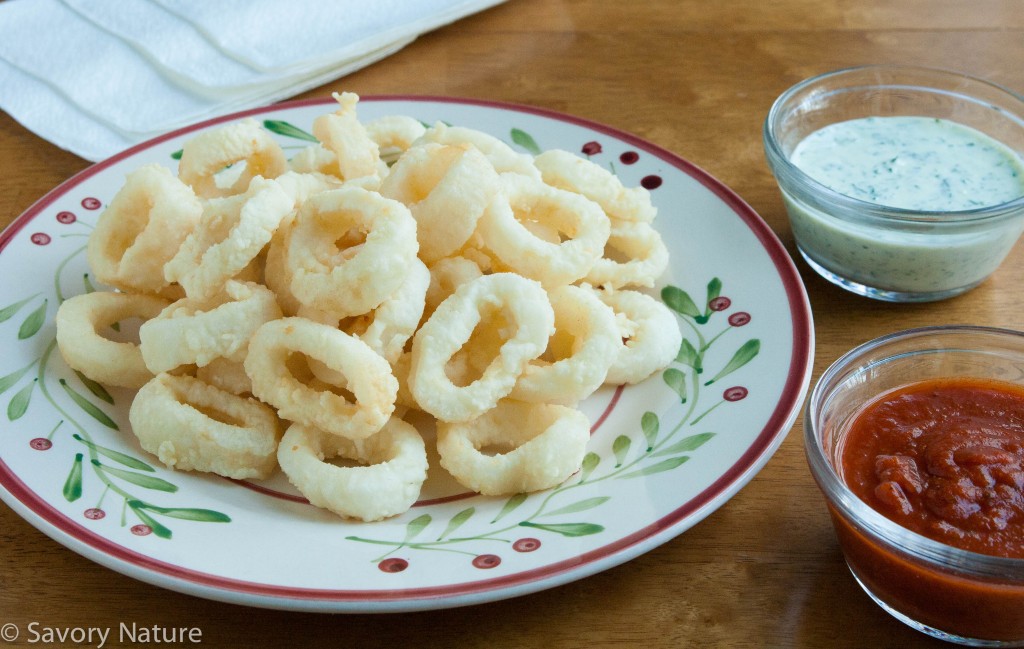 The classic Italian appetizer, Fried Calamari is easy to make gluten free and dairy free! Yay! Just a few substitutions and it's just as crunchy and delicious as the original version!
Substituting almond milk with lemon juice for buttermilk makes the Fried Calamari dairy free.
Sometimes calamari rings are soaked in buttermilk to tenderize them. Here I make the switch to an almond milk, lemon juice mixture that works every bit as well. You could use rice milk or soy milk as well.
Using a rice flour, cornstarch mix for the coating produces a wonderful light crunchy gluten free Fried Calamari!
I substitute a rice flour, cornstarch mixture for all purpose flour and the calamari fry up crunchy and tender. An added plus, gluten free flours absorb less oil than wheat flour and the baking powder helps resist oil absorption, too, giving a light crunchy crust. My kids are not squid or even seafood people and they loved these!
Fried Calamari – the Method
Simply soak them in the acidified almond milk about a half hour. Then gently dredge a couple at a time in the flour mix. The almond milk will help the flour adhere. Place into a strainer and when you have several coated, gently transfer them to the hot oil. Don't crowd the pan with too many. Stir gently and fry 3-4 minutes until they're a light golden brown. Remove to paper towels and keep warm in the oven while you finish frying the other batches.
Marinara sauce and an herb aioli are the perfect complements to the Fried Calamari.
Marinara sauce is the classic accompaniment. I just used a store-bought marinara sauce, but I also made an herb aioli sauce that really went over well with the crowd: just fresh parsley, garlic, salt and mayo thinned with a little almond milk – all processed in a mini-chopper. Easy and delicious!

Fried Calamari - Gluten Free, Dairy Free
Ingredients
Good high temperature cooking oil like safflower or rice bran oil
1 lb frozen squid rings, thawed, or fresh squid cut into rings
2 ½ cups almond milk
Juice of ½ a lemon
Herb Aioli Sauce
¼ cup mayonnaise
2 Tbsp almond milk
1 clove garlic
¼ cup loosely packed parsley leaves
¼ tsp salt
Flour Coating
1 cup white rice flour
½ cup cornstarch
1 tsp salt
1 tsp baking powder
Instructions
Submerge squid rings in almond milk/lemon juice mixture and refrigerate for about a half hour.
Preheat oven to 200 degrees F.
Heat 2-3 inches of oil in a large heavy pot to about 350 degrees F.
Mix rice flour, cornstarch, salt and baking powder.
Line a sheet pan with paper towels.
Once squid rings have soaked and oil is up to temperature, dredge rings a couple at a time in flour mixture, shake off excess and place in a strainer.
Repeat until you have a good amount in the strainer that will not crowd the pot and lower the strainer gently into the hot oil. Stir to separate the rings.
Fry 3-4 minutes stirring occasionally until golden brown and crispy.
Remove with strainer or slotted spoon to paper towel lined sheet pan and keep warm in oven.
Repeat with remaining batches.
To make herb aioli:
Place mayonnaise, garlic clove, parsley, almond milk and ¼ tsp salt in a mini-processor/chopper or blender and process until smooth. (Alternatively you can mince the garlic and parsley by hand and stir into mixture.)