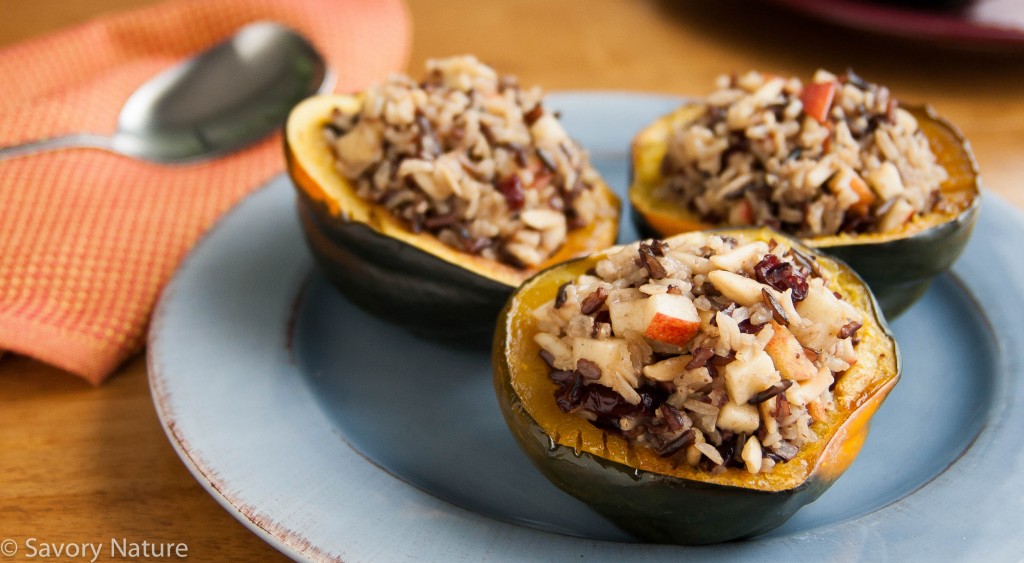 Rice Stuffed Acorn Squash halves make an elegant, healthy individual side dish. Here they're stuffed with a sweet, nutty rice mix with apple, dried cranberries and almonds that's as pretty and delicious as it is healthy.
The mix of three rices brings a variety of flavors and textures to these Rice Stuffed Acorn Squashes.
I've used this mixture of black, wild and brown basmati rices in another dish, a pilaf. I just love the mix of aromatic and nutty flavors. Black rice can be found in some grocery stores and Asian markets. It has a creamier texture than the wild rice. If you can't find it, you could replace it with more wild rice in the recipe, but it's worth a try looking for it. I know Kroger does carry it, in the rice section.
The Rice Stuffed Acorn Squashes can be prepared ahead and heated at mealtime.
It takes a bit of time to roast the squashes (about 30 min) and to cook the rices (about 1 hour). You can do that ahead of time, mix the stuffing and stuff the squashes. Then just refrigerate and reheat them in the oven at mealtime. (They'll take a bit longer to reheat if they're cold.)
The three rices along with the squash, fruit and nuts pack plenty of nutritional punch!
These stuffed acorn squashes have plentiful fiber, vitamins, minerals, essential fatty acids and protein in a super attractive presentation. They're a healthy vegan meal on their own or an exceptionally complete side dish … and super tasty, too!

Three Rice Stuffed Acorn Squash
Recipe type:
Side or Vegan Entree
Ingredients
4 acorn squash
½ cup brown basmati rice
¼ cup wild rice
¼ cup black rice
1 cup plus 7 ounces vegetable stock (for vegan version) or chicken stock, divided
¼ cup dried cranberries
½ cup toasted slivered almonds
1 Gala apple
2 Tbsp margarine
2 Tbsp maple syrup
1 tsp salt
freshly ground black pepper to taste
Instructions
Preheat oven to 400 degrees F.
Cook rices:
Rinse wild rice in a strainer.
Add wild rice to a saucepan with 1 cup vegetable or chicken stock.
Bring to a boil, turn down heat, cover and simmer 10 minutes.
Meanwhile, rinse black rice very well in a strainer.
After wild rice has cooked 10 minutes, add rinsed black rice to pan and simmer covered an additional 45 minutes until liquid is absorbed.
Meanwhile, rinse brown basmati rice in a strainer.
Add brown rice to 7 oz vegetable or chicken stock in another saucepan.
Bring to a boil, reduce heat, cover and simmer about 45 minutes until liquid is absorbed.
If liquid does not get fully absorbed, you can tilt the lid on either of the rice pots and cook a few more minutes to let the excess evaporate.
Let rices stand about 5 minutes after cooking.
Meanwhile, cut squashes in half from top to bottom and scoop out seeds.
Oil a sheet pan or line with parchment paper.
Place squash halves cut side down on sheet pan and bake at 400 degrees F for about 30 minutes until they're pierced easily with a fork.
Remove, turn over to cool enough to handle.
Meanwhile (I know I'm saying that a lot.), chop the apple into about ¼ inch dice.
Mix warm rice with margarine, maple syrup, salt, pepper, almonds, cranberries, and apple.
Mound stuffing in squash halves. Heat about 15 minutes in a 400 degree oven.