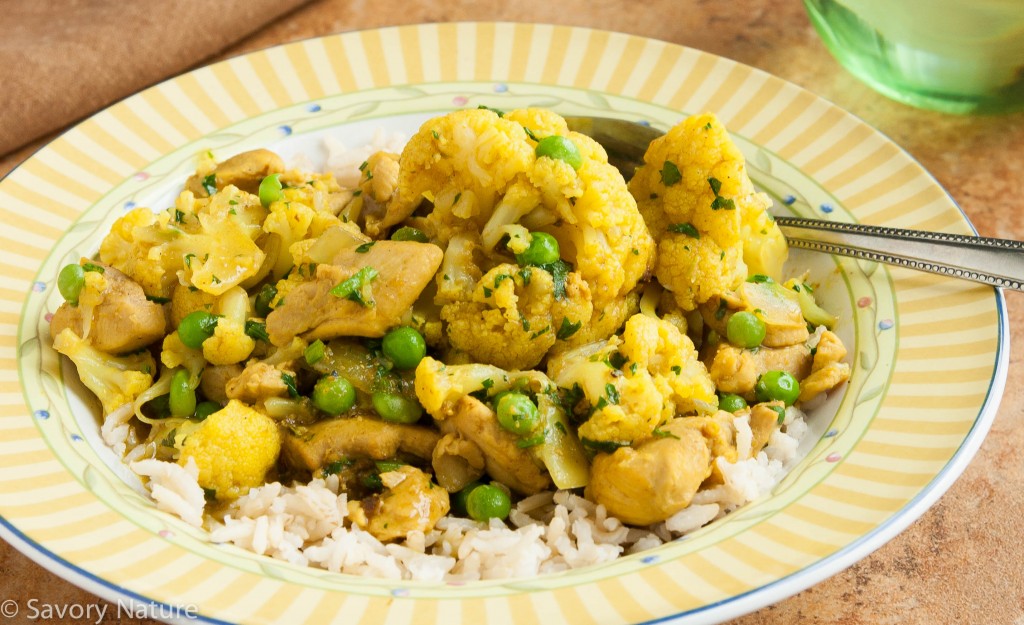 I just love curries, the warming aromatic spices and that beautiful color! This chicken curry with cauliflower and peas is steeped in a fragrant coconut milk broth seasoned with garlic, ginger, garam masala, cumin, coriander, cardamom and cayenne pepper for a little heat. Cilantro adds a fresh vibrant pop to the curry. I've used green cardamom pods here, and stripped the seeds out and ground them a bit, because ground cardamom tends to lose its flavor fairly quickly. If you can't find the pods, you could substitute ¼ tsp ground cardamom.
This chicken curry with cauliflower and peas comes together fairly quickly. Just brown the chicken. Cook the onion and spices. Then add the coconut milk and cauliflower and simmer about 20 minutes. The exotic flavors can really jazz up a week night meal!

Chicken Curry with Cauliflower and Peas
Ingredients
5 boneless skinless chicken thighs, trimmed of fat and cut into bite sized pieces
5 Tbsp olive oil, divided
1 yellow onion, chopped
2 tsp Garam masala
2 tsp ground cumin
2 tsp ground turmeric,
1 tsp ground coriander
8 green cardamom pods crushed, seeds scraped out, husks discarded, coarsely ground with a mortar and pestle
¼ tsp cayenne pepper
1 inch piece of ginger root, peeled and grated
1 large clove garlic, minced
1 head cauliflower, core removed and cut into florets
1 can light coconut milk
½ cup chopped cilantro leaves
1 cup frozen thawed green peas
Instructions
Heat 3 Tbsp olive oil over medium high heat in a large skillet.
Add chicken and brown, about 4 minutes.
Remove chicken and juices to a bowl.
Add 2 Tbsp oil and onion and sauté about 2 minutes until softened.
Add spices: garma masala through cayenne pepper, and ginger to pan and stir about 2 minutes to bloom spices.
Add garlic and cook about 30 seconds until aroma comes.
Add coconut milk and stir scraping bottom of pan to release browned bits and spices into broth.
Add chicken and juices back to pan.
Add cauliflower to pan, cover and simmer 10 minutes.
Uncover pan and simmer 8 minutes more to thicken slightly.
Add cilantro and peas and simmer about 1 more minute until peas are heated through.
Serve over rice.