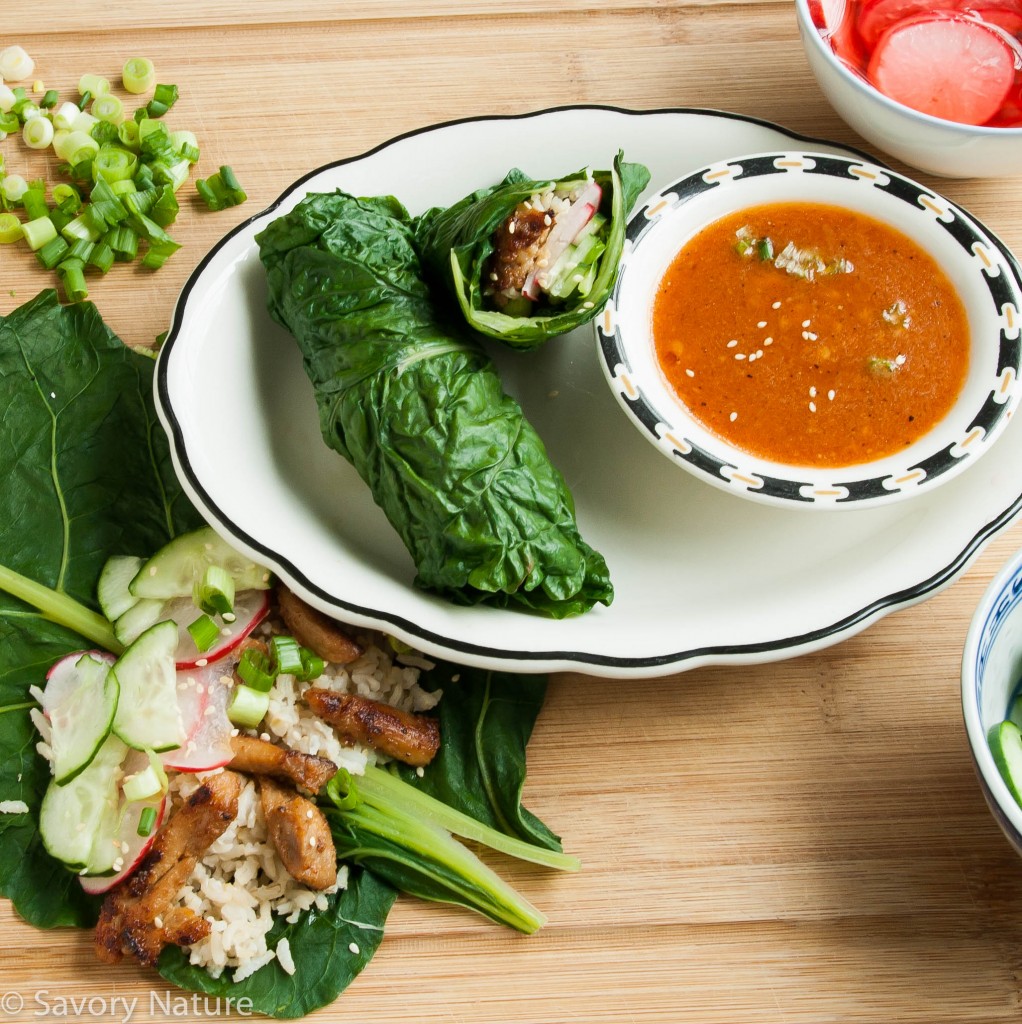 I'm a big fan of Cooking Light magazine. I've subscribed for years and we spotted a recipe for Korean lettuce wraps in the most recent issue. We tried them and boy, were they yummy! I had to do some substitutions in the marinade/sauce to make them soy free for my daughter, but I'll give a soy version, too. The sauce is wonderfully sweet and spicy and really makes the dish!
Cool cucumbers and pickled radishes complement the spicy chicken in these Swiss chard wraps.
In addition to cucumber, I made some quick pickled radishes as a nice crisp cooling note with just a little bit of bite. I had just gotten a bunch of Swiss chard in my produce box and decided to use chard leaves rather than lettuce for the wraps. They make for a more compact roll-up and they bring some extra nutrients, like vitamins A, C and K, several antioxidants, and beneficial phytonutrients called betalains.
Getting the chicken marinating first and then preparing the vegetables saves time.
While the chicken is marinating, you can get your radishes pickling, prep the chard leaves, which need to blanch, and chop the cucumber and green onion.
My family thoroughly enjoyed this recipe! I hope you do, too!

Korean Chicken Swiss Chard Wraps
Ingredients
4 ½ Tbsp chickpea miso (available at Whole Foods or online) (or gluten-free white/yellow miso if you're ok with soy)
3 Tbsp water
1 ½ Tbsp rice vinegar
1 ½ Tbsp Sriracha
6 Tbsp brown sugar
4 ½ Tbsp toasted sesame oil
3 large cloves garlic, minced
generous grind of black pepper
5 skinless, boneless chicken thighs (about 1 ¾ lbs)
3 Tbsp olive oil
1 Tbsp toasted white sesame seeds
1 cucumber
5 radishes
¼ cup water
¼ cup rice vinegar
1 Tbsp sugar
4 green onions, finely chopped
1 cup brown or white rice, cooked according to package directions
1 bunch Swiss chard (8 leaves)
Instructions
Whisk together first 6 ingredients: miso through pepper, until mixture is smooth.
Set 6 Tbsp aside in a small bowl for dipping sauce.
Trim chicken thighs of fat and slice about ¼ inch thick.
Toss chicken with remaining marinade in a bowl and refrigerate 1-2 hours.
Slice radishes thinly. (A mandolin works well.)
Combine ¼ cup water, ¼ cup rice vinegar and 1 Tbsp sugar in a bowl.
Stir to dissolve sugar and add radishes.
Cut cucumber in half along its length and then slice thinly. (Again a mandolin makes it easy.)
Chop green onions and cook rice.
To prepare the Swiss chard:
Wash well to remove any sand.
Bring a large pot of water to boil.
Chop stems off of leaves.
Turn each leaf so that woody side of stem is up and slice away the thick top surface of the stem going ⅓ to ½ way up the length of the leaf.
Put the leaves in the boiling water for 2 minutes using tongs to gently push them under the water.
Remove and when cool, pat dry with paper towels.
To cook the chicken:
Heat 3 Tbsp olive oil in a large skillet over medium high heat.
Remove chicken from marinade and place in skillet. Discard marinade.
Stir fry about 8 minutes until browned and cooked through.
Sprinkle chicken with sesame seeds.
To make roll-ups:
Place each leaf with the cut stem side up.
Spread some rice, chicken, cucumber, radish, green onion and a drizzle of the reserved sauce across each leaf near the stem end.
Fold sides of leaf over edges and roll up leaf from stem end.
Serve with extra dipping sauce.