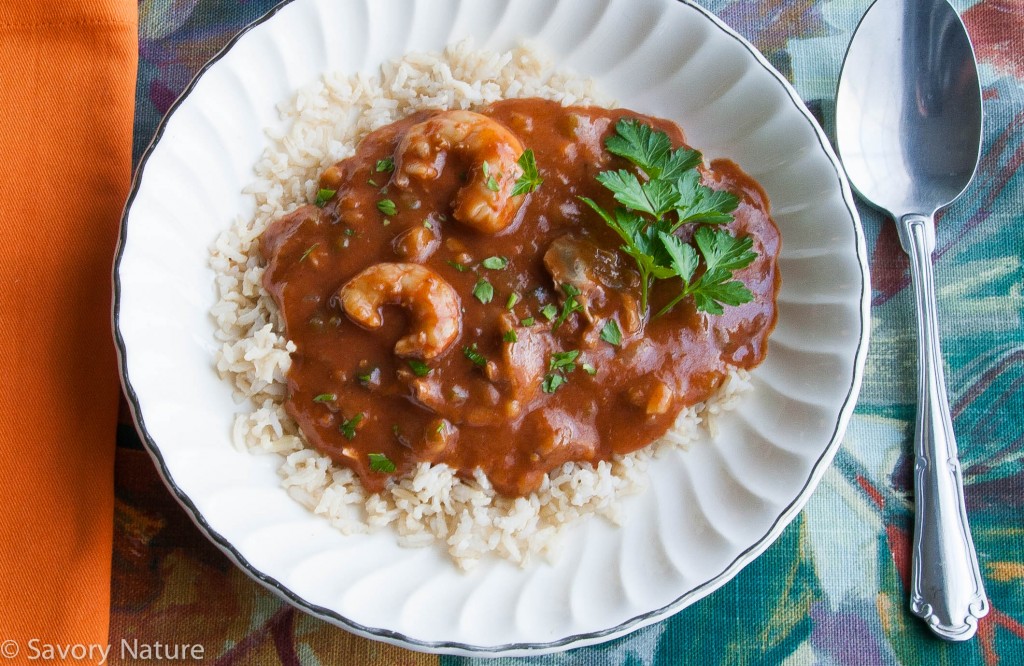 If you like spice and seafood, you'll love Etouffee! It has a Cajun/Creole origin and a nice well-rounded flavorful heat. Shrimp or crawfish are traditional, but crabmeat is sometimes used, too. This is my husband's recipe and it was inspired by a shrimp etouffee recipe at Simply Recipes. He's broken with tradition a bit with the addition of oysters. Feel free to choose whatever shellfish you like.
Etouffee means smothered in French, and the shellfish are smothered in a thick rich sauce and served over rice.
Etouffee starts with cooking a roux, a paste of flour and fat. Hubby's used sweet rice flour, which is also known as glutinous rice flour and is found at Asian markets. Sweet rice is my go-to flour any time I'm thickening with a roux. It behaves very much like wheat flour, although it tends not to brown as much. For the fat, he used a combination of canola oil and bacon fat to get a little bit of that smoked pork flavor, but use whatever fat you like.
A flavorful stock is made from the shrimp shells and some vegetables. A mixture of onion, poblano and jalapeno peppers, celery and garlic are cooked with the roux. The stock is slowly added while stirring. It may take about 10 minutes of whisking for the roux to smoothly incorporate into and thicken the stock, but it will. Just be patient and keep on stirring. Then crushed tomatoes are added to form a beautifully thick smooth sauce.
Warm up the seafood lovers in your home with some thick, spicy Etouffee!
Shrimp and Oyster Etouffee
Ingredients
1 ½ lbs of shell-on shrimp (shell, devein and reserve shells for stock)
8 oz jar of oysters (no shells)
1 large onion, chopped (skins reserved for stock)
1 poblano pepper, chopped (reserve top for stock)
6 garlic cloves, divided
2 celery stalks, divided
3 bay leaves
2 Tbsp canola oil, 2 Tbsp bacon fat (or your choice of fat)
½ cup sweet rice flour (also known as glutinous rice flour)
2 jalapeno peppers, seeded, deveined and chopped
2 tsp seafood seasoning like Old Bay
1 tsp ground cayenne pepper
1 Tbsp sweet paprika
Salt to taste
14.5 oz can crushed tomatoes
¼ cup chopped parsley
Instructions
To make the stock:
Pour 1 quart of water into a medium pot.
Add half the onion plus onion skin, top from the poblano pepper, 2 garlic cloves, chopped, 1 celery stalk, chopped and 3 bay leaves and reserved shells from shrimp.
Bring to a boil, reduce heat and simmer 45 minutes. Strain broth through a fine-meshed sieve into another pot or bowl.
To make the Etouffee:
Heat the oil/fat in a large pot over medium heat.
Stir in sweet rice flour and cook stirring about 10 minutes until it browns slightly.
Stir in the vegetables: ½ onion, poblano and jalapeno peppers, 1 stalk celery, 4 garlic cloves, all chopped.
At this point the roux may seize/clump. That's ok. Cook the vegetables stirring about 4 minutes until soft.
Slowly add 1 pint of the shrimp stock (you'll have some left for another use), stirring as you add it.
Add the seasonings: seafood seasoning, cayenne pepper, paprika and salt.
Continue to cook 10 minutes, whisking until all clumps are broken up and mixture is thickened.
Add crushed tomatoes, shrimp and oysters and simmer over low heat about 10 minutes until mixture is thick and shellfish are cooked.