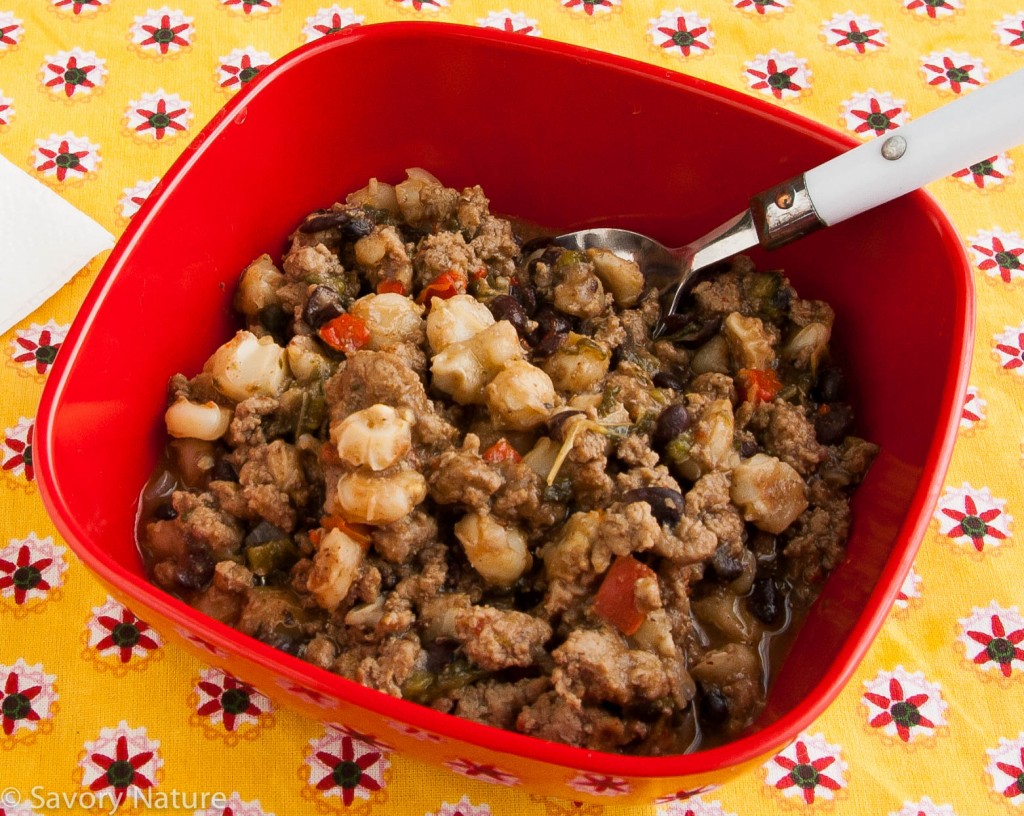 We hardly ever make chili the same way twice in my house. There are so many things you can vary: the liquid, the beans, the peppers, the meat. It's fun to play around with it and it's never boring. We eat white chili a lot since our daughter is allergic to tomatoes, although I make a good red chili with beets and carrot juice, too.
For this turkey chili, we've gone with a little white wine or beer plus chicken stock for the liquid, black beans and for an unusual twist, hominy. It's pleasantly sweet and adds a nice color and textural contrast. Poblano and red bell peppers add flavor and color.
This turkey chili makes a great weeknight winter meal. It's fairly quick to get it put together and then it just simmers on the stove, leaving you free for other tasks or just to relax for a bit.

Turkey Chili with Black Beans and Hominy
Ingredients
1¾ lb pkg lean ground turkey
3 ½ Tbsp olive oil, divided
1 medium onion
1 red bell pepper
1 poblano pepper
1 large clove garlic, minced
¼ cup white wine or beer
2 ½ cups chicken stock
1 ½ tsp salt, divided
freshly ground black pepper
1 Tbsp ground cumin seed
1 tsp ground coriander seed
1 tsp chili powder
¼ tsp cayenne pepper
15 oz can black beans, rinsed and drained
29 oz can hominy, drained
Instructions
Heat a large pot over medium high heat.
Add 2 Tbsp oil and turkey.
Season with ½ tsp salt and freshly ground pepper.
Cook stirring about 10 minutes to brown turkey.
Remove to a bowl.
Add 1 ½ Tbsp oil to pan.
Saute onion and peppers a few minutes until soft.
Add garlic and stir about 1 min until aroma comes.
Add wine and simmer scraping pan to release browned bits until reduced by half.
Add chicken stock and add turkey back to pan.
Add spices: 1 tsp salt through cayenne pepper.
Add black beans and hominy.
Bring to a boil, reduce heat and simmer, uncovered 30 – 45 minutes.