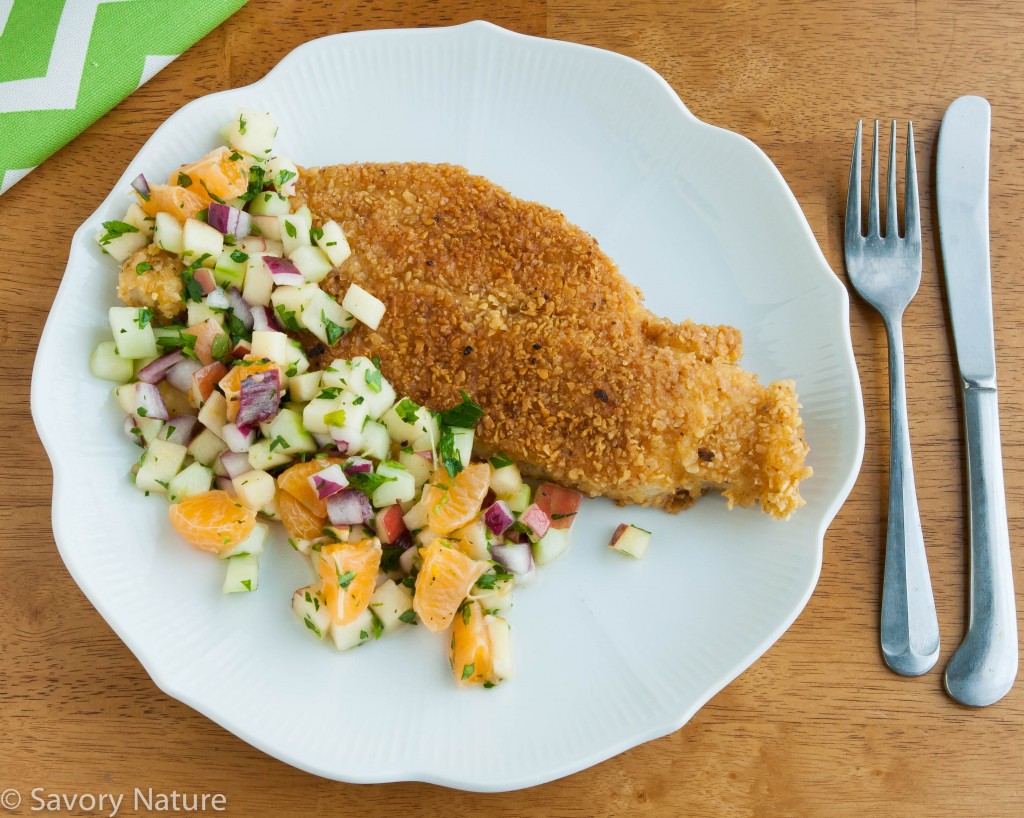 How do super-crunchy tortilla crusted catfish fillets with a tart sweet fruit and cucumber salsa sound? Good? Well, read on. I like to cook with what's in season and Clementines are in the stores now, so I figured why not? I love salsas with a sweet note and the crunchy apple and juicy Clementines really work together. The colors are nice, too.
Grinding tortilla chips is a great way to get a crunchy gluten-free coating and they go with the Tex-Mex theme of this dish, too. The catfish fillets are dipped in rice flour, then egg, then the tortilla crumbs, which stick nicely to the fillets and form a perfect crunchy crust when pan-fried. A heavy skillet like cast iron gives a nice even heat to uniformly brown the crust. Use a medium to medium high heat. You don't want it scorching hot or the crust will tend to burn (been there/done that 🙁 ).
The American Heart Association recommends eating fish once to twice a week. This Tortilla Crusted Catfish with Apple, Clementine, Cucumber Salsa is a tasty way to get those omega-3 fatty acids!

Tortilla Crusted Catfish with Apple Clementine Salsa
Ingredients
Salsa
2 Tbsp canola oil
¼ cup rice vinegar
1 Tbsp honey
¼ tsp salt
freshly ground black pepper
1 small apple, diced
½ a cucumber, peeled, seeded and diced
2 Clementines, peeled, sections separated and sliced in half
½ cup finely chopped red onion
¼ cup finely chopped parsley (or cilantro if you prefer)
1 jalapeno pepper, seeded, deveined and finely chopped (optional)
Catfish
4 catfish fillets
⅔ cup rice flour
1 tsp salt
1 tsp paprika
1 tsp cumin
freshly ground pepper
2 eggs
1 ½ cups tortilla chip crumbs (the easiest way to make these is to grind tortilla chips in a mini chopper or mini blender)
Instructions
For the salsa:
Mix the dressing ingredients: canola oil through black pepper in a small bowl.
Mix remaining ingredients in a medium bowl and toss with the dressing.
For the catfish:
Preheat oven to 200 degrees F.
Rinse fish and dry with paper towels.
Get 3 shallow bowls.
In 1 bowl combine the rice flour and seasonings: salt through pepper.
In another bowl whisk the eggs until uniform.
In the third bowl, place the tortilla crumbs.
Heat 3 Tbsp oil over medium to medium high heat in a heavy skillet (cast iron works great).
Dredge fish first in flour mixture, then in egg and then in tortilla chip crumbs pressing them on to the fish.
Cook in the heated skillet about 4 minutes per side covered until crust is browned and fish flakes when cut.
If you need to do them in batches or even one at a time, just keep the ones that are done warm in the oven while you finish cooking them.