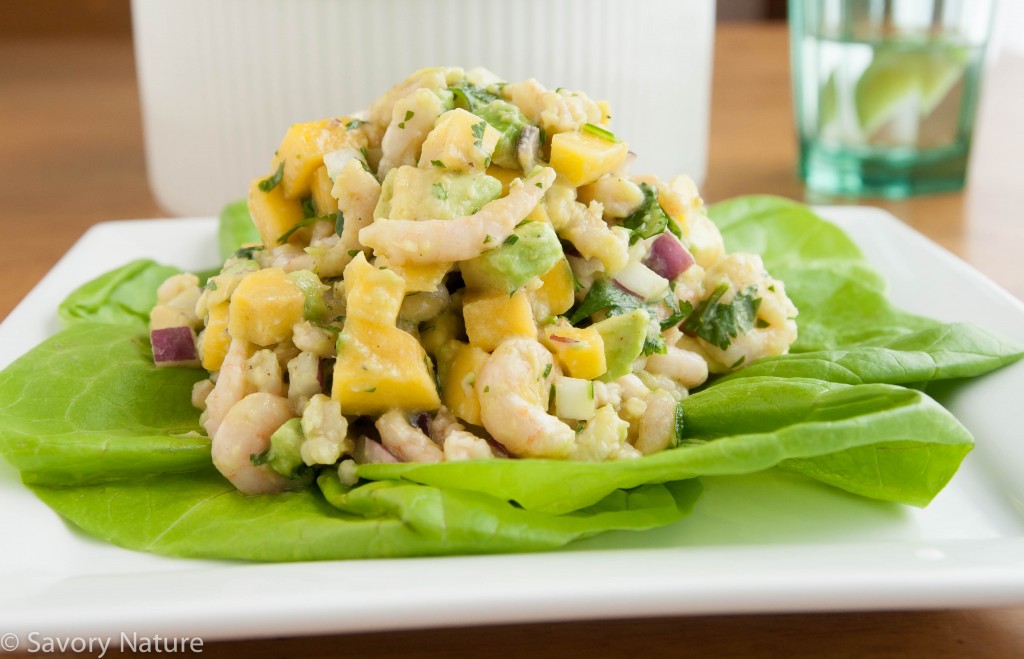 I'm snowbound today, as many of us in the U.S. have been this winter, and I felt the need for something bright and fresh to remind me that spring is indeed around the corner. This Mango Avocado Shrimp Salad fit the bill perfectly! It's got a little Tex Mex flavor with cilantro and just a touch of cumin. The colorful mango, avocado and red onion make it as pretty as it is delicious!
Using cooked salad shrimp makes the salad quick and easy to prepare. Just a little chopping, mixing and you're done.
This Mango Avocado Shrimp salad would be great for lunch or brunch guests or if you're just in the mood for something special. Serve it with Bibb lettuce for wraps or as a sandwich filling.

Mango Avocado Shrimp Salad
Ingredients
12 oz cooked frozen salad shrimp, thawed
1 ripe mango
2 avocados
½ cup finely chopped red onion
¼ cup finely chopped cilantro
¼ cup canola or other light flavored oil
Juice of 1 lime
2 Tbsp rice vinegar
1 Tbsp honey
½ tsp salt
freshly ground black pepper to taste
½ tsp ground cumin seed
Instructions
Blot shrimp dry with paper towels.
Peel mango and scoop out halves of avocados.
Chop mango and avocado into ¼ to ½ inch cubes.
Put shrimp, mango, red onion and cilantro in a large bowl.
Mix dressing ingredients: oil through cumin, and stir well.
Pour dressing over shrimp mixture and toss to combine.
Add avocado to shrimp mixture and toss again lightly to combine.
Serve with Bibb or Iceberg lettuce for wraps or as a sandwich filling.