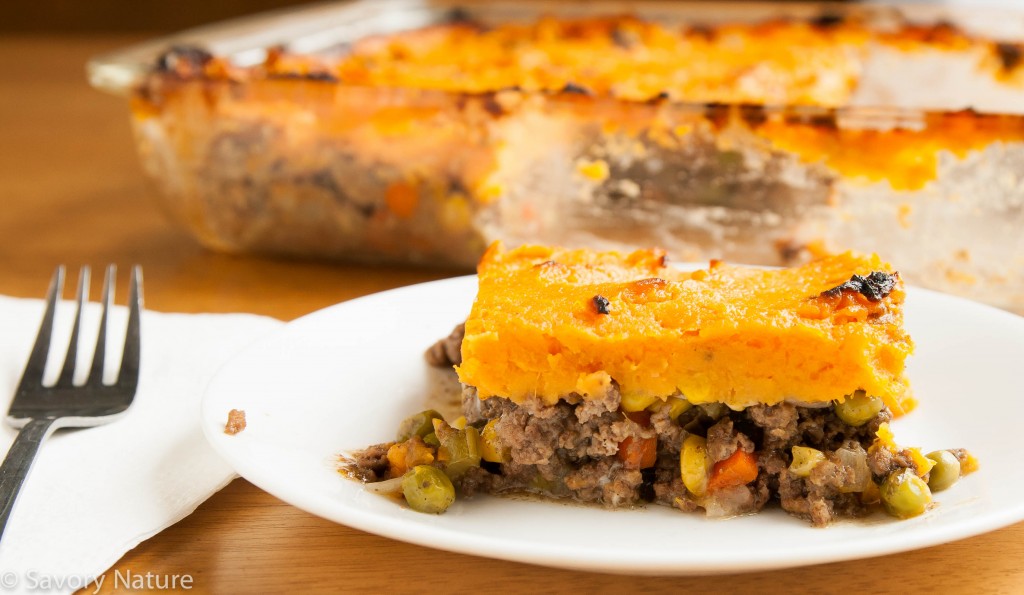 Can you say comfort food?! What's more satisfying than the classic Irish casserole, Shepherd's Pie? The pie is usually topped with mashed white potatoes, but sweet potatoes add color, flavor, nutrients and they're so creamy and delicious.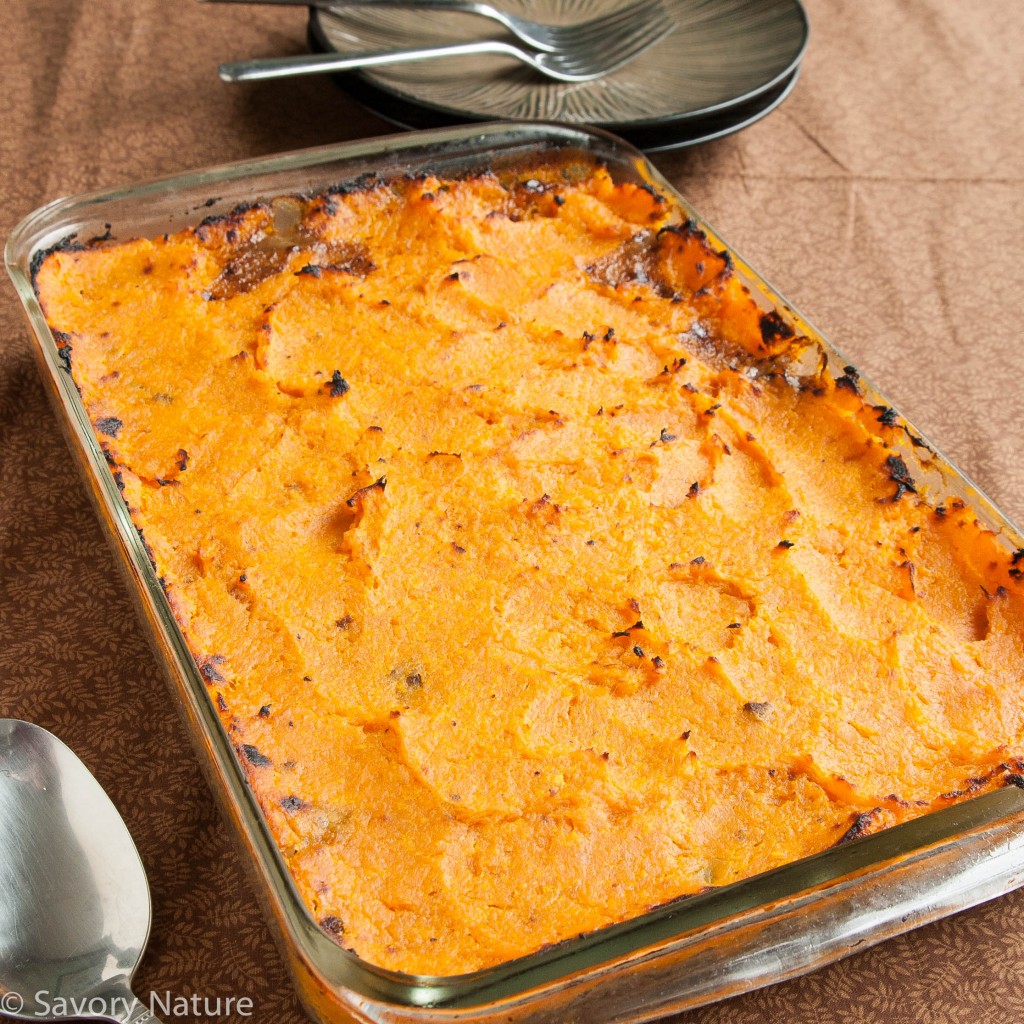 Given that I was changing up the topping for the Shepherd's Pie, I decided to use some different spices than the typical Worcestershire. Cinnamon and cloves may seem a little strange in a meat pie, but I guarantee you they're wonderful in this dish. They're not overpowering- just a hint of their floral flavors. And the hot paprika gives a nice subtle heat. The robust meat filling is immersed in a thick rich wine and stock sauce and loaded with vegetables for a healthy tasty eye-pleasing dish.
This Sweet Potato Shepherd's Pie recipe makes an ample number of servings, but don't expect much in the leftover department. There will be lots of requests for seconds!

Sweet Potato Shepherd's Pie
Ingredients
Filling:
3 Tbsp extra virgin olive oil, divided
1 medium onion, chopped
2 celery stalks, chopped
½ cup chopped carrot
2 cloves garlic, minced
2 lbs lean ground beef
¼ tsp ground cloves
½ tsp ground cinnamon
1 tsp hot paprika
1 tsp salt
freshly ground pepper to taste
½ cup white wine
2 Tbsp sweet rice flour
1 cup beef stock
1 cup frozen peas, thawed
1 cup frozen corn, thawed
Topping:
2 ½ pounds sweet potatoes (about 3 sweet potatoes)
⅓ cup margarine
½ tsp salt
freshly ground pepper
Instructions
Preheat oven to 400 degrees F.
For the sweet potato topping:
Pierce sweet potatoes in a few places and microwave on high about 12 minutes, turning over after 6 minutes, until easily pierced all over with a fork.
Cut in half lengthwise and allow to cool enough to handle.
Scoop out sweet potatoes into a bowl.
Add ½ tsp salt, black pepper and ⅓ cup margarine and mash well.
For the filling:
While the sweet potatoes are cooking, heat a large skillet over medium to medium high heat.
Add 1 ½ Tbsp olive oil and onion, celery and carrot.
Cook stirring occasionally about 10 minutes until somewhat softened.
Add garlic and cook just about 30 seconds until aroma comes.
Remove to a bowl.
Add remaining 1 ½ Tbsp olive oil and ground beef.
Sprinkle spices: cloves, cinnamon, paprika, salt and pepper over beef.
Break up ground beef and stir until all browned.
Add ½ cup wine and boil until almost all the wine is gone.
Sprinkle sweet rice flour over beef and stir to combine.
Add beef stock and simmer, stirring until thickened.
Remove from heat and stir in onion mixture and corn and peas.
To assemble the Shepherd's Pie:
Grease a 13 X 9 inch casserole with margarine and pour meat mixture into casserole.
Spread evenly and top with mashed sweet potatoes pressing them against the edge of the casserole dish.
Bake at 400 degrees F 20 minutes.
Turn oven up to broil and broil about 6 minutes until top is browned in places. Keep an eye on it to make sure it doesn't burn.
Let casserole set 10 minutes before serving.