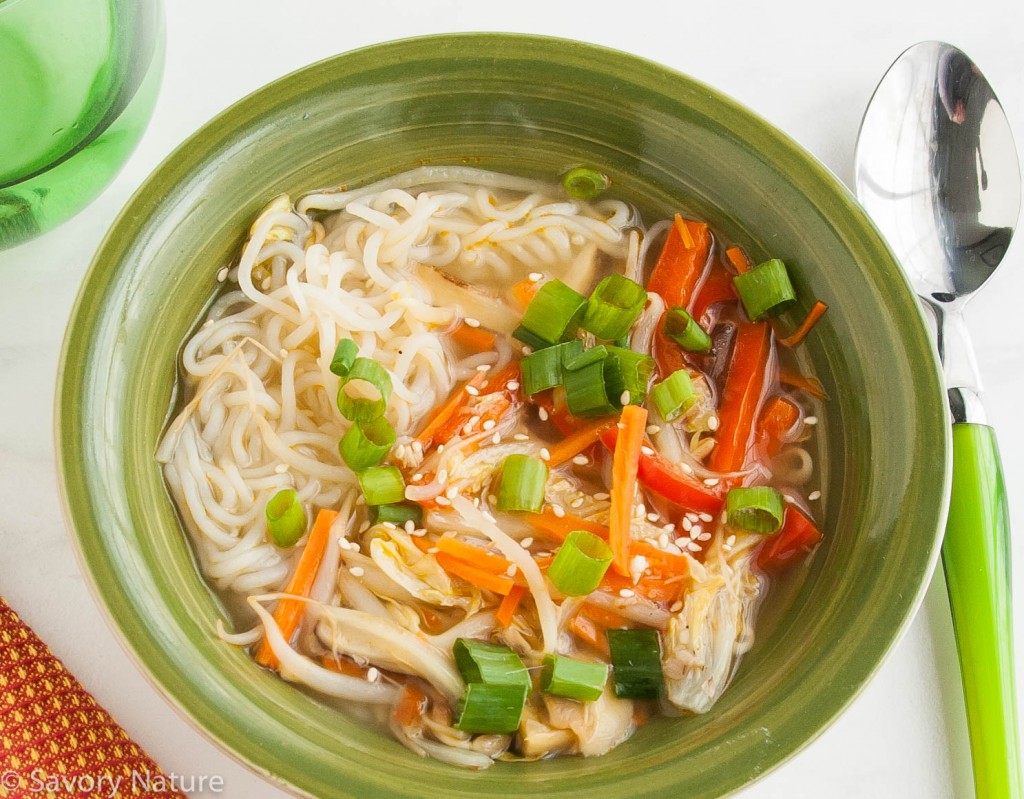 Have you ever heard of Shirataki noodles? My husband discovered them recently near the tofu in the produce area of the grocery store. They come in water in a bag and are ready to eat. They have a really nice texture, but their main claim to fame is they're very low in carbohydrates. They're made from the konjac yam and are very high in fiber and low in calories. Shirataki noodles are neutral tasting and take on the flavors of whatever sauce or broth they're in well.
Shirataki noodles are very versatile.
You could use Shirataki noodles in a noodle salad or rolls, as the base for a stir fry or as I have here in a hot soup. These Shirataki noodle bowls are loaded with vegetables and the broth infused with Oriental flavors and just a little bit of heat is so good! The chopping takes a little bit of time, but the dish cooks very quickly. It's definitely within reach for a weeknight meal and would be great for a meatless Monday.

Shirataki Noodle Bowls
Ingredients
Two 8 oz packages shirataki noodles, rinsed and drained (The noodles are very long. You may wish to slice them in half or quarters.)
2 Tbsp olive oil
¼ tsp crushed red pepper flakes
½ red bell pepper, sliced thinly
1 carrot, sliced in matchsticks
6 oz mixed oriental mushrooms, such as shiitake and oyster
2 cloves minced garlic
1 inch piece of ginger, peeled and grated
1 cup bean sprouts, rinsed and drained
1 ½ cup chopped Napa cabbage
4 green onions
1 Tbsp toasted sesame seeds
1 stalk lemon grass
16 oz vegetable or chicken stock
Juice of 1 lime
2 Tbsp chickpea miso (I use this because of soy allergy, but regular light miso could also be used.)
2 Tbsp fish sauce (if you'd like to keep this vegan, substitute 1 more Tbsp chickpea miso and 1 Tbsp dry sherry)
1 tsp sesame oil
½ tsp salt
freshly ground black pepper to taste
16 oz water
Instructions
Cut the lemon grass into 4 inch sections. Slice the sections in half lengthwise. Tap on it with the back side of a knife to bruise it. Wrap up the pieces of lemon grass in a piece of cheesecloth and tie the ends.
Whisk stock, miso, fish sauce, sesame oil, salt and pepper together.
Heat 2 tbsp oil over medium high heat in a large pot.
Add crushed red pepper flakes, red bell pepper, carrot and mushrooms as well as the bottom white ends of the Napa cabbage.
Saute about 5 minutes until starting to soften.
Add grated ginger and sauté about a minute.
Add minced garlic and sauté about 30 seconds to a minute just until aroma comes.
Add stock mixture to pan and scrape bottom of pan with a wooden spatula to release browned bits.
Add water to pan and lemon grass packet.
Bring to a boil and then reduce heat and simmer 5 minutes.
Add bean sprouts, Napa cabbage, and return to a simmer and simmer one minute.
To serve divide noodles among bowls and ladle soup over them or if you prefer you can just add the noodles to the pot when you add the bean sprouts and Napa cabbage.
Sprinkle bowls with green onion and sesame seeds.