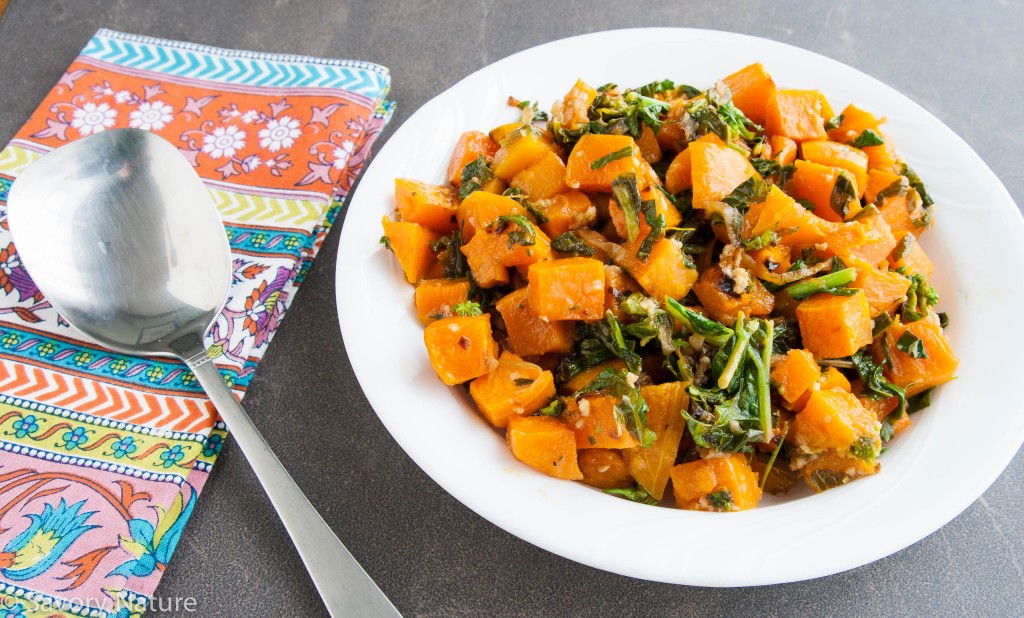 Have you ever had broccoli rabe? It's also known as rapini and has a slightly bitter taste. The buds look somewhat like broccoli florets but they don't get as big. The leaves and buds are wonderful quickly sautéed. Here I've paired it with some sweet roasted butternut squash. The sweet and bitter earthy flavors complement each other really nicely. A little wine ties it all together.
Try this Roasted Butternut Squash and Broccoli Rabe while both are in season!
Butternut squash and broccoli rabe are both in season fall through spring, so now is a great time to enjoy this colorful out of the ordinary side dish.

Roasted Butternut Squash and Broccoli Rabe
Ingredients
For the squash:
1 medium butternut squash
3 Tbsp margarine, melted
2 Tbsp brown sugar
½ tsp salt
For the broccoli rabe:
1 medium yellow onion, sliced thinly
2 garlic cloves, minced
1 ½ Tbsp olive oil
1 bunch broccoli rabe
sprinkle of salt
½ cup white wine
Instructions
For the squash:
Preheat oven to 400 degrees F.
Peel squash, chop off ends and slice in half lengthwise.
Scoop out seeds and discard. Then chop into ½ to ¾ inch cubes.
Place squash in a large bowl.
Combine melted margarine, brown sugar and ½ tsp salt and pour over squash. Toss until squash is well coated.
Line a sheet pan with foil and spread squash in pan.
Roast 30 minutes at 400 degrees F until squash is fork tender.
For the broccoli rabe:
Wash broccoli rabe and tear leaves and buds from larger stems. Discard large stems.
Chop broccoli rabe into about 1 inch pieces.
When squash has been roasting 15 – 20 minutes, saute onion in 1 ½ Tbsp oil over medium heat until starting to brown, about 10 minutes.
Add broccoli rabe, sprinkle with salt and sauté until wilted, about 2 minutes.
Add garlic.
Saute about 30 seconds until aroma comes.
Add wine and simmer until reduced to about 2 Tbsp.
Add squash and toss to combine and heat through.