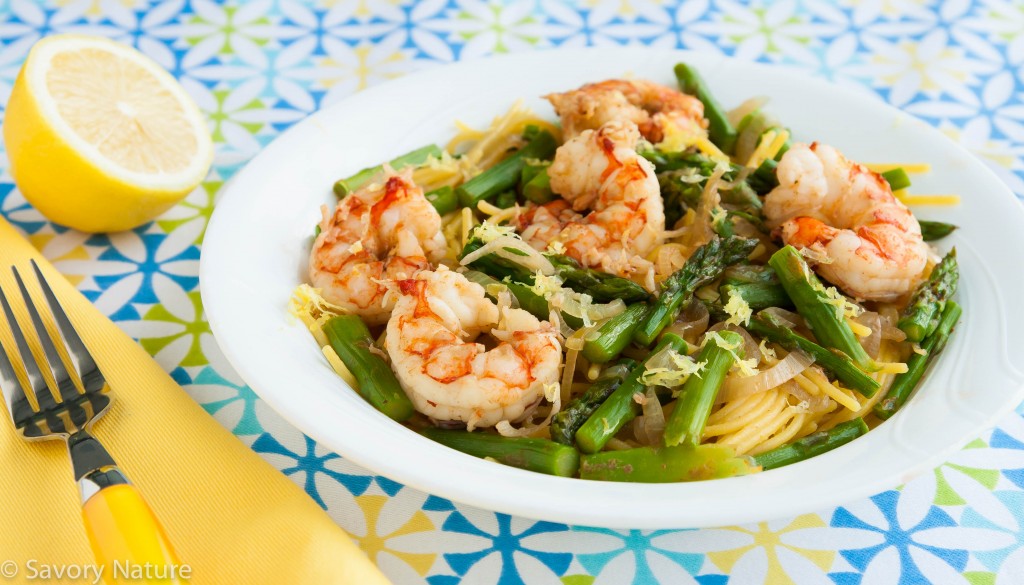 Don't you just love it when the asparagus shows up in the grocery stores? You know that spring is here! I love it steamed with a little lemon butter, but it's wonderful incorporated in pasta dishes, too.
This shrimp and asparagus pasta dish is so quick and easy. The flavors are simple, yet so good! It cooks just a short time so the asparagus is still bright green and crisp/tender and the shrimp is succulent.
This shrimp and asparagus pasta makes a tasty fancy week night meal. Enjoy it now while asparagus is in season!

Shrimp and Asparagus Pasta
Ingredients
1 large shallot, thinly sliced
1 ½ Tbsp margarine (or butter if you prefer)
2 tsp seafood seasoning, such as Old Bay
2 garlic cloves, minced
One 8 oz bottle of clam juice
½ tsp salt
freshly ground black pepper to taste
1 bunch asparagus (about 1 lb), ends trimmed, and cut into bite-sized lengths.
1 ½ lb extra large shrimp (21-25 count), peeled and deveined
Juice and grated zest of half a lemon
10 oz gluten free spaghetti, cooked al dente
Instructions
Melt margarine in a large skillet over medium heat.
Add shallot and seafood seasoning and sauté 1-2 minutes until softened.
Add minced garlic and sauté about 30 seconds until aroma comes.
Add clam juice, cover, turn up heat and bring to a boil.
Add asparagus and shrimp, cover, bring back to a boil and cook 2-3 minutes until asparagus is fork tender and shrimp is cooked through.
Add lemon juice.
Toss cooked pasta with shrimp asparagus mixture and heat through.
Divide between 4 shallow bowls and sprinkle with grated lemon zest.
Serve immediately.