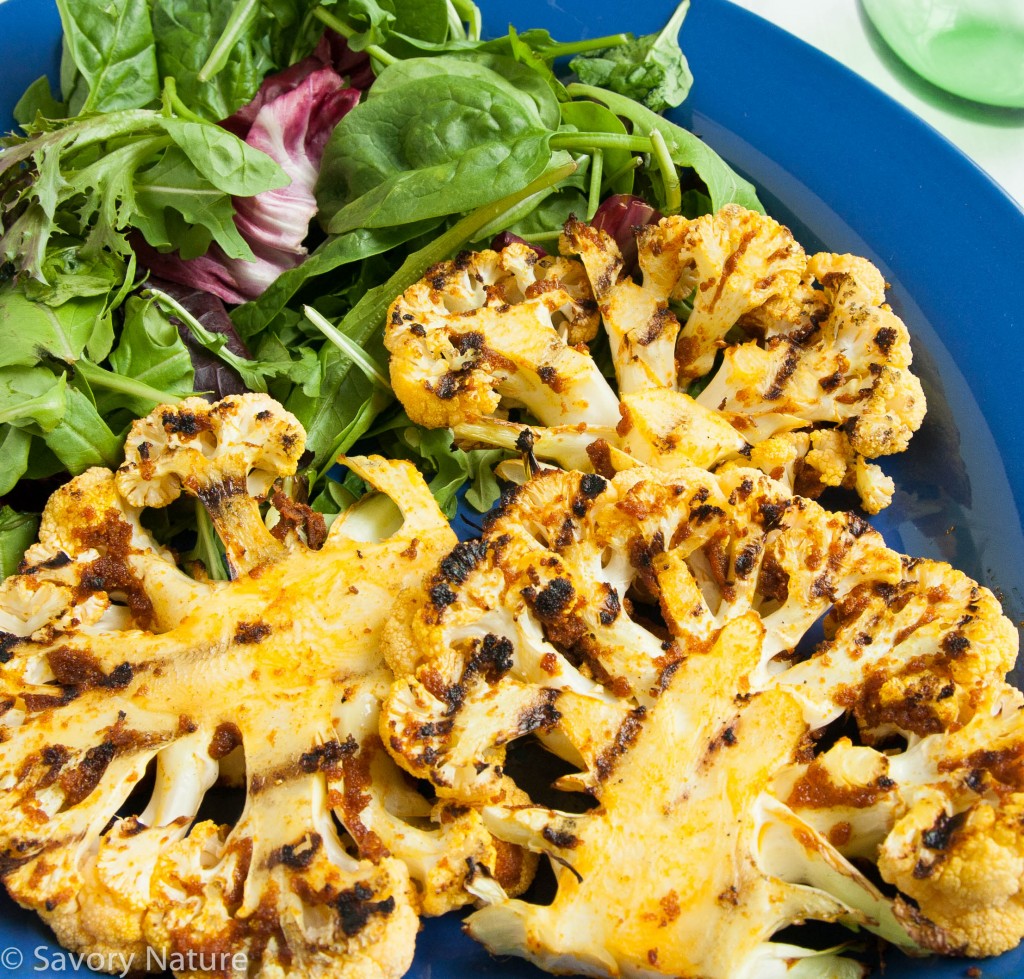 With the weather getting warmer, we're firing up the grill a lot more often. Thank goodness! I just love the smoky charred flavor that grilling gives and I don't mind the lack of dishes to wash either! And it's not just for meat. Lots of vegetables are great grilled including these grilled cauliflower steaks. They're brushed with a smoked paprika curry mustard glaze that caramelizes to give the cauliflower a wonderful spiced smoky flavor.
You cut the steaks from the center of the cauliflower in ¾ inch thick slices. Each head of cauliflower will give you 3-4 steaks and then you'll have the florets from the outsides for another purpose. Simply brush them with the spice paste and grill them on high, cover down about 5-6 minutes per side until they're nicely charred on each side.
These grilled cauliflower steaks make a great vegetarian entrée paired with a salad or an easy side that you can grill alongside a protein.
Grilled Cauliflower Steaks
Recipe type:
Entree or Side
Ingredients
1 head of cauliflower
2 Tbsp olive oil
1 tsp yellow curry powder
1 tsp smoked paprika
(The curry and paprika can be mild or hot according to your liking.)
1 tsp granulated onion
1 tsp granulated garlic
¼ tsp salt
2 tsp Dijon mustard
Instructions
Preheat grill on high.
Cut bottom off of cauliflower and remove leaves, but don't cut out core.
Slice straight down through the center of the cauliflower and then slice down in parallel to that cut making ¾ inch thick "steaks". You should get 3-4 steaks. Reserve remaining florets for another use.
Mix together the rest of the ingredients to make a paste.
Brush one side of the cauliflower steaks with half the spice paste.
Put them on the grill, spiced side down.
Brush the top side with the remaining paste.
Put the cover down and grill 5-6 minutes until charred on the bottom.
Carefully flip with a spatula and grill another 5-6 minutes, cover down until charred on the second side.