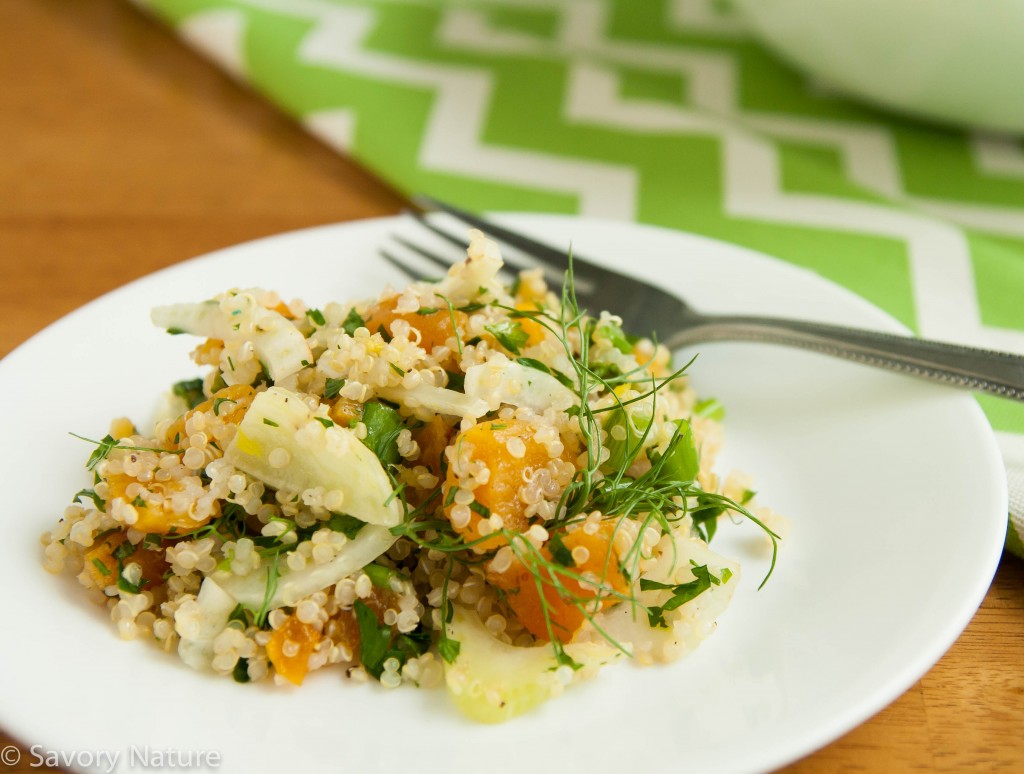 Quinoa makes such a great base for salads. Its fluffy texture and mildly nutty taste make it the perfect foil for all manner of fruits and vegetables. And quinoa contains much higher quality protein than most grains making it a great vegetarian protein source. Add to that the fact that quinoa is gluten free and what's not to love?
This quinoa salad with fennel and apricots has a little bite, a little sweet with a fresh lemony dressing. It's a perfect side for anything off the grill or can be a vegetarian main dish. And it's quick and easy to make. Big reward for little labor and healthy, too – what could be better?

Quinoa Salad with Fennel and Apricots
Recipe type:
Side or Vegetarian Entree
Ingredients
1 cup quinoa
1 ½ cups water
1 fennel bulb, sliced thinly (a mandolin works well for this) (Reserve fronds for garnishing salad)
6 green onions, sliced
6 oz apricots, chopped (about 1 cup)
Half a bunch of Italian parsley, chopped finely (about ½ cup)
Juice and grated zest of 1 lemon
¼ cup canola or olive oil
½ tsp salt
Freshly ground black pepper to taste
Instructions
Rinse quinoa in a strainer and then add to 1 ½ cups water in a medium pot.
Bring to a boil and cover, reduce heat and simmer about 15 minutes until liquid is all absorbed and quinoa is fluffy.
Spread quinoa in a large serving bowl and let cool.
Combine cooled quinoa, sliced fennel bulb, green onions, apricots and parsley.
Whisk together lemon juice, oil, salt and pepper to make dressing.
Toss with dressing until well mixed and stir in fennel fronds.