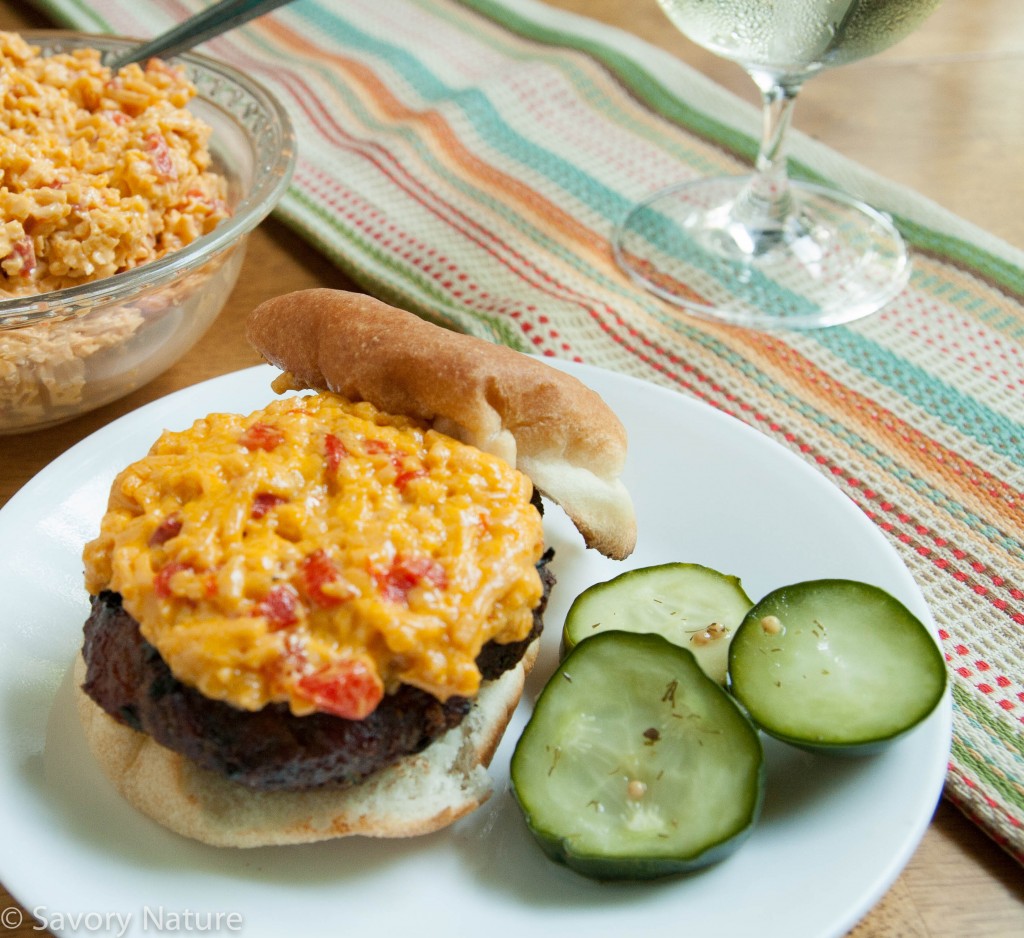 My husband heard about a restaurant that serves an awesome pimento cheese burger recently. And we thought wouldn't it be neat to create a dairy free version our daughter could eat. Mind you, if you don't have problems with dairy just sub real cheddar cheese into the recipe and I'm sure it will be great too, but the point was to come up with a pimento cheese burger our daughter and our dairy free readers could enjoy.
I can't believe I've lived in the South for 20 years and this is the first time I've made pimento cheese. I guess it's the cheese, the mayo, lots of calories, but my philosophy is all things in moderation and pimento cheese is worth an occasional splurge.
Hubby did a little research on pimento cheese recipes and basically found everybody's got their own version – there isn't one sacred recipe. We wanted a little heat in ours and went looking for hot red cherry peppers but came up empty. So we opted for pimentos and a little Sriracha. Hubby believes there are very few things that can't be improved with a little Sriracha! It definitely works here – it's just a nice gentle background heat.
These dairy free Pimento Cheese Burgers are so good!
We use Daiya brand shredded cheddar cheese, which is readily available most places and major 8 allergen free. It melts nicely on the burgers for a tangy gooey tasty topping.
I have fresh herbs growing on the deck in the summer and I like to add some to my burgers to amp up the flavor. For these burgers, I used fresh basil, oregano and chives, but you could change those up for what you like/have. We used a pork/beef blend for a little extra flavor, but again you can change it up with what you like.
Burgers are such a simple summertime dinner! Add some Southern inspired fun to your menu with these Pimento Cheese Burgers!

Pimento Cheese Burgers
Ingredients
For the Pimento Cheese:
8 oz bag of Daiya dairy-free shredded cheddar cheese
½ cup (about 4 oz) chopped pimentos
1 ½ tsp Sriracha
½ cup mayonnaise
For the burgers:
1 ½ Tbsp finely chopped fresh oregano
2 ½ Tbsp finely chopped fresh basil
¼ cup finely chopped chives
1 tsp granulated garlic
1 tsp salt
freshly ground black pepper to taste
1 pound lean ground beef
1 pound ground pork
Instructions
For the Pimento Cheese:
Process the Daiya cheese in a processor to get smaller pieces.
Mix cheese with pimentos, Sriracha and mayonnaise.
For the burgers:
Preheat grill on high.
Mix all burger ingredients together well with your hands and form into 8 burgers.
Grill on high cover down 5 – 10 minutes per side.
During the last 4 minutes or so put the cheese on top and let melt.
Serve on gluten free buns.