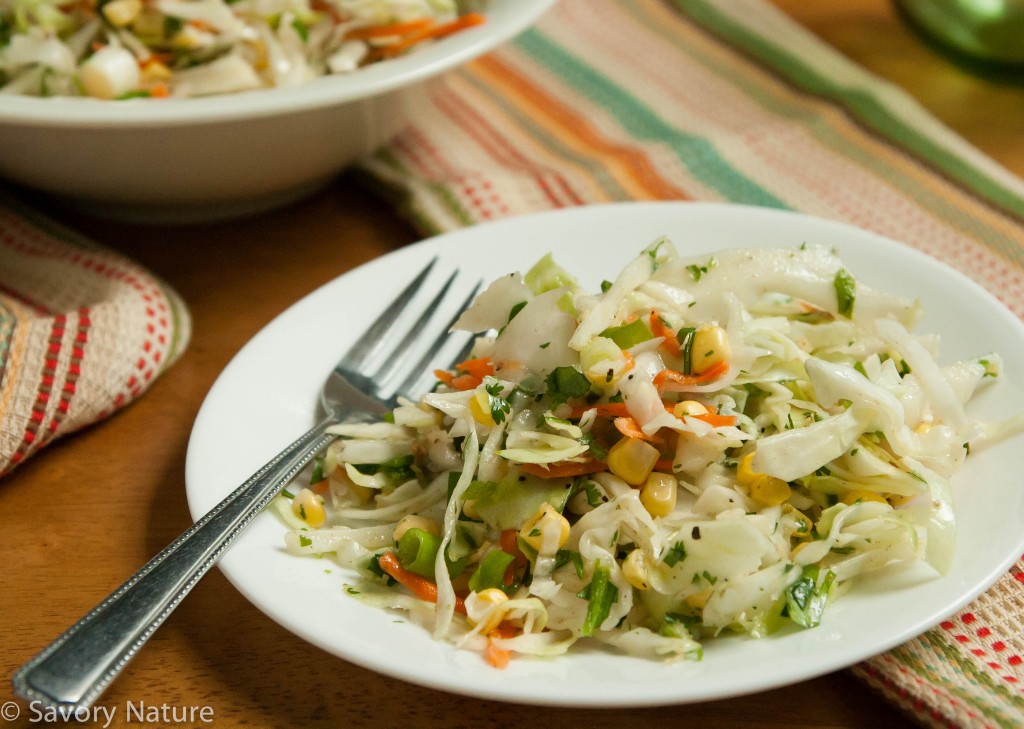 Coleslaw is such a classic summer side dish and there are so many variations you can do on it. Mayo-based, oil-based and so many different flavors and veggies you can add. The cabbage and veggies are so good for you and as long as the coleslaw is not over-dressed, it tends to be low in calories. And with the bagged slaw mixes available now it's so easy to make!
This Southwestern Coleslaw is quick, easy and so good!
This is a quick and easy coleslaw with loads of flavor. Corn, cumin, cilantro and poblano pepper give it a Southwestern vibe. We paired this Southwestern Coleslaw with some burgers for a no-fuss satisfying summer dinner. It would be great with tacos too!

Southwestern Coleslaw
Ingredients
For the dressing:
¼ cup Canola oil
¼ cup apple cider vinegar
1 large clove garlic, minced
1 tsp honey
1 tsp ground cumin seed
½ tsp salt
freshly ground black pepper to taste
For the coleslaw mix:
16 oz bag cabbage and carrot coleslaw
½ bunch cilantro, finely chopped
4 Shishito peppers or 1 Poblano, membranes and seeds removed, finely chopped
1 ear of corn, kernels stripped
3 green onions, chopped
Instructions
Mix all dressing ingredients together and set aside.
Mix cabbage carrot mix and cilantro, and other vegetables in a large bowl.
Give dressing a stir and pour over coleslaw mixture.
Toss until uniformly coated.