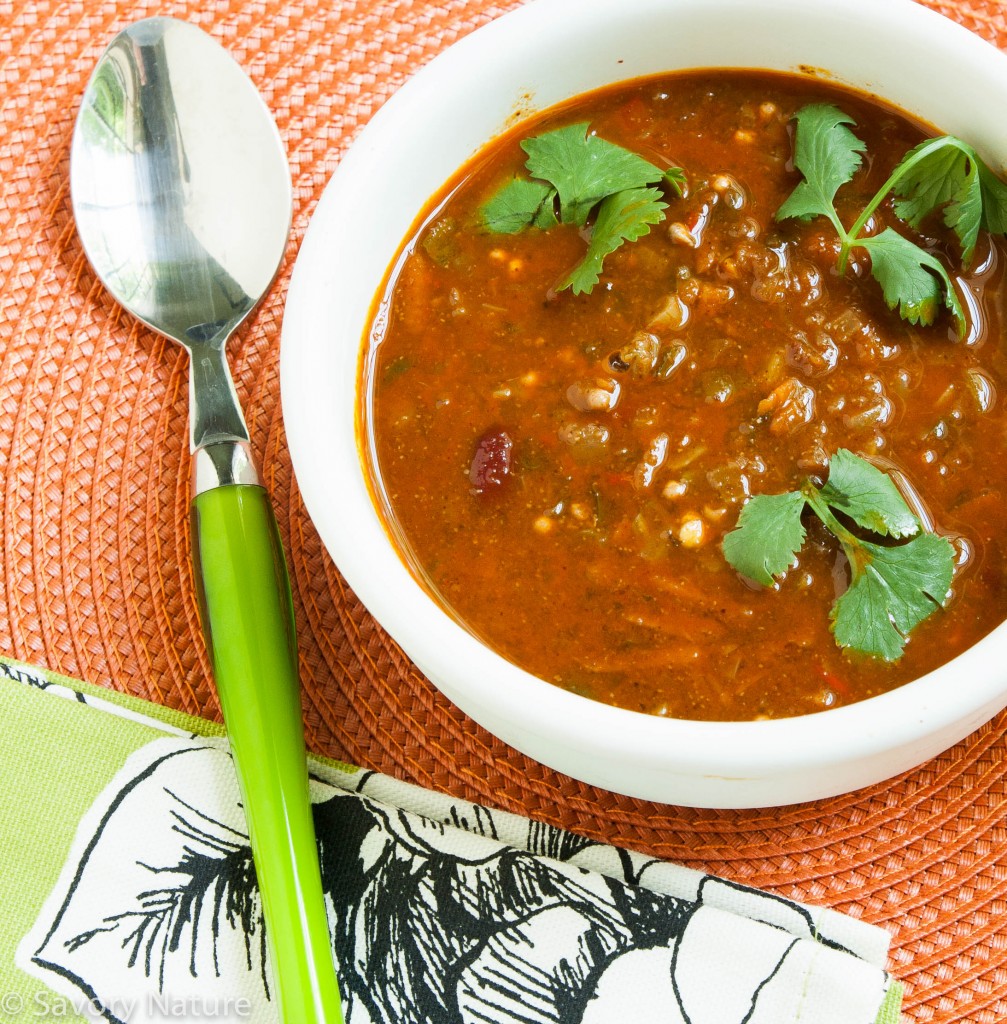 My daughter is allergic to tomatoes and we love chili, so we've come up with several chili recipes without tomatoes. One was a white chili. Another got it's color from beets and carrot juice. My husband came up with this chili. It's an almost vegetarian chili – all vegetables, but it uses chicken stock. You could use vegetable stock to make it vegetarian, but most vegetable stocks have tomato in them.
Hubby blooms the spices in oil to intensify their flavor, grates carrots and stews them a good long time so they practically dissolve. Poblano and hot cherry peppers round out the flavors and give the chili just the right kick. He uses dark red kidney beans with their liquid adding more color and flavor. To look at this chili you'd never know it had no tomato in it. Okra pods sliced thinly also break down during the long cooking and help thicken the chili as well as add flavor.
The result is a robust tasting chili that's so good and good for you. Next time you're in a chili mood, give this innovative vegetable chili a try. You won't be disappointed!

Tomato-less Chili
Ingredients
2 Tbsp olive oil
2 tsp chili powder
1 tsp Ancho chili powder
1 tsp garlic powder (roasted garlic powder if you have it)
1 tsp salt
1 yellow onion, chopped
1 large carrot, grated
1 poblano pepper, seeded, and membranes removed, chopped
1 hot red cherry pepper, seeded, and membranes removed, chopped
5 pods of okra, tops removed, thinly sliced
1 cup chicken stock
1 can dark red kidney beans with liquid
A few cilantro sprigs (optional)
Instructions
Heat oil and spices, chili powder through salt in a large pot over medium to medium high heat.
Cook, stirring for 2-3 minutes to bloom spices.
Add chopped onion and sauté about 2 minutes until soft.
Add the rest of the ingredients, grated carrot through kidney beans with liquid and scrape bottom of pot to release browned bits.
Bring to a boil. Reduce heat and simmer covered 1 hour.
Garnish with cilantro if desired.