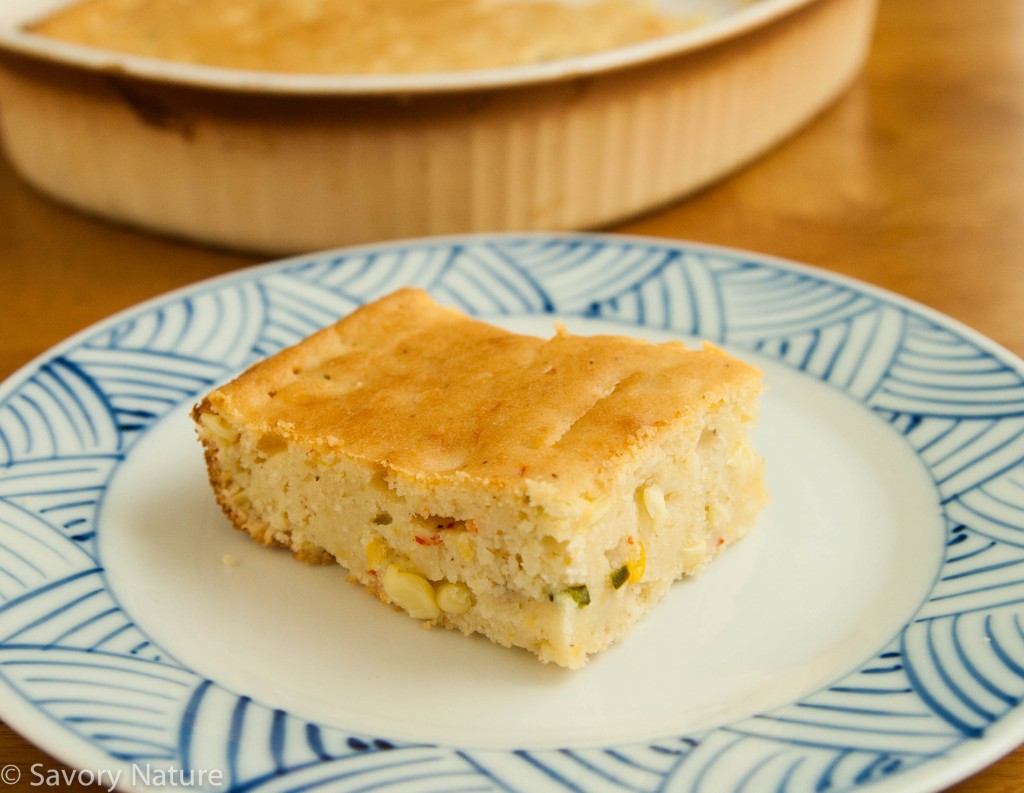 I've adapted this Gluten Free Cornbread Casserole recipe from an old favorite from Cooking Light. So old that I can't find a link to it. Back in our pre-Celiac diagnosis days, I took this to a church barbecue with rave reviews. Enter gluten intolerance and the flour mix needed to be redone. Well, the mix is awesome – it rises nicely and browns on top with just the right amount of sugar. It's actually the same mix I use for my cornbread stuffing at Thanksgiving – also awesome if I don't say so myself!
The recipe includes canned corn, creamed corn, and I've added some hot red cherry pepper and poblano pepper for taste and color. Add in some coconut yogurt to keep it dairy free and it makes a super moist, flavorful cornbread that will be the hit of any party! By the way, it's great sliced in half horizontally, and toasted and buttered, too!
Next time you're invited to a pot luck, bring this Gluten Free Cornbread Casserole along and just soak up the compliments!

Gluten Free Cornbread Casserole
Ingredients
1 cup cornmeal
½ cup white rice flour
⅓ cup potato starch
3 Tbsp tapioca starch flour
2 tsp baking powder
½ tsp xanthan gum
⅓ cup sugar
¼ tsp salt
2 eggs
One 8 ¾ oz can corn, drained (or 1 ear of corn, cooked and kernels stripped)
One 8 ¾ oz can creamed corn
12 oz coconut yogurt
¼ cup plus 2 Tbsp melted dairy and soy free margarine (look for Earth Balance soy free)
1 red hot cherry pepper, seeded and membranes removed, chopped finely
½ poblano pepper, seeded and membranes removed, chopped finely
Instructions
Preheat oven to 350 degrees F.
In a large bowl combine all dry ingredients: cornmeal through salt and mix well.
Push dry ingredients to side and add eggs and whisk until uniform.
Add the rest of the ingredients and mix well.
Use margarine to grease a 2 ½ quart (about 9 X 11 inch casserole).
Pour batter in.
Bake at 350 degrees F for about 45 minutes until browning on top and a toothpick comes out clean.