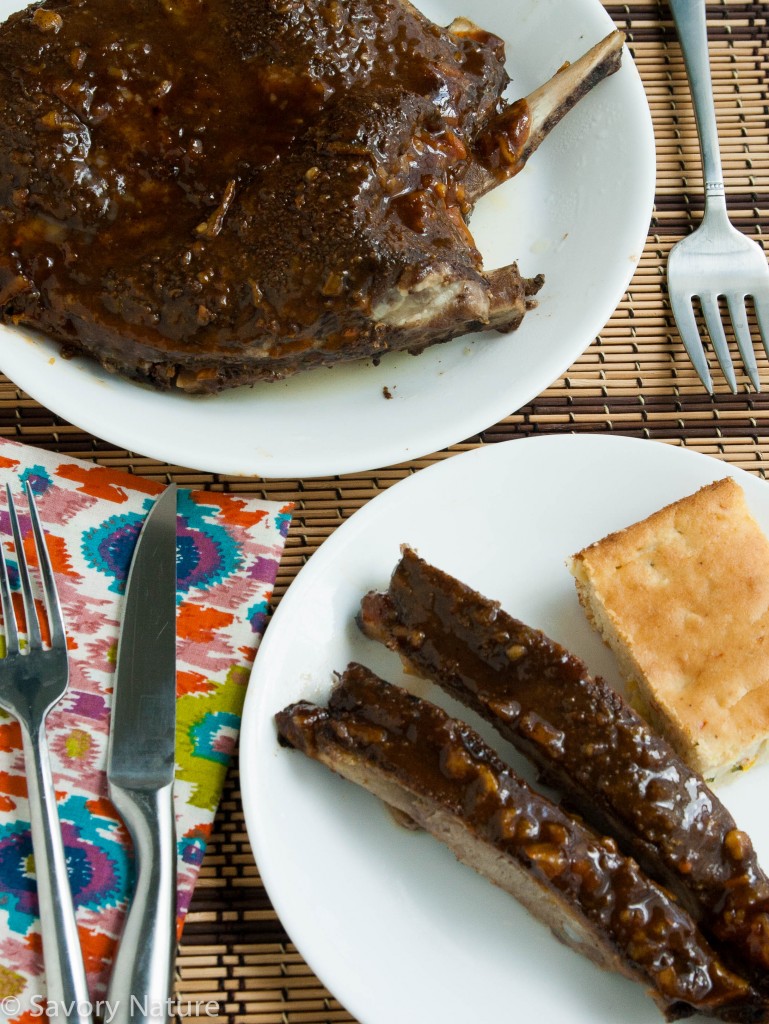 Ribs are a classic summertime food. Cooked low and slow and then glazed with a sticky sauce – they're just so good! These Orange Sesame Ribs have an Asian influenced barbecue sauce with a nice full-flavored kick thanks to Sriracha and de arbol chilis. They're done in the oven so no fussing with the grill, but they've got a wonderful barbecued flavor.
Ribs really benefit from a low and slow treatment that allows the collagen to break down, leaving amazingly tender meat. Then we brush on the sauce and finish them under the broiler for a caramelized taste sensation!
I wish I could tell you how good these ribs were – the orange flavor, the umami and the heat are so good! Words just don't do them justice. Try them and you'll see. Yumm!

Orange Sesame Ribs in the Oven
Ingredients
1 rack baby back ribs or back ribs
Rub for pork:
Kosher salt
2 Tbsp Szechuan pepper corns, ground
2 Tbsp Chinese 5 spice powder
1 Tbsp garlic powder
1 tsp cayenne pepper
1 tsp ground ginger
1 Tbsp brown sugar
Glaze:
4 dried de arbol chilis
1 Tbsp olive oil
½ cup orange marmalade
¼ cup rice vinegar
¼ cup dry sherry
1 Tbsp balsamic vinegar
1 Tbsp toasted sesame oil
2 Tbsp Sriracha
1 Tbsp chickpea miso (or white or yellow miso if you're ok with soy)
1 Tbsp fish sauce
grated zest of 1 orange
Instructions
Sprinkle ribs all over with Kosher salt.
Combine spices, Szechuan pepper through brown sugar and rub all over pork.
Let pork sit in refrigerator 4 hours to overnight.
Preheat oven to 225 degrees F.
Line a sheet pan with foil.
Place ribs on foil.
Cover pan tightly with foil.
Roast for 3 hours.
To make the glaze, heat oil in a small sauce pan over medium heat.
Add de arbol chilis and stir 2 minutes.
Add rest of glaze ingredients: marmalade through orange zest.
Bring to a boil, reduce heat and simmer 25 minutes.
When pork is done roasting, remove top foil, pour off liquid from pan, and brush ribs with glaze.
Broil on high about 12 inches from burner for about 5 minutes, watching to make sure glaze doesn't burn.
Notes
Preparation time does not include time sitting with rub on in refrigerator.