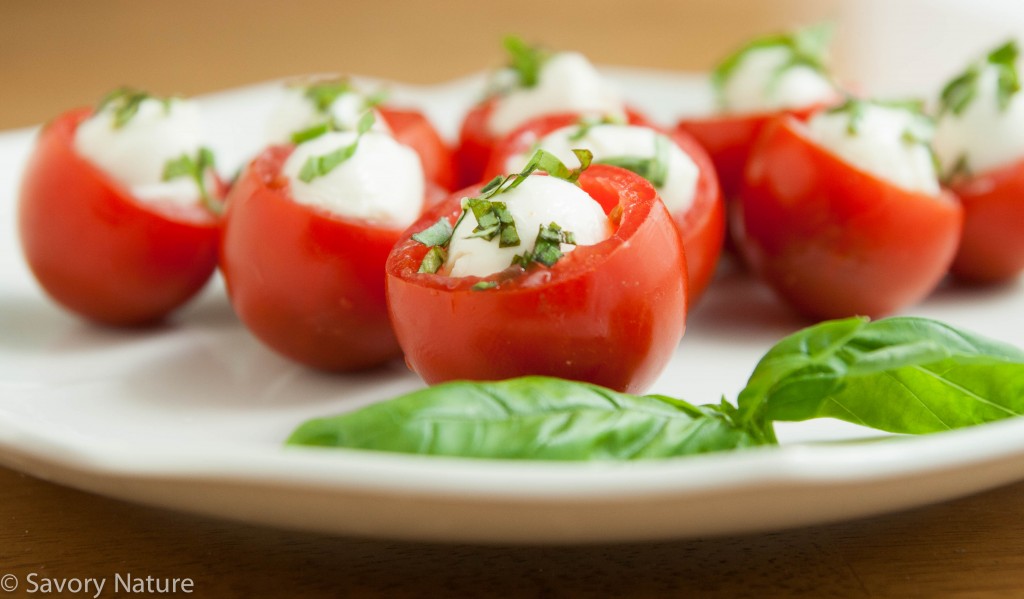 Who doesn't like Caprese? Summer fresh tomatoes, extra virgin olive oil, fresh basil and mozzarella. What's not to love?
These Caprese Tomato Bite appetizers turn this classic combination into finger food and it is so fresh and delicious! Have you seen Campari tomatoes in your grocery store? They're bigger than cherry tomatoes, but smaller than regular tomatoes – just the perfect size for stuffing as an appetizer. The sizing varies a bit, but look for ones on the smaller side about 14 to a 1 lb package. Alternatively, if they're on the large side, cut them in half and stuff each half.
Simply scoop out the insides, drizzle in a little extra virgin olive oil and balsamic vinegar, sprinkle with salt, add a little fresh basil and stuff with a fresh mozzarella ball. Garnish with a little more julienned basil. Voila – a fresh little bite of juicy Caprese deliciousness!
Having a summer party soon? Put these Caprese Tomato Bites on the menu. They're so cute and so good!

Caprese Tomato Bites
Ingredients
1 lb container of Campari tomatoes (about 16 tomatoes)
8 oz container of cherry size (1/3 oz) fresh mozzarella balls (you'll have some left over for another use)
8 good size basil leaves
2-3 tsp extra virgin olive oil
2-3 tsp balsamic vinegar
Kosher salt
Instructions
Slice tops off tomatoes.
Scoop them out using a melon baller, leaving just the outside walls of the tomatoes.
Sprinkle with salt.
Drizzle about ⅛ tsp each of olive oil and balsamic vinegar into each tomato.
Roll up basil leaves and slice thinly. Cut across slices once or twice.
Sprinkle some basil into tomatoes.
Insert a mozzarella ball into each tomato.
Sprinkle a little more basil on top.
Serve and enjoy!