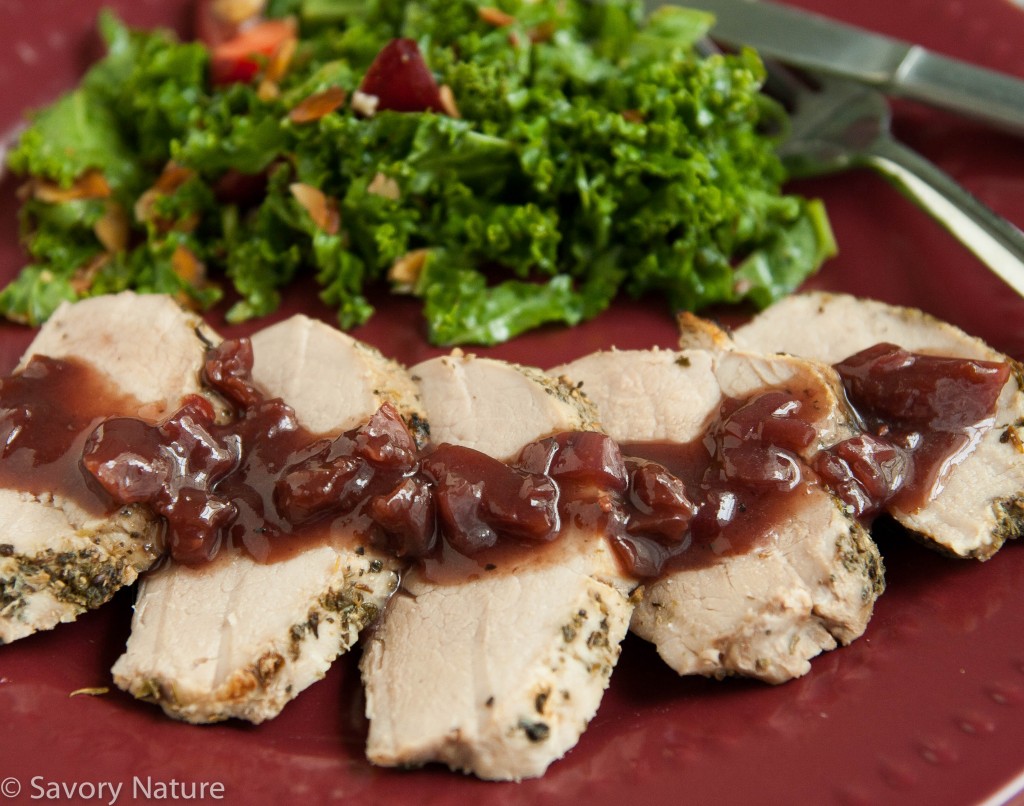 I love using fruit in savory dishes, and with cherries in season, it's a perfect opportunity. Pork seems to go especially well with fruit and this cherry port sauce complements roast pork tenderloin perfectly.
Pork tenderloin is such a versatile cut – you can roast it in the oven, grill it or slice it into medallions and pan sauté it. The key, since it's so lean, is to not overcook it. A roast pork tenderloin should only take 20-30 minutes in the oven at 450 degrees. Use a meat thermometer to check it every 5 minutes once it's been in 20 minutes. It will probably be a little pink in the middle when sliced and that's fine.
The cherry port sauce cooks quickly while the pork is in the oven. It starts with a little sautéed onion. Half the cherries are mashed with the onion. Then add the rest of the cherries, port, seasonings, honey and balsamic vinegar and simmer until reduced by half. At this point you can take the sauce off the heat until a few minutes before serving. When you're ready, bring it back to a simmer, and stir in the cornstarch/water mixture. Stir a minute or two until thickened, and you're ready to serve the cherry port sauce along side your roast pork tenderloin.
The complex sweet tart fruity sauce tastes so good over the juicy pork tenderloin!

Roast Pork Tenderloin with Cherry Port Sauce
Ingredients
Pork:
1 pork tenderloin
extra virgin olive oil
¼ tsp dried thyme
½ tsp dried oregano
½ tsp dried basil
½ tsp granulated garlic
½ tsp salt
freshly ground pepper to taste
Cherry Port Sauce:
Half an onion, finely chopped
½ Tbsp extra virgin olive oil
1 cup cherries, halved, pitted and coarsely chopped
1 cup good port
¼ tsp salt
freshly ground pepper to taste
1 Tbsp honey
1 Tbsp balsamic vinegar
1 tsp cornstarch
1 tsp water
Instructions
Pork:
Preheat oven to 450 degrees F.
Remove fat and silver skin from tenderloin.
Drizzle some oil over the tenderloin and rub all over to coat.
Mix seasonings in a small bowl, then sprinkle all over pork tenderloin and pat to adhere.
Roast on a sheet pan at 450 degrees F, 20-30 min, turning after 10 minutes until internal temperature reaches 145 - 150 degrees F.
Cover with foil and let stand 10 minutes before slicing.
Cherry Port Sauce:
In a medium saucepan, sauté onion in ½ Tbsp extra virgin olive oil until soft, about 2 minutes.
Add half of cherries and mash with a potato masher.
Add remaining cherries, port, salt, pepper, honey and balsamic vinegar.
Bring to a boil, reduce heat and simmer about 10 minutes until reduced by about half.
Mix cornstarch with water and stir into sauce.
Simmer another minute or two until thickened, stirring frequently.
Stir in any drippings from carving the pork and serve with the roast.