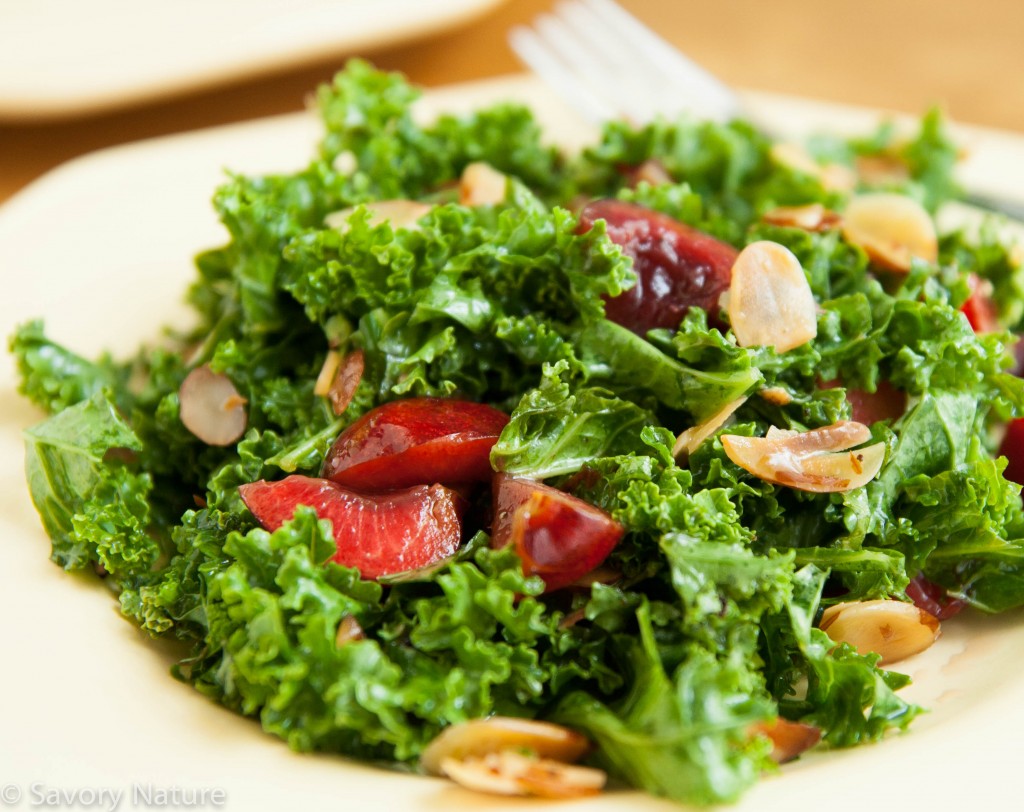 This Kale Salad with Cherries and Almonds is a delicious, healthy, simple way to make the most of seasonal cherries. The slightly bitter earthy kale, sweet cherries and toasted almonds are married with a simple dressing of rice vinegar, canola oil and a little honey. The fresh flavors really shine!
My family loved this salad and they're not even big cherry fans! This kale salad is the prefect refreshing side dish for a hot summer evening. It's easy to pull together and the kale, cherries and almonds are packed with healthy nutrients, too!
Make this beautiful salad while cherries are still abundant. It's too good to miss!

Kale Salad with Cherries and Almonds
Ingredients
½ bunch kale
1 cup ripe cherries
½ cup sliced almonds
1 Tbsp margarine or oil
2 Tbsp canola oil
2 Tbsp rice vinegar
1 tsp honey
¼ tsp salt
freshly ground pepper to taste
Instructions
Remove tough stems from kale leaves and discard.
Slice/chop kale into bite size pieces.
Cut cherries in half, pit, and cut again into quarters.
Heat margarine or oil in a skillet and toast almonds.
Whisk together canola oil, rice vinegar, honey, salt and pepper in a large bowl.
Add kale, cherries and almonds and toss well to coat.
Letting the salad sit 15 – 30 minutes will let the kale soften a bit, but it's not absolutely necessary.