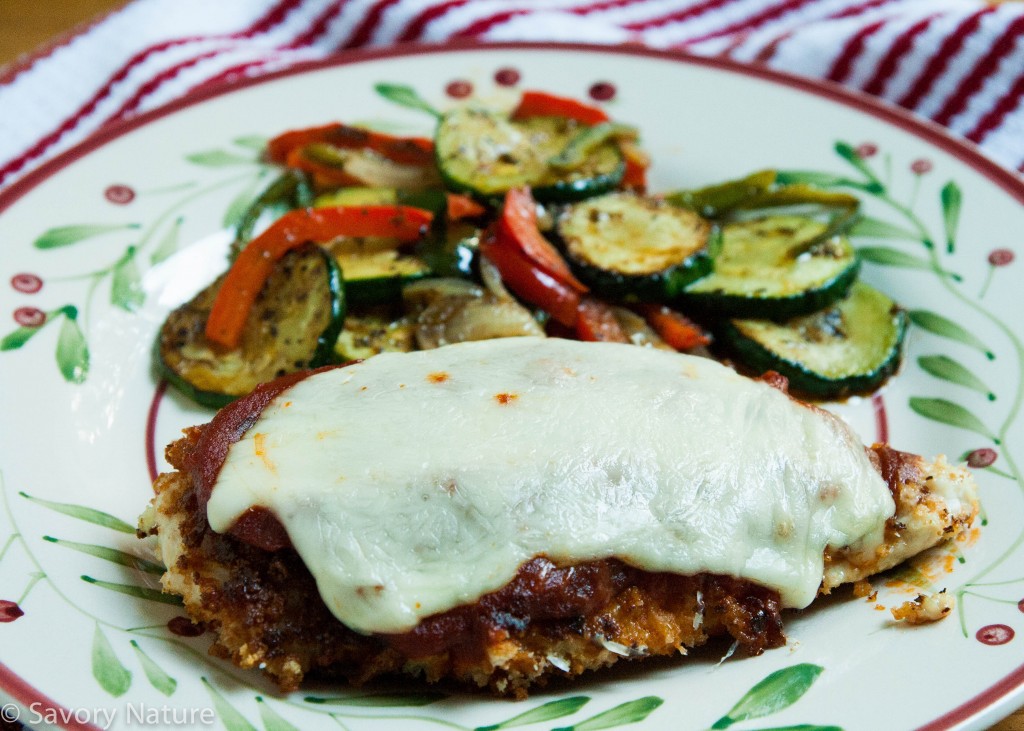 Velveting is a technique used in China to tenderize chicken. It involves marinating the chicken with egg white and cornstarch and sometimes wine. It gives the chicken a "velvety" tender consistency. Usually it is done with small pieces of chicken to be stir fried, but I read an article in the New York Times by David Tanis recently about doing it with larger pieces of chicken
Normally when I make Chicken Parmesan I pound the cutlets to tenderize them, but I thought why not try velveting instead. Well, it worked marvelously giving me nice tender chicken, without the hassle and mess of pounding.
Once the 30 minute marinating is done this is a pretty quick dish to pull together. You can make your own spaghetti sauce or just use your favorite gluten free store brand. Bread the chicken, brown it, layer with spaghetti sauce and cheese and bake 8-10 minutes.
This Velveted Chicken Parmesan is a Chinese Italian delight!

Velveted Chicken Parmesan
Ingredients
2 boneless skinless chicken breasts, cut in half horizontally
2 egg whites
¼ cup cornstarch
8 slices gluten free bread
Extra virgin olive oil
Salt and freshly ground pepper to taste
About 1 cup homemade or store bought gluten free spaghetti sauce
A few slices of mozzarella or provolone cheese
Grated Parmesan cheese
Instructions
Preheat oven to 375 degrees F.
Whisk egg whites until frothy in a bowl large enough to hold the chicken.
Whisk in the cornstarch.
Dredge the chicken breast pieces in the mixture so they're all coated and leave them in the bowl in the refrigerator for at least a half hour.
Tear up the bread and put it in a processor. Process to make soft crumbs.
Put crumbs in a shallow bowl.
Heat a generous coating of oil in a large skillet over medium high heat.
Pat chicken breasts on each side into breadcrumbs to coat and add to pan.
Sprinkle with salt and pepper to taste.
Cook 2-3 minutes per side until breadcrumbs are well browned. You may need to add more oil to the pan to cook the second side.
Remove from heat.
Ladle spaghetti sauce over chicken breast pieces, leaving edges showing.
Top with sliced cheese.
Sprinkle with grated Parmesan.
Transfer pan to oven and bake 8-10 minutes until cheese is melted and chicken is cooked through.