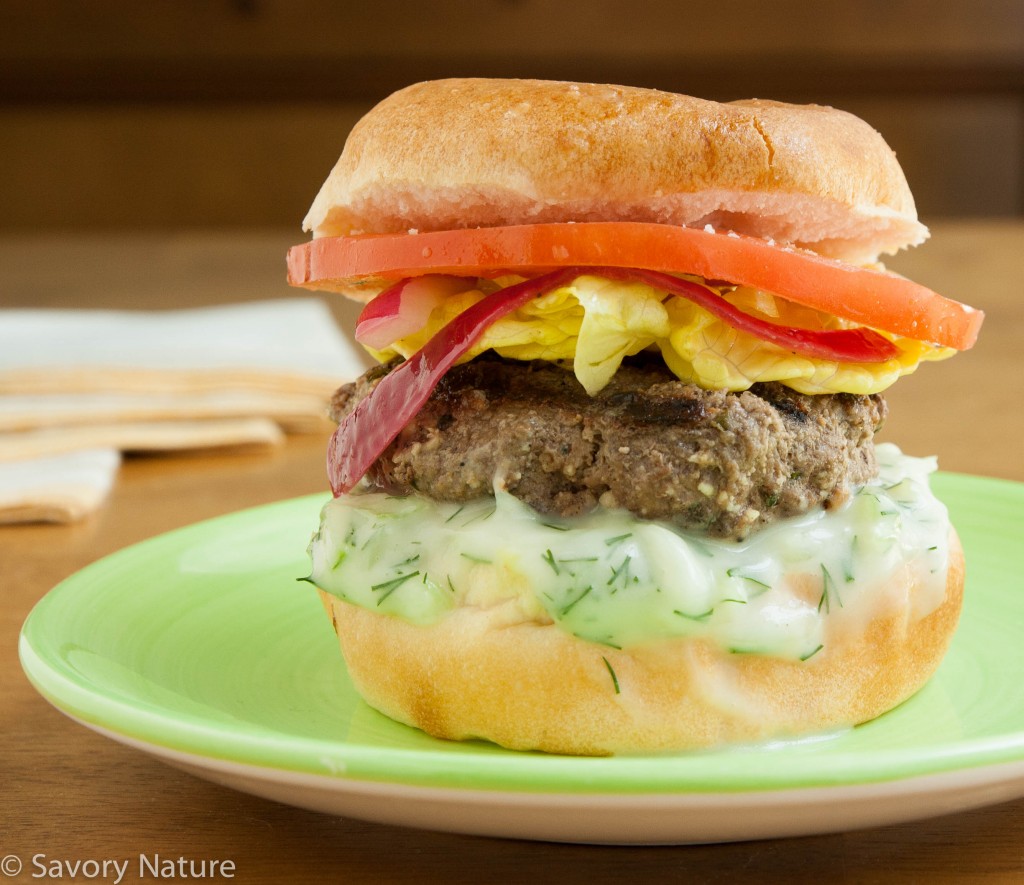 This Middle Eastern treat can be spelled a number of ways – kofta, kefta, kafta. It's basically ground lamb and/or beef with spices and sometimes breadcrumbs and egg. Usually it's grilled on a skewer, but here I've made a burger version. And let me tell you, it got raves! My husband said it was the best burger he'd ever had!
The flavors of the lamb and the spices in this Kafta recipe are wonderful. And the cooling tzatziki sauce is the perfect complement. Top it with some lightly pickled red onion, lettuce and a nice ripe tomato slice and you've got burger heaven! A little quinoa tabouli would be a great side for this.
I've made this dairy free and gluten free with coconut yogurt and gluten free breadcrumbs.
Add a little Middle Eastern spice to your summer grilling with these Kafta Burgers with Tzatziki Sauce!

Kafta Burgers with Tzatziki Sauce
Ingredients
Accompaniments
Two ¼ inch slices of red onion
¼ cup apple cider vinegar
1 Tbsp extra virgin olive oil
1 Tbsp honey
tomato slices
lettuce
Tzaziki Sauce
6 oz coconut yogurt
¼ tsp salt
½ cucumber seeded and grated
2 Tbsp finely chopped fresh dill
1 clove garlic, minced
½ Tbsp white wine vinegar
1 tbsp extra virgin olive oil
Kafta Burgers
1 lb ground lean ground beef
1 lb ground lamb
1 cup gluten free soft breadcrumbs (just put a few slices of gluten free bread in a processor)
1 egg
½ tsp salt
½ tsp ground cinnamon
½ tsp ground allspice
½ tsp ground coriander
4 cloves garlic minced
½ cup pine nuts chopped fine in a food processor
2 Tbsp fresh mint finely chopped
Instructions
To pickle red onion:
Combine cider vinegar, 1 Tbsp oil and honey in a small bowl and add red onion slices. Set aside.
For Tzatziki Sauce:
Combine all ingredients for Tzatziki Sauce, yogurt through oil and set aside.
For Kafta Burgers:
Mix all burger ingredients in a large bowl with your hands.
Form into 8 patties and press a thumb print into the middle of each patty.
Heat grill on high.
Place patties on hot grill and put cover down.
Grill about 4 minutes until bottoms have grill marks and release easily from grill.
Grill turning frequently about another 4 minutes until just cooked through.
Grilling times will vary with your grill.
To serve top a gluten free bun with Tzatziki sauce, burger, lettuce, red onion and tomato. Top with bun and open wide!