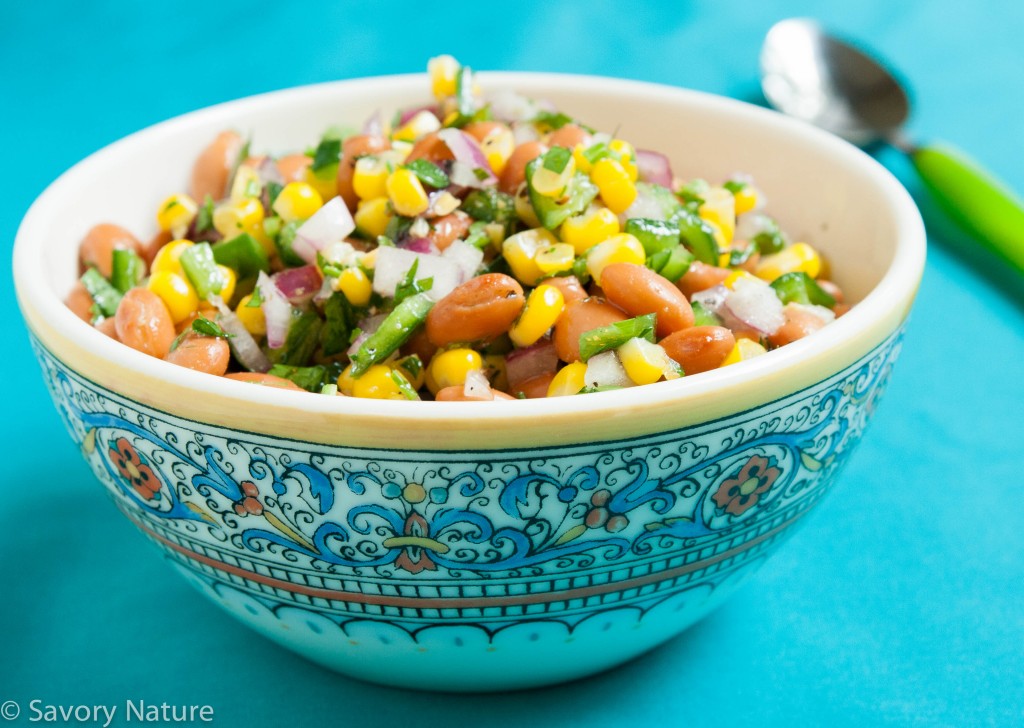 I love bean salads in the summertime! They're cool and refreshing and can serve as both starch and vegetable. They're frequently the only side dish I make for dinner.
There are all sorts of variations you can do on this Pinto Bean and Corn Salad!
The dressing used here is a great basic dressing for any sort of bean or vegetable salad. I liked the colors of the pink pinto beans with the yellow corn and the poblanos add a nice flavor. But you could use different beans such as kidney beans or black beans or substitute red bell pepper for the poblano. Cilantro could be used instead of parsley, too.
Feel free to experiment. Swapping out ingredients means you never get bored!
Beat the summer heat with a cool bean salad!

Pinto Bean and Corn Salad
Ingredients
1 can pinto beans, rinsed and drained
1 poblano pepper, finely chopped
⅓ cup finely chopped red onion
1 ear corn, microwaved 3 min
2 Tbsp chopped parsley
2 Tbsp canola oil
2 Tbsp rice vinegar
¼ tsp salt
freshly ground pepper
½ tsp ground cumin seed
1 tsp honey
Instructions
Whisk together parsley, canola oil, rice vinegar, salt, pepper, ground cumin and honey in a large bowl.
Strip corn off of cob into bowl with dressing.
Add beans, poblano pepper and red onion and toss well to mix and coat with dressing.