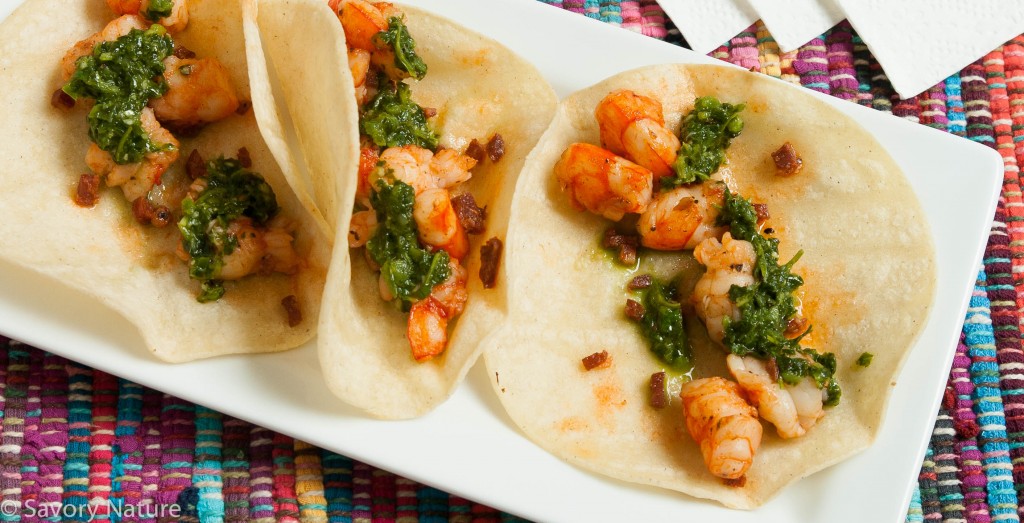 These shrimp tacos were inspired by a favorite lunch place: Gonza Tacos Y Tequila. I usually order either the Camaron Tacos (shrimp) or the Scallop and Pork Belly Tacos. Both awesome, but my husband thought these shrimp tacos were even better than the Camaron. The Cilantro Chimichurri Sauce augments the tender shrimp perfectly!
These Shrimp Tacos with Cilantro Chimichurri Sauce are so easy to make!
This meal except for the shrimp peeling, takes very little time. Rather than toasting the tortillas in a pan on the stove, we brush them with a little oil and toast them in the oven. The tortillas only take about 5 minutes to take on the right texture, and it's so much less fuss.
These Shrimp Tacos with Cilantro Chimichurri Sauce have such great flavor in so little time. They're the perfect weeknight meal!

Shrimp Tacos with Cilantro Chimichurri Sauce
Ingredients
Chimichurri Sauce
1 bunch cilantro
3 garlic cloves, peeled
½ Jalapeno, seeded
1 Tbsp white wine vinegar
¼ cup extra virgin olive oil
Juice of ¼ of a lime
¼ tsp salt
freshly ground black pepper to taste
Shrimp Tacos
12 corn tortillas
Extra virgin olive oil for brushing tortillas
1.5 lbs shrimp, peeled and deveined (large, extra large or jumbo)
A 2-inch length of Spanish chorizo sausage, finely chopped
1 Tbsp extra virgin olive oil
Instructions
Preheat oven to 400 degrees F.
Place Chimichurri ingredients, cilantro through black pepper, in a small food processor or blender and process until finely chopped and combined.
Brush both sides of tortillas with just a bit of oil and hang over oven racks to toast.
Bake for about 5 minutes until texture toughens.
Heat a skillet over medium high heat.
Add the sausage and cook about 5 minutes, until it crisps up and renders out some fat.
Cut shrimp into thirds.
Add 1 Tbsp extra virgin olive oil and shrimp to sausage and sauté 3-5 minutes until just cooked through.
To serve, fill baked tortillas with shrimp mixture and spoon some Chimichurri over.