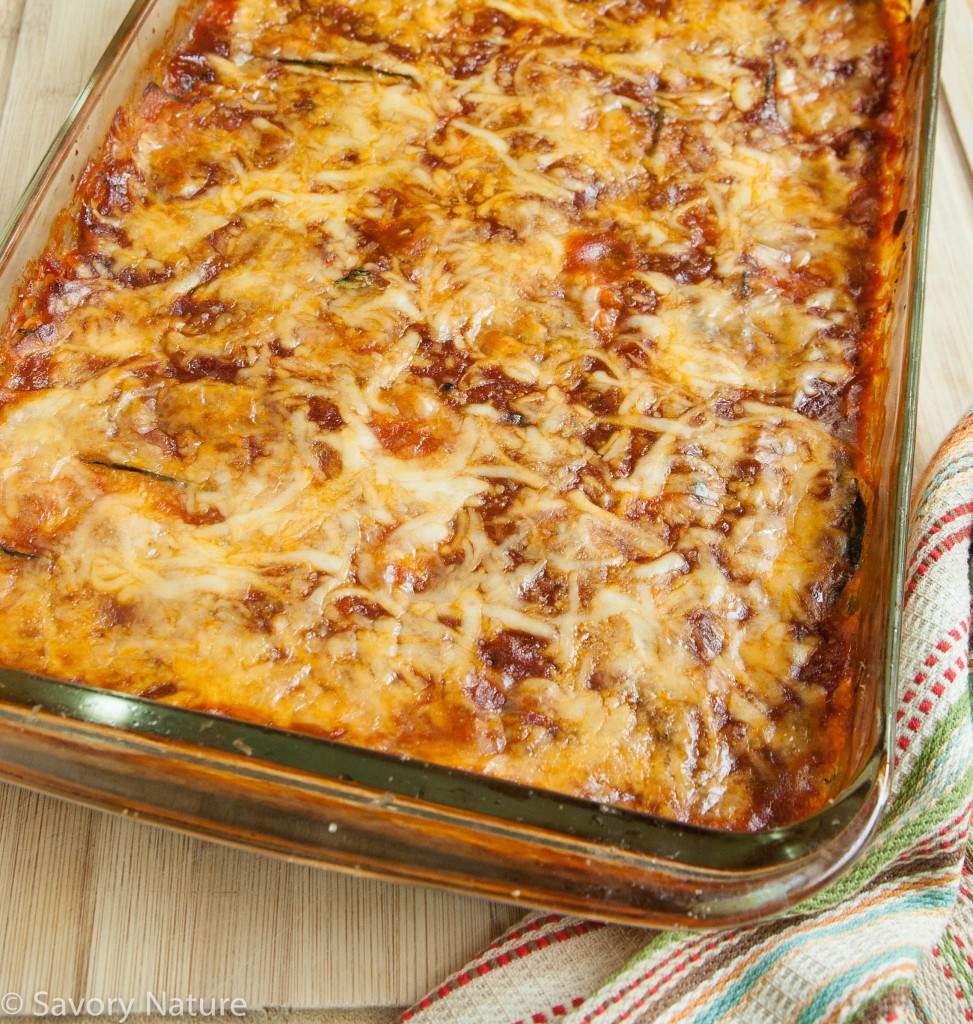 It's that time of year when zucchini is abundant and folks are looking for new ways to use it. You see a lot of recipes these days using zucchini strips in place of noodles. It's a great way to reduce the calories and carbs in typical pasta dishes and incorporate more vegetables.
In this Zucchini Lasagna recipe we slice wide "noodles" along the length of the zucchini using either a horizontal (wide) peeler or a mandolin. The slices are baked in the oven for 15 minutes to reduce the moisture so you don't get watery lasagna.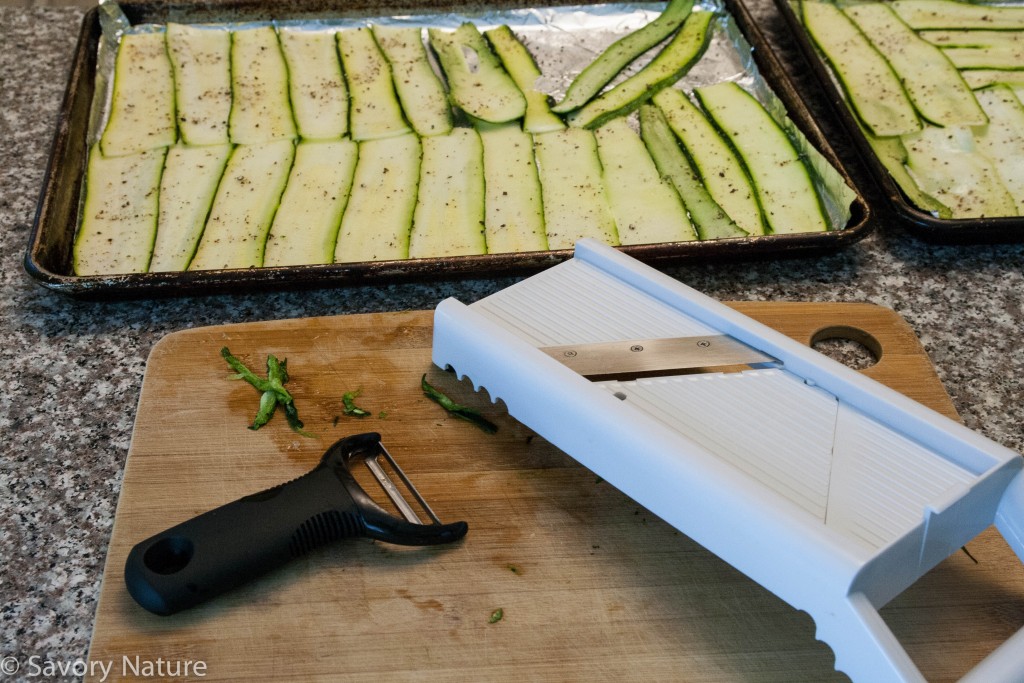 The zucchini slices are layered with a ricotta/egg mixture, spaghetti sauce (store bought or homemade according to your time and liking), and mozzarella cheese. A little grated Parmesan tops off this rich satisfying Zucchini Lasagna.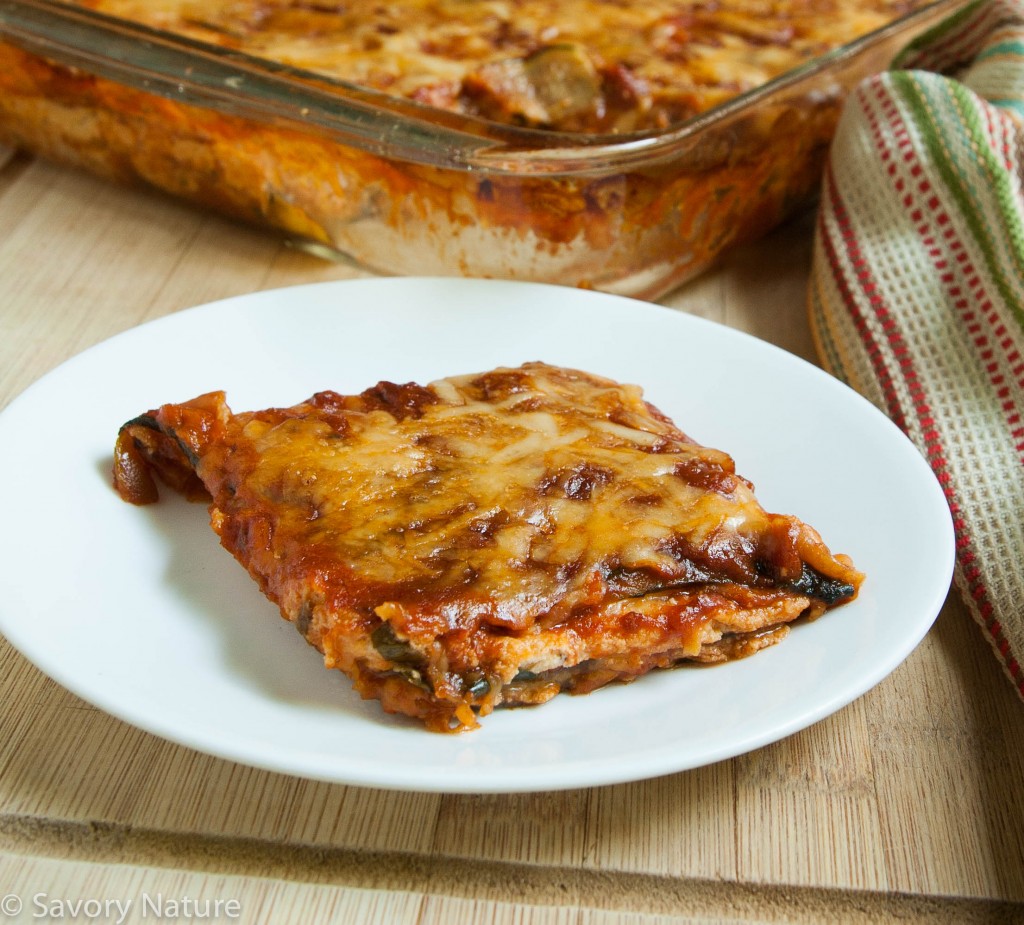 Truth is I've wanted to try an all vegetable lasagna for a while and had trouble convincing hubby it was a good idea. Well, he really enjoyed this Zucchini Lasagna. It was delicious and satisfying with no pasta at all!

Zucchini Lasagna
Ingredients
2 large zucchini
Olive oil
Salt and freshly ground pepper to taste
1 egg
15 oz low fat or part skim ricotta cheese
¼ tsp ground nutmeg
2 Tbsp finely chopped fresh basil
1 tsp finely chopped fresh oregano
2 cups homemade spaghetti sauce or your favorite gluten free store bought spaghetti sauce
8 oz shredded part skim mozzarella cheese
¼ cup grated Parmesan cheese
Instructions
Preheat oven to 375 degrees F.
Slice zucchini lengthwise into ⅛ inch or a little thinner strips using a mandolin or horizontal peeler.
Line two sheet pans with aluminum foil and spread some olive oil over the foil.
Lay out the strips on the foil, sprinkle with salt and pepper, and bake at 375 degrees F for 15 minutes.
Remove from oven and let cool.
Beat egg in a medium bowl.
Add ricotta cheese, nutmeg, basil and oregano and mix well.
Spread a little spaghetti sauce in a 13 X 9 casserole.
Lay out zucchini "noodles" over sauce covering bottom of casserole.
Spread half of ricotta mixture over zucchini.
Spread some spaghetti sauce over ricotta.
Sprinkle with ⅓ of the mozzarella cheese.
Spread another layer of zucchini.
Top with rest of ricotta, then a little sauce and ⅓ of the mozzarella cheese as was done with the first layer.
Top with final layer of zucchini.
Spread the rest of the spaghetti sauce over top of the zucchini.
Sprinkle with the remaining mozzarella cheese and with the Parmesan.
Cover tightly with foil and bake for 30 minutes at 375 degrees F.
Remove foil and bake another 15 minutes.
Let rest 5 minutes before serving.