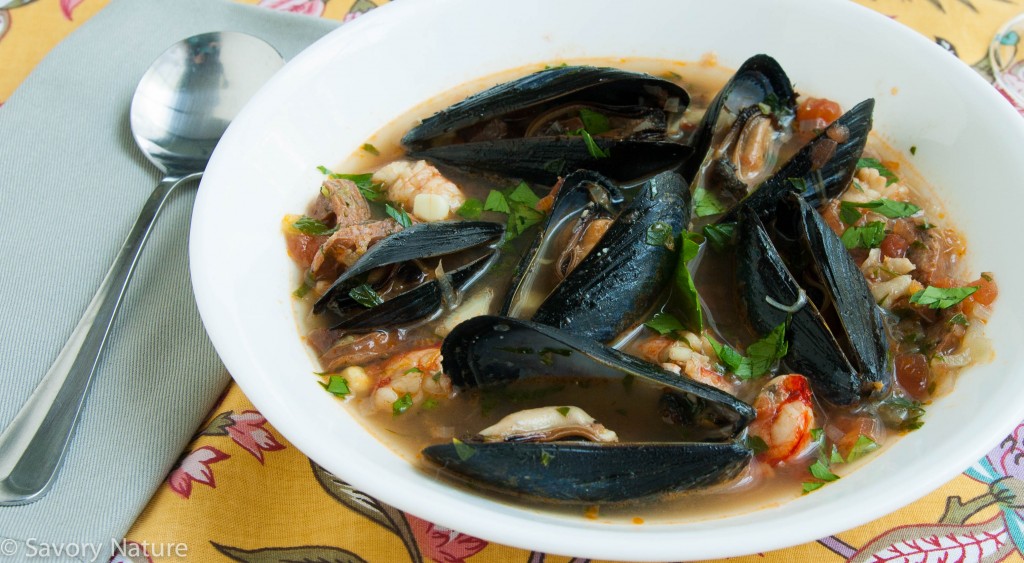 Cioppino is an Italian-American fish stew that originated in the San Francisco area where fresh fish and shellfish are so abundant. It can contain any manner of shellfish: shrimp, mussels, clams, scallops, crab and also white fish. If you're a shellfish lover like I am, you will love this soup!
Cioppino is typically made with canned tomatoes, but summer brings the opportunity to use good fresh tomatoes. I thought a pop of sweet fresh corn would be good in it, too, and it is.
This version of Cioppino is fairly simple with just shrimp and mussels, but you could add whatever seafood you like. Sometimes fennel bulb is added to Cioppino giving it a faint licorice taste, but here I've opted to just add a little licorice liquer like Sambucca or Pernod. You can't really tell it's there, but it sort of fills in the background flavor nicely.
Now that mussels are farm-raised, they're less expensive and less trouble as they don't require a lot of cleaning and debearding. And according to First Time Foragers, mussel farming is sustainable and good for the environment.
Other than peeling the shrimp and chopping the vegetables, there's not a lot of work here and the soup cooks quickly. This Summer Cioppino can be made on a weeknight, but is fancy enough for guests, too. The subtle seafood stock and tomato broth really lets the shellfish shine! A little Spanish chorizo sausage provides a nice little kick/richness!

Summer Cioppino
Ingredients
1 large shallot, thinly sliced
2 cloves garlic, minced
3 inch length of Spanish chorizo sausage, sliced ⅛ inch thick, slices cut in quarters
1 ½ Tbsp extra virgin olive oil
½ cup white wine
4 cups seafood stock
1 ½ large fresh tomatoes, chopped
1 ear of fresh corn, kernels stripped from cob
½ bunch parsley, finely chopped
2 lbs of mussels, rinsed
8 oz of shrimp, peeled, deveined and cut into bite size pieces
1 Tbsp Sambucca or Pernod
½ tsp salt
freshly ground black pepper to taste
Instructions
Heat 1 ½ Tbsp extra virgin olive oil in a large pot over medium to medium high heat.
Add shallot and sausage and cook 2-3 minutes until shallot is soft.
Add garlic and sauté about 30 seconds just until aroma comes.
Add wine and bring to a boil, scraping browned bits from bottom of pan.
Reduce by about half, then add seafood stock, tomatoes, Sambucca or Pernod, and salt and pepper.
Bring to a boil.
Add mussels, shrimp and corn.
Cover, reduce heat and simmer a few minutes until mussels have opened and shrimp is pink and opaque.
Stir in parsley and ladle into bowls.