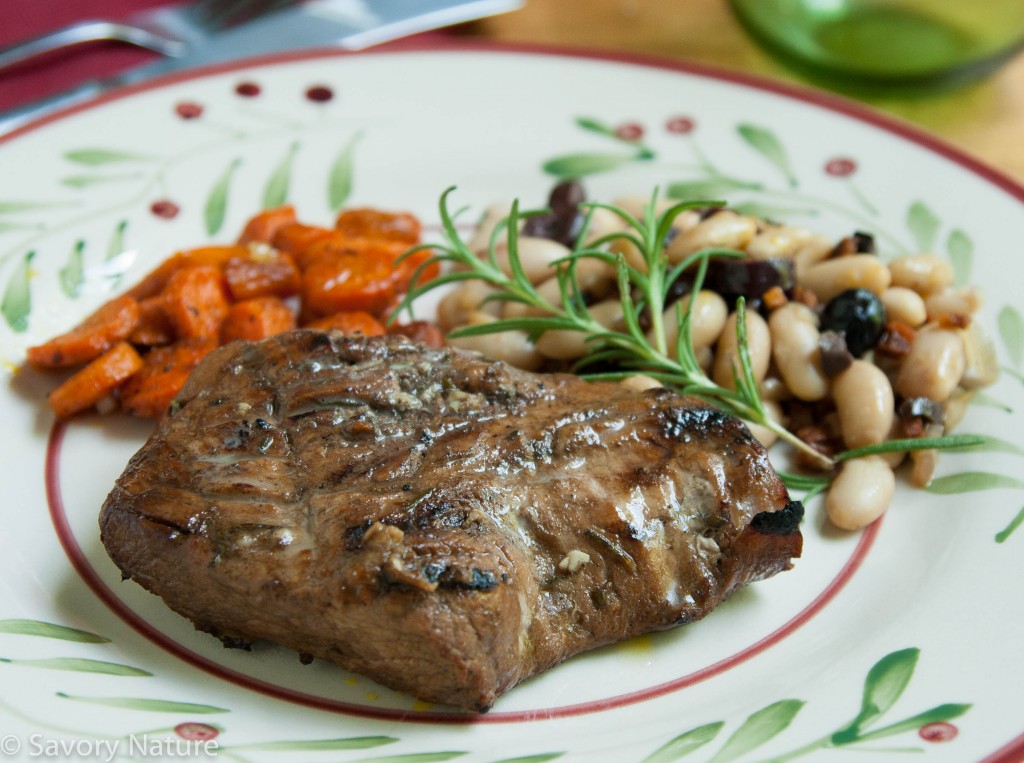 These Rosemary Balsamic Pork Tenderloin Steaks are so good! The marinade is simple, but imparts such great flavor! And pounding the tenderloin into steaks makes it super tender. I have to thank my husband for that idea – I never would have thought of it! It works amazingly well!
To make the steaks, you pound the pork tenderloin about ½-¾ inch thick and make 1/8 inch deep criss-cross cuts in the surface on both sides. This allows the marinade to really penetrate the meat. Cut the pork tenderloin into serving size steaks and marinate about 1 hour or more.
The marinade is super simple: balsamic vinegar, extra virgin olive oil, garlic and rosemary, but it makes the pork tenderloin so yummy!
The steaks are grilled on high and basted with the leftover marinade giving a wonderful caramelized flavor.
Having grilled the Rosemary Balsamic Pork Tenderloin this way, I'm not sure I'll ever grill a whole pork tenderloin again!

Rosemary Balsamic Pork Tenderloin Steaks
Ingredients
1 pork tenderloin
Salt and freshly ground black pepper
¼ cup balsamic vinegar
2 Tbsp extra virgin olive oil
3 cloves garlic, minced
2 sprigs fresh rosemary, leaves pulled off and finely chopped
Instructions
Remove fat and silver skin from pork tenderloin.
Lay out on a board, cover with plastic wrap and pound to ½ to ¾ inch thickness.
Remove plastic wrap and make criss cross cuts in surface about ⅛ inch deep on both sides.
Cut into serving sized steaks.
Sprinkle with salt and pepper on both sides.
Mix balsamic vinegar, olive oil, garlic and rosemary in a large zip-lock bag.
Add pork and toss well to coat.
Marinate in refrigerator at least 1 hour.
Preheat grill on high.
Grill steaks cover down about 5 minutes.
Turn and pour marinade over top of steaks.
Grill about another 10 minutes, flipping frequently.
Grilling times will vary depending on the heat of your grill.
Notes
Prep time does not include 1 hour marinating time.