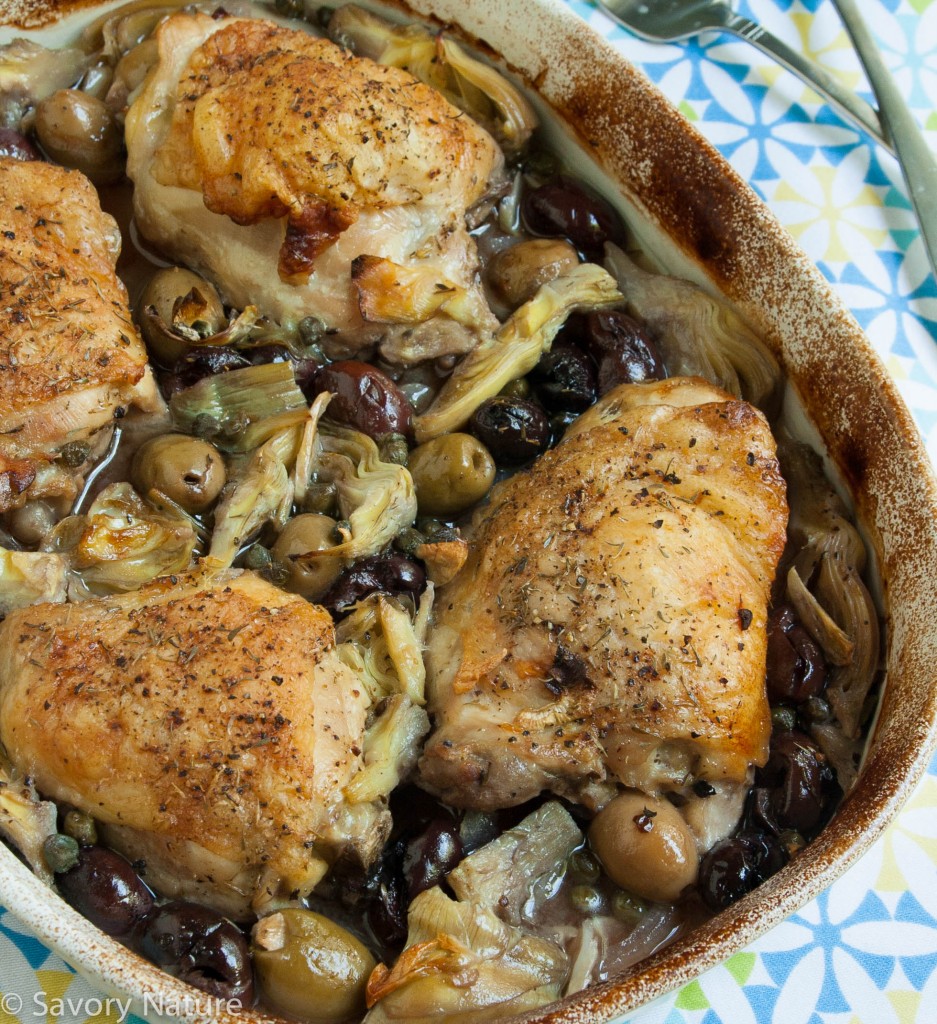 I love briny olives and they are the star of this Mediterranean Baked Chicken. You can use Kalamata olives, but if you have a grocery store with an olive bar, go and get a mixture of different olives – it will make this even better!
This Mediterranean Baked Chicken comes together quickly and tastes so good!
This Mediterranean Baked Chicken is a great meal for a busy weeknight. You just throw the ingredients together in a casserole dish, and let it bake for 55 minutes. The result is crispy skinned chicken with a savory wine sauce spiked with olives, capers and artichoke hearts. The flavors are wonderful and it's so easy to put together.
I recommend serving the casserole with rice to soak up the sauce. You won't want to waste any of this Mediterranean goodness!

Mediterranean Baked Chicken
Ingredients
4 chicken thighs (bone-in with skin)
½ medium onion, sliced
1 large clove garlic, sliced thinly
6 oz Kalamata or mixed olives
A 6 oz jar marinated quartered artichoke hearts, drained
1 Tbsp capers, drained
1 cup dry white wine
Salt and freshly ground black pepper to taste
¼ tsp dried thyme leaves
Instructions
Preheat oven to 375 degrees F.
Trim thighs of excess fat and any skin hanging off the thigh.
Spread sliced onions and garlic in a 9 X 12 inch casserole dish.
Top with chicken pieces.
Pit any olives that are not already pitted.
Arrange olives, artichokes and capers around chicken.
Pour wine around (not on) chicken.
Sprinkle chicken with salt, pepper and thyme.
Bake at 375 degrees F for 55 minutes.