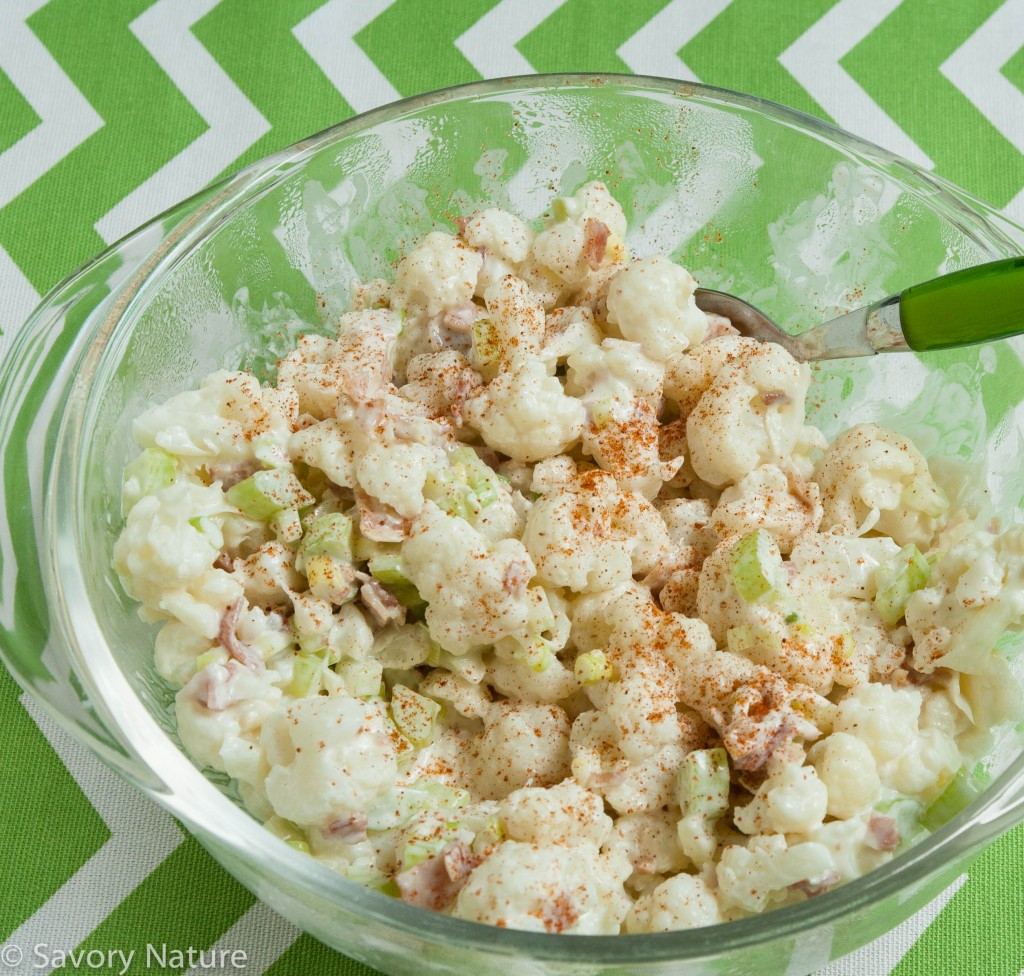 This Cauliflower Salad has all the flavor of potato salad with nowhere near the calories. There's something about the taste and texture of cauliflower that makes it a great low calorie stand-in for potatoes. You can do it mashed or as we have here: cook it crisp tender and dress it as a salad.
The dressing here is a classic potato salad style of dressing and it is so good with the cauliflower. If you like potato salad, you will love this Cauliflower Salad! The celery and scallions provide a nice crunch and the bacon – well what can't benefit from a little bacon?
I have to give my husband the credit for this awesome salad – it was his creation. He does good work. I often tell him he can cook for me any time ☺
Try this as a side next time you fire up the grill. You'll be amazed how good it is!

Cauliflower Not Potato Salad
Ingredients
1 head of cauliflower
Juice from 1 lemon
1 stalk of celery, finely diced
2 scallions, cut in half lengthwise, and finely chopped
3 strips of bacon, cooked, and crumbled
½ cup mayonnaise (plus more as needed (preferably light mayonnaise))
1 Tbsp seasoned rice vinegar
2 pinches of salt, divided
Paprika (omit for a nightshade free version)
Instructions
Fill a large pot with about 3 quarts of water, a pinch of salt and juice of one lemon.
Bring to a boil.
Quarter cauliflower, core it and use hands to break into florets.
When water is boiling, put cauliflower in.
Cook 5-8 minutes until still firm but a fork slides in.
Drain in a colander.
While cauliflower is still warm, combine cauliflower, celery, scallions and bacon in a large bowl (or the pot).
Add ½ cup mayonnaise, 1 Tbsp seasoned rice vinegar, a pinch salt.
Stir all together.
If necessary add mayonnaise 1 Tbsp at a time until consistency is right (cauliflower heads vary in size so this is adjustable).
Sprinkle with paprika, stir, sprinkle with a little more paprika over top.
Chill before serving.