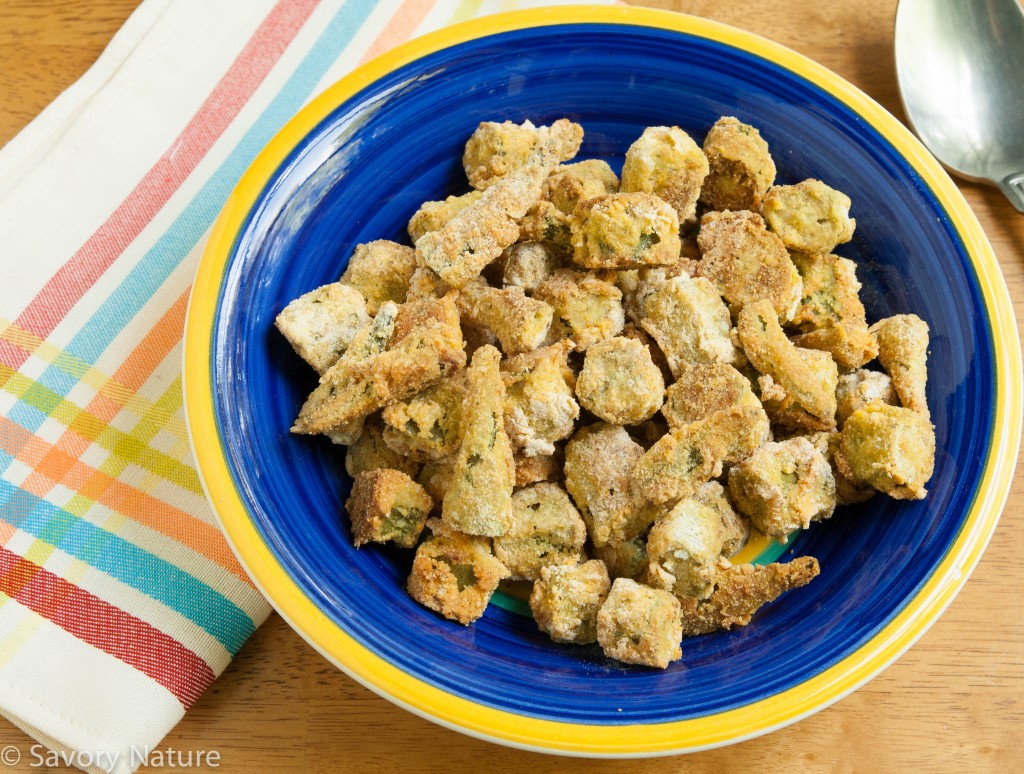 I got some fresh okra in my produce box this week. I thought I might fry it, but I decided to try doing a healthier, lower calorie oven fry. I was not at all disappointed, and I doubt I'll ever bother with the mess of deep frying okra again.
The oven fried okra came out nice and browned and crunchy and the spice mix was just right. They have a nice little kick of heat from the cayenne pepper! And for those who fear okra's slime, fear not – there is no slime with this preparation method. I used a combination of cornmeal and rice flour as cornmeal on its own can be a little gritty. The texture was just right! For those who aren't gluten sensitive, you could substitute all purpose flour for the rice flour.
Be careful – these oven fried okra tend to disappear quickly!
There was a serious danger of these disappearing before I could take pictures. My husband said they were like candy. Every time you eat one you just want more!

Oven Fried Okra
Ingredients
10 oz fresh okra (There's enough eggs and batter if you want to do a little more you can.)
2 eggs
½ cup yellow cornmeal
½ cup white rice flour (the kind found at Asian groceries works best)
1 tsp salt
1 tsp granulated garlic
1 tsp granulated onion
¼ tsp ground cayenne pepper
Instructions
Preheat oven to 450 degrees F.
Trim off okra tops and slice into ½ inch to ¾ inch pieces.
Lightly beat eggs in a medium bowl.
In a large bowl, mix cornmeal, rice flour and spices.
Spray a sheet pan with cooking oil spray.
Mix okra with egg, coating well.
Take a handful at a time of egg-coated okra and dredge/roll in flour mixture until well coated. Place on sheet pan.
Repeat with remaining okra.
Bake about 30 minutes until nicely browned stirring after 20 minutes.