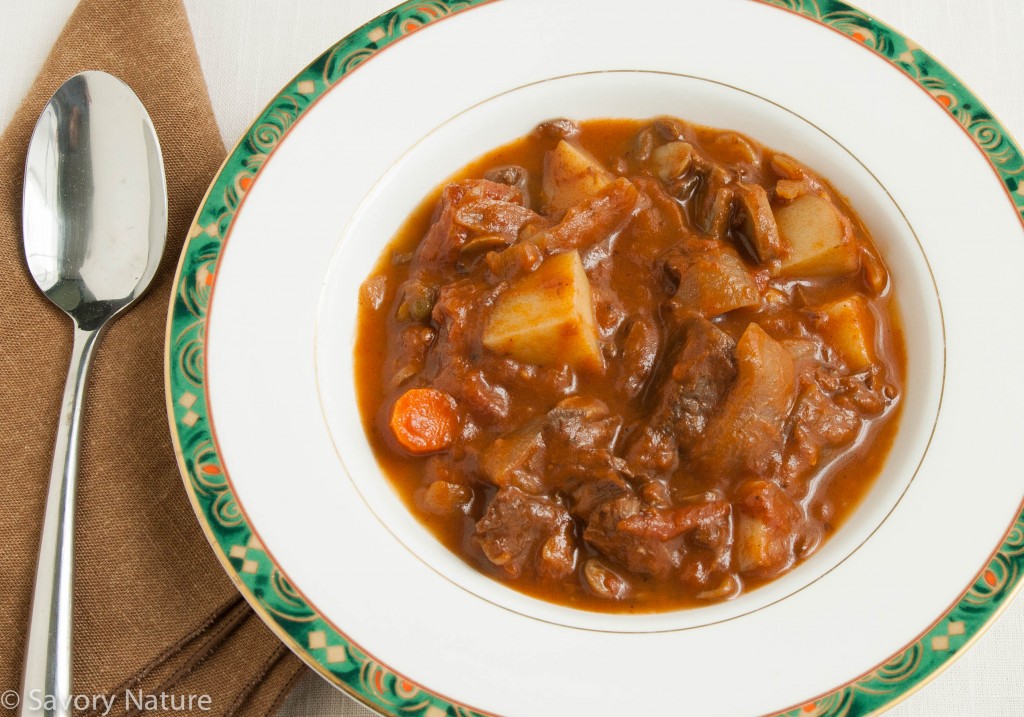 We're starting to get that cool fall weather that just beckons for a warm, hearty stew. This is an old family favorite Italian Beef Stew recipe that was handed down from my mother-in-law. It is the epitome of comfort food!
The beef chuck becomes almost fall apart tender with the long simmer. Lots of onions make the stew robust and sweet. And tomatoes add body and flavor.
The original recipe did not have the carrots and potatoes, and was served over noodles. Feel free to do that if you like. We went with the carrots and potatoes for a true one-dish meal.
My mother-in-law used oregano and rosemary, classic Italian herbs. We happened to have fresh sage, which we love, and fresh thyme available when we made this beef stew, so we went in that direction. Either herb combo will yield a wonderfully aromatic stew. I don't think any recipe should be set in stone. I love to change ingredients up a bit for a little variety.
You can top this with parsley and/or grated Parmesan for a truly Italian feel, but the stew really stands on its own, so don't feel you must.
Celebrate the return of cooler weather, and be warmed from the inside with this rustic Italian Beef Stew!

Italian Beef Stew
Ingredients
3 Tbsp olive oil
3 lbs beef chuck roast
Salt and black pepper
3 yellow onions, sliced end to end
2 cloves garlic, minced
5 carrots, peeled and chopped into 1 inch pieces
4 red potatoes, chopped into 1 inch pieces
1 Tbsp sweet rice flour
¾ cup red wine
One 6 oz can tomato paste
Two 14 oz cans stewed tomatoes
1 tsp chili powder
½ tsp red pepper flakes
Freshly ground black pepper to taste
2 sprigs fresh thyme and 1 sprig fresh sage (or ½ tsp dried thyme and 1 tsp rubbed sage) You could also substitute 1 tsp dried oregano and 1 tsp dried rosemary if you prefer.
4 oz can mushrooms, drained
¼ cup chopped parsley (optional)
⅓ cup grated Parmesan cheese (optional)
Instructions
Trim beef of fat and connective tissue as much as possible and cut into 1 inch pieces.
Sprinkle beef on all sides with salt and black pepper.
Heat oil in a large Dutch oven or pot over medium high heat.
Add half of beef and brown lightly on all sides.
Remove beef to a large bowl and repeat with remaining beef. Remove to bowl.
Add onions and cook, stirring frequently until browned.
Add garlic and stir about 30 seconds until aroma comes.
Remove onions and garlic to bowl with beef.
Add sweet rice flour to pan and whisk about 1 min until a roux forms.
Slowly stir in wine, scraping bottom of pan to remove browned bits.
Add tomato paste and whisk to mix.
Add stewed tomatoes.
Add chili powder, and red pepper flakes.
Add freshly ground black pepper to taste.
Add back beef and onions/garlic to pan.
Add carrots.
Add a little water if necessary to make sure everything is submerged.
Add herbs (thyme, sage or oregano, rosemary).
Cover, reduce heat and simmer for 1 hour.
Add potatoes, cover and simmer another hour.
Add mushrooms and stir just until heated.
The stew can be served as is or topped with parsley and/or Parmesan cheese.