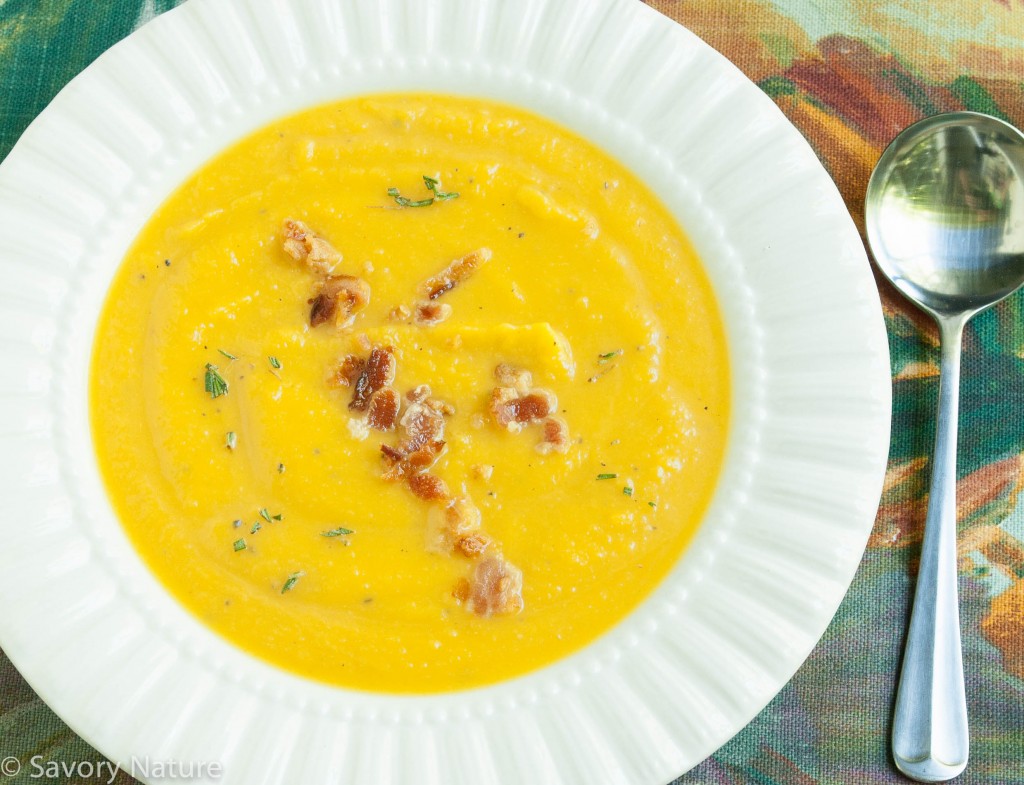 Cooler, less humid days are finally here and winter squashes have started to show up at the market. Their subtly sweet savory flavor just says fall! And there's nothing like a warming soup on a cool autumn day.
The flavors of this Roasted Butternut Squash Soup are on the hearty side with roasted garlic, bacon and rosemary. Garlic develops a sweet yet pungent flavor when roasted, and roasting really brings out the nuttiness of the butternut squash. The rosemary is subtle and complements the sweet squash nicely. Almond milk makes it nice and creamy while keeping the recipe dairy free. You can substitute rice milk if you'd like to keep it top-eight-allergens free.
This satisfying Roasted Butternut Squash Soup makes a great lunch or pair it with a green salad for a healthy, delicious fall supper.

Roasted Butternut Squash Soup with Bacon and Rosemary
Ingredients
1 large butternut squash
2 Tbsp extra virgin olive oil
1 tsp salt, divided
3 cloves garlic (unpeeled)
3 slices bacon
1 ½ cups chicken stock
1 cup unsweetened almond milk (or rice milk)
freshly ground black pepper to taste
2 small sprigs of fresh rosemary (1 tsp finely chopped, divided)
Instructions
Preheat oven to 400 degrees F.
Peel squash, cut in half lengthwise, and remove seeds.
Chop squash into ½-3/4 inch cubes.
Place in a large bowl and drizzle with 2 Tbsp extra virgin olive oil.
Sprinkle with ½ tsp salt.
Toss so that squash is well coated with oil.
Line a sheet pan with aluminum foil and spread squash over pan.
Place 3 large unpeeled garlic cloves on pan.
Roast for 30 minutes until squash is fork tender.
Let squash and garlic cool a few minutes.
Meanwhile, cook bacon until crisp in a large pot.
Remove bacon to paper towels and drain all but about 1 Tbsp of bacon fat from pot.
Add chicken stock to pot and scrape with a wooden spatula to release brown bits from bottom of pot.
Add almond milk (or rice milk).
Add roasted squash to pot.
Peel garlic cloves, pinch off tops and add cloves to pot.
Add ½ tsp salt and freshly ground black pepper to taste.
Puree mixture with an immersion blender or transfer portions to a blender and puree, then return to pot.
Add ½ tsp finely chopped rosemary to soup mixture.
Simmer covered 15 minutes.
Ladle into bowls and garnish with crumbled bacon and a sprinkle of finely chopped rosemary (you don't need to use the whole ½ tsp rosemary, it's strongly flavored – just a few pieces to make it pretty).