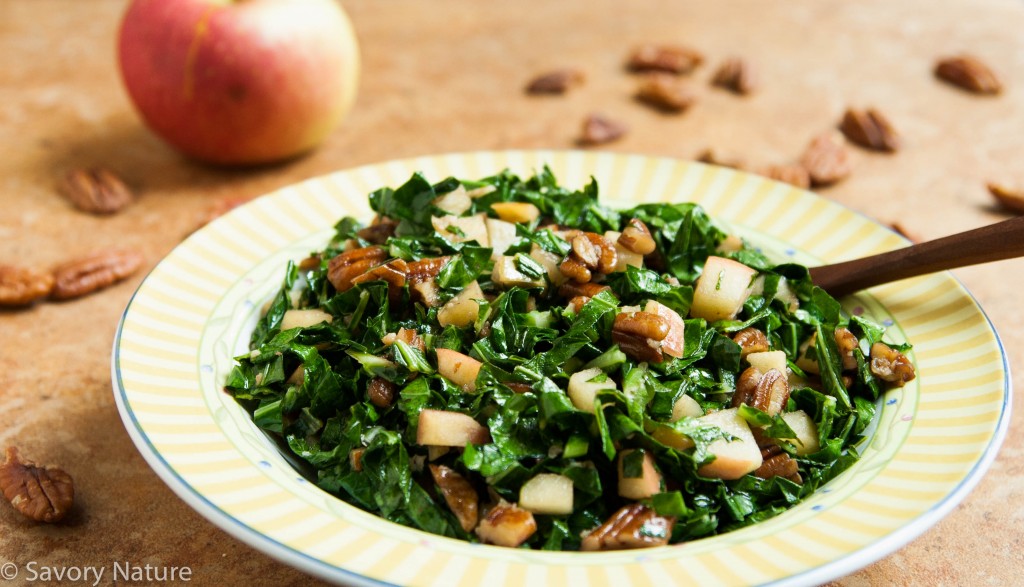 Living in the South, I'm used to slow cooking collards in broth, but I discovered a recipe for Brazilian collards a while back in an article by Michael Hastings in my local paper, The News and Observer. The recipe was from Walter Vanucci, owner of Leblon Brazilian Steakhouse in Greensboro, NC. The treatment was simple – just slice the collards very thinly and sauté with generous amounts of garlic and olive oil. They only take a couple minutes and they're so good! They have a much fresher flavor and appearance than stewed collards.
In this Quick Cooked Collards with Apples and Pecans, I've taken the Brazilian technique and added some fall flavors to the mix. When I made this the first time, my husband could see me nodding to myself as I tasted a spoonful, and he knew it was a winner! The apples and brown sugar add a nice hint of sweetness to balance the bitter notes of the collards. The pecans add crunch and the margarine (or butter if you like) and garlic tie it all together.
If you're looking for a quick, easy, healthy side dish that's out of the ordinary, these Quick Cooked Collards with Apples and Pecans are your ticket!

Quick Cooked Collards with Apple and Pecans
Ingredients
1 bunch collards
3 Tbsp margarine (or butter)
1 Tbsp brown sugar
½ cup pecans, coarsely chopped
1 apple, diced
2 cloves garlic, minced
¼ tsp salt
Instructions
Remove tough stems from collard leaves and discard.
Lay collard leaves out in a pile and then roll them up lengthwise.
Slice the roll very thinly crosswise and then cut the slices at 90 degrees a couple times so the strands aren't too long.
Heat margarine in large skillet over medium high heat.
Add brown sugar and pecans and stir 1 minute.
Add apple and stir 2 minutes.
Add garlic and stir 30 seconds.
Add collards, sprinkle with ¼ tsp salt and cook stirring 2 minutes.
Notes
Servings size range depends on size of collard bunch. A small bunch will yield 4 servings.