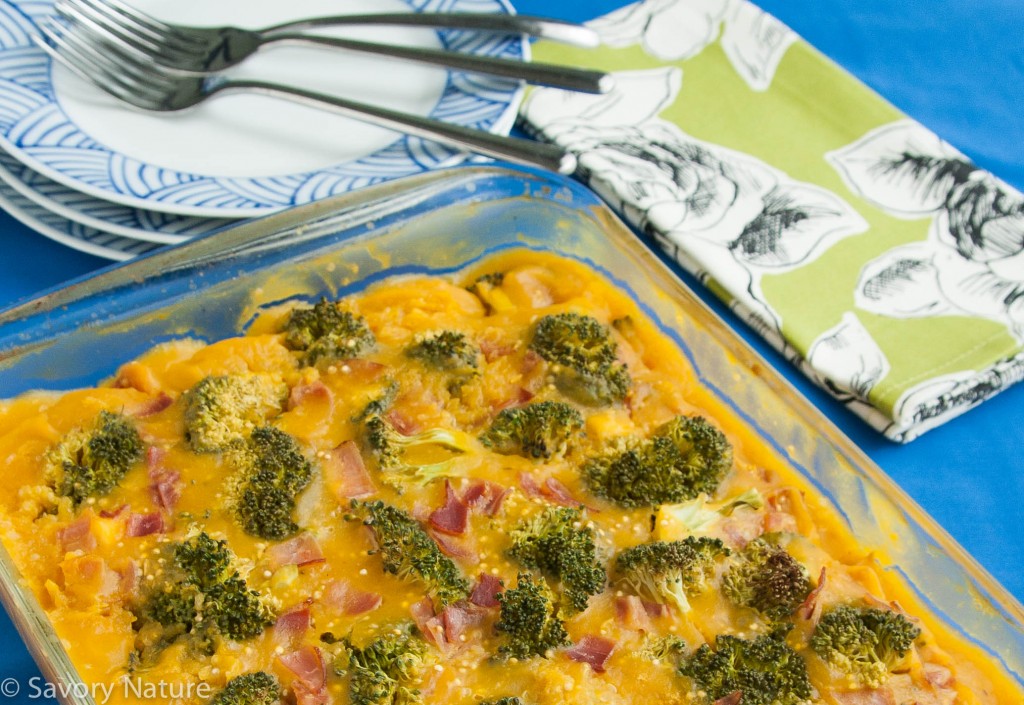 Don't you just love one-dish meals? Meat, vegetables and starch all in one creamy, comforting casserole. No multiple dishes to orchestrate. Just get it prepped, mix it all together and pop it in the oven.
This Chicken Broccoli Quinoa Squash Casserole is that kind of dish. It's a healthier, more veggie-full riff on chicken and rice casserole with broccoli. High protein quinoa subs for the rice and a creamy squash broth replaces a milk based binder and cheese making it dairy free. Have trouble getting your kids to eat their veggies? Try this – it's chock full of them and they won't even know they're eating squash if you don't tell them. The sauce is just pure golden goodness. Tell them it's cheese sauce – I'm not kidding, it's that luscious!
There's a bit of prep work with peeling and dicing the squash and it cooks in the broth for 20 minutes – time for you to cut up the broccoli, chicken and prosciutto, which is a great salty accent. Then it's just put it all together and bake it.
I'll admit my family thought this recipe idea was a little weird when I told them about it. But boy, did they like it! I heard "Wow! This is really good!" My daughter decided to take the leftovers to work for lunch. Now that's saying something!

Chicken Broccoli Quinoa Squash Casserole
Ingredients
1 small onion, chopped
1 Tbsp olive oil
1 large clove garlic, minced
1 medium butternut squash
4 cups chicken broth
1 tsp salt
⅛ tsp cayenne pepper
¼ tsp dried thyme
freshly ground black pepper to taste
3 cups fresh broccoli florets
1 ¼ lbs boneless skinless chicken breast
3 strips prosciutto
1 cup uncooked quinoa
Instructions
Preheat oven to 400 degrees F.
Peel butternut squash, remove seeds and chop into ½ inch cubes.
In a large saucepan over medium heat, cook onion in oil about 4 minutes until starting to brown.
Add garlic and cook about 30 seconds until aroma comes.
Add chicken broth, salt, cayenne pepper, thyme and black pepper.
Add squash and bring to a boil.
Cover, reduce heat and simmer 20 minutes until squash is very tender when pierced with a fork.
While the squash is cooking, chop broccoli into bite sized florets, chop chicken breast into ½ inch cubes and chop prosciutto.
Rinse and drain quinoa in a strainer.
When squash has cooked, puree soup with an immersion blender or puree in batches in a blender. (Remove center of cap from blender and cover with a towel to allow steam to escape.)
Mix quinoa and squash puree in a 13 X 9 inch casserole dish.
Sprinkle chicken around and then broccoli and finally sprinkle prosciutto around broccoli.
Bake uncovered at 400 degrees F for 40 minutes.
Remove from oven, give the edges a little stir and let sit 10 minutes before serving.