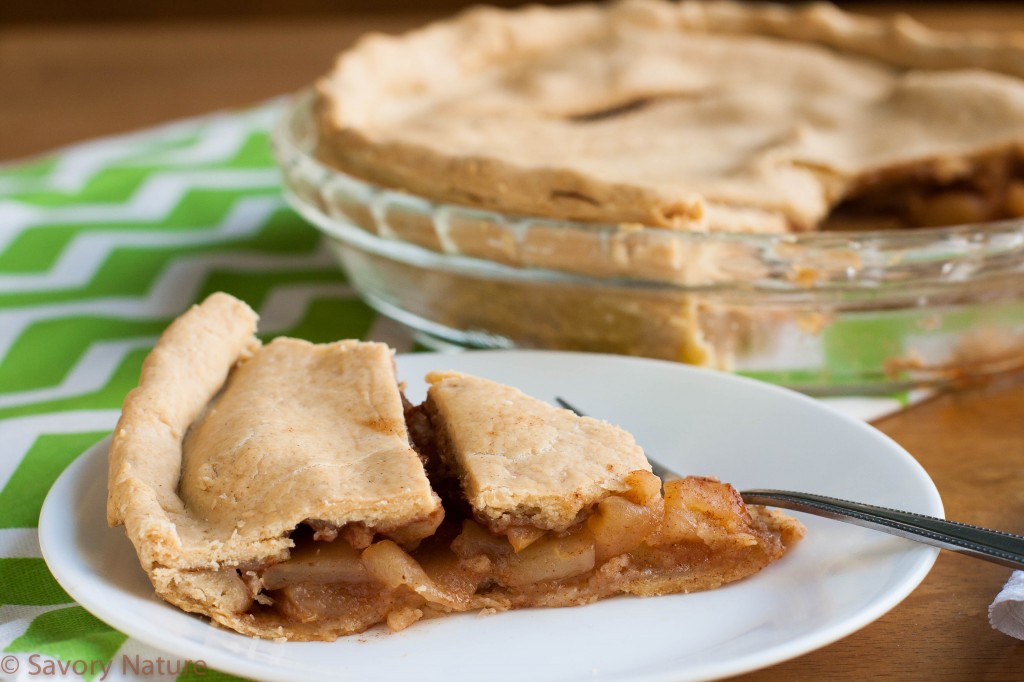 This is a repost from last December. I thought with Thanksgiving approaching, my gluten free readers could benefit from some help with pie dough and an awesome apple pie recipe, too. My Mom showed me the trick to making her delicious apple pie gluten free last Thanksgiving. I've tried to roll out gluten free pie dough before and had it fall apart when I went to lift it. Well, my Mom has an ingenious trick that makes transferring the rolled-out dough to the pie plate a breeze. You roll it out between 2 pieces of waxed paper. Peel off the top sheet. Invert the dough with the bottom sheet of wax paper onto the pie plate and then peel off the wax paper from on top of it. The waxed paper holds the dough together during the transfer.
I used Bette Hagman's 4 flour bean mix from The Gluten Free Gourmet cookbook and it made a beautiful browned flaky crust.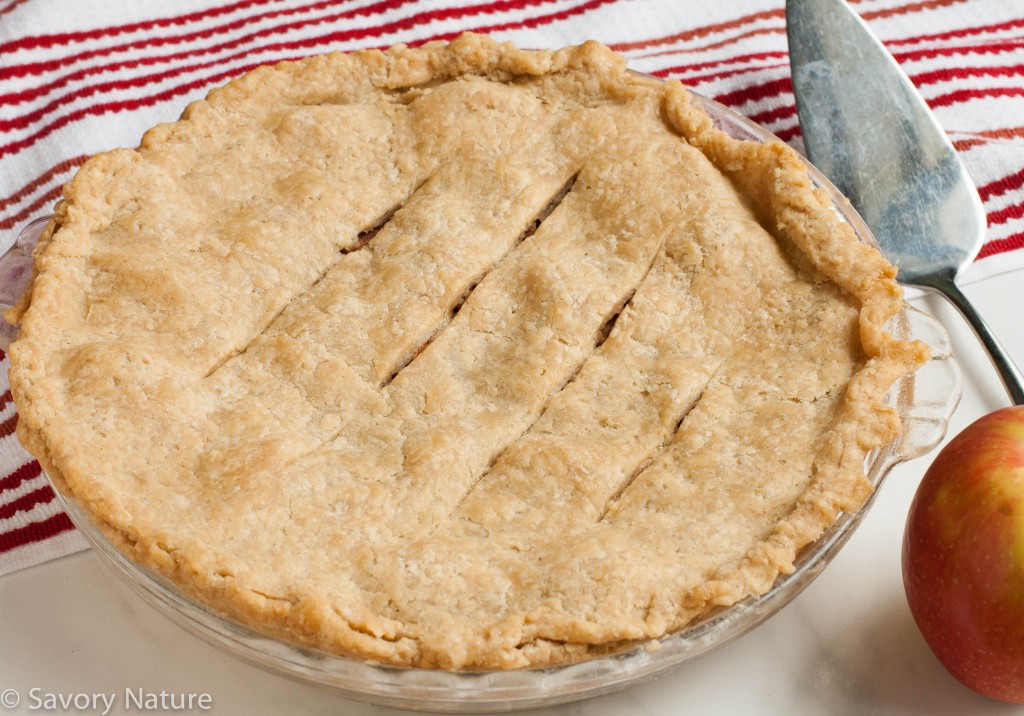 My Mom commented that the dough stayed together more easily than with the Bob's Redmill all purpose gluten-free flour that she usually uses.
You can serve this gluten-free apple pie proudly whether your guests eat gluten-free or not.
Mom's Gluten-Free Apple Pie
Ingredients
Dough
2 cups of Bette Hagman's 4 flour mix: (2/3 cup Garfava or garbanzo bean flour, ⅓ cup sorghum flour, 1 cup cornstarch, 1 cup tapioca starch flour)
½ tsp salt
2 tsp xanthan gum
¾ cup margarine such as Earth Balance
4-5 Tbsp ice cold water
Filling
4 Apples (Gala works well), peeled and sliced ¼ inch thick
½ cup sugar mixed with 2 tsp cinnamon
About 6 dabs of margarine such as Earth Balance
Instructions
In a large bowl mix the 4-flour mix well. Take out 1 cup and reserve it for another use.
To the 2 remaining cups of flour, mix in the salt and xanthan gum.
With a fork, cut in the margarine until well mixed.
Stir in 4 Tbsp cold water and knead the dough. If it seems too dry add in the additional Tbsp cold water. Dough should be pliable, but not too sticky.
Divide in half.
Wet counter and put a sheet of wax paper down. Water will keep sheet from moving.
Pat half dough ball into a circle on wax paper.
Cover with another sheet wax paper and roll out a bit larger than your pie plate so that you have enough dough to go up the sides.
Peel off top waxed paper.
Pick up dough with wax paper and invert onto pie plate (or invert pie plate onto dough and then flip the 2 over together).
Peel off wax paper and press dough into pie plate.
Spread sliced apples in crust.
Sprinkle cinnamon sugar over top of apples.
Put a few dabs of margarine over top of apple mixture.
Invert remaining crust onto pie and cut off any excess.
Press together edges.
Rub top with a little water from a wet hand.
Make 3-4 slices in top dough to let steam out.
Bake at 350 degrees for about an hour (check after 45 min) until crust is nicely browned.