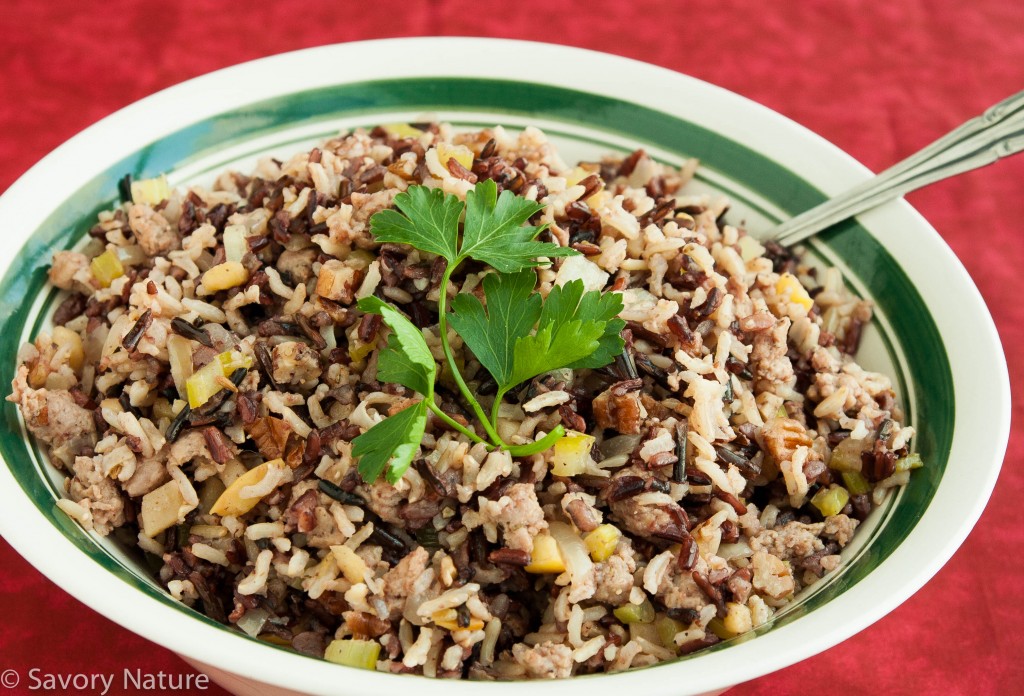 Thanksgiving is right around the corner and one of the must have dishes is stuffing. Of course traditional stuffing is a gluten fest, but there are multiple ways to make gluten free stuffing. If you prefer a bread stuffing, I'll refer you to my Gluten Free Cornbread Stuffing with Turkey Sausage – really tasty! But a great stuffing can be made with rice, too.
I use three varieties of rice to make it interesting. The black and wild rices give this three rice stuffing great chew and nuttiness while the Basmati fills in the background. Black rice might be found with the rices or with the Asian foods in the grocery store. The rices are the base to which we add onion, celery, apple, garlic, candied pecans, turkey sausage, and a little white wine and sage. Sound good? I guarantee it is!
The rices take a while to cook, but you can be sautéing the accompaniments, while they're cooking. I recommend making this Three Rice Stuffing a day ahead, and then just heating it up in the oven or microwave on the holiday. And of course you can stuff some in your bird, too! Happy cooking!

Three Rice Stuffing
Ingredients
1 cup brown Basmati rice
½ cup wild rice
½ cup black rice
4 cups chicken stock, divided
½ cup chopped pecans
3 Tbsp margarine, divided
1 Tbsp brown sugar
1 onion, chopped
2 stalks celery, chopped
1 large apple, chopped
2 cloves garlic, minced
1 Tbsp olive oil
3 sweet Italian turkey sausage links
½ cup white wine
2 tsp rubbed or crushed sage
1 tsp salt plus more if necessary to taste
freshly ground black pepper to taste
Instructions
Rinse brown rice in a strainer.
Add to 14 oz chicken stock in a medium saucepan.
Bring to a boil, reduce heat, cover and simmer about 45 minutes until liquid is absorbed.
Meanwhile, rinse wild rice in a strainer and add to 2 cups chicken stock in a medium saucepan.
Bring to a boil, reduce heat and simmer 10 minutes.
Rinse black rice in a strainer, and after wild rice has been simmering 10 minutes add the black rice to it.
Return pot to a boil, cover, reduce heat and simmer for about 45 more minutes until liquid is absorbed. (If liquid does not absorb completely, you can leave it heating a few more minutes with the cover tilted to evaporate the excess liquid.)
While the rices are cooking, melt 1 Tbsp margarine in skillet, add pecans and brown sugar and cook about 2 minutes until nutty aroma starts to come. Remove to a large bowl.
Add 2 Tbsp margarine to skillet and saute onion and celery for about 5 minutes until starting to soften.
Add apple and sauté another minute.
Add garlic and sauté until aroma comes about 30 seconds.
Empty into bowl with pecans.
Add 1 tbsp olive oil and sausage squeezing out meat from casings into skillet.
Break up as it cooks and brown completely.
Add wine to pan and 2 tsp ground or rubbed sage.
Boil wine until reduced by half, scraping the bottom of the pan with a wooden spatula to release all the wonderful browned bits.
Add sausage and wine mixture to vegetables and rice mix along with ¼ cup chicken stock.
Season with salt and pepper and mix well.
At this point you can refrigerate the stuffing overnight. On Thanksgiving or whatever holiday you're cooking for, I recommend taking it out and letting it warm to room temperature. Then you can either heat it up in the oven or if you don't have time/room in the oven you can microwave it. And of course you can also stuff your bird with it.
Notes
Cooking time does not include time to heat up stuffing for serving.

Preparation time can be overlapped with cooking time so that total time to prepare stuffing may be 1 hour.