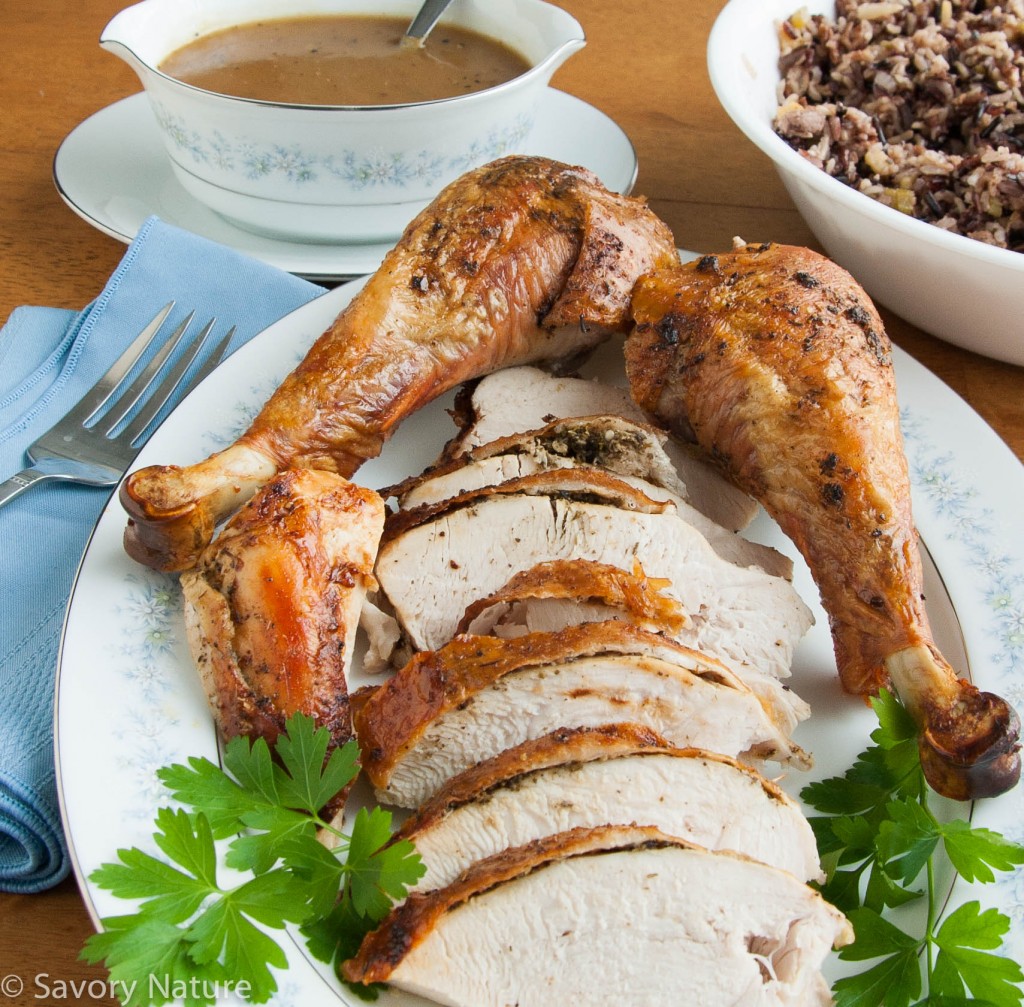 Before I start I have to give credit to my husband for this post. The Thanksgiving turkey is his baby. I am merely the narrator here (and the one responsible for all the sides, which is plenty of work on its own!)
Years ago we used to do our Thanksgiving turkey what I will call the traditional way – basically stuff it and roast it. That was fine, but the breast tends to turn out a bit dry when you cook the turkey long enough to get the legs done this way. Then we read in Cooks Illustrated about cutting the legs and breast apart. That way the rest of the turkey doesn't shield the legs from the heat of the oven and they cook in the same time the breast does. You can still find a post on that method on this site and it works great.
Fast forward a couple years, and we read about spatchcocked turkey in a post by J. Kenji Lopez-Alt at Serious Eats. This technique is really neat. The turkey stays in one piece, but you remove the backbone and spread it out flat. Similar results as cutting it up – the legs are exposed to the heat of the oven and you get nice moist breast meat at the same time the legs are done. Another advantage – a spatchcocked turkey cooks much faster than a traditionally roasted turkey. And since it cooks faster, you can use a higher temperature and get beautifully browned and crisped skin. A spatchcocked turkey is a bird you will be proud to serve!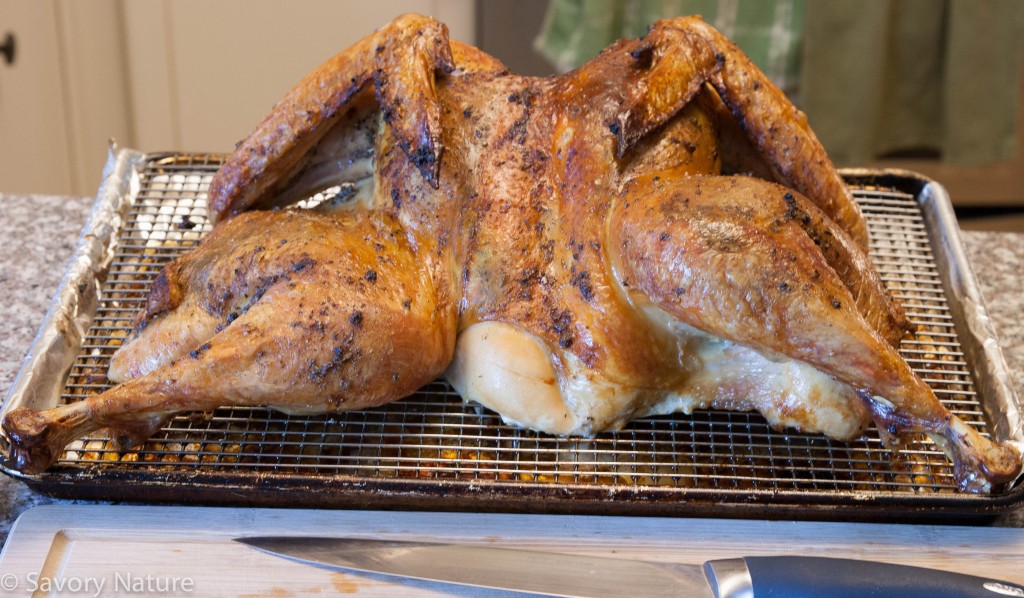 So without further ado, on with the recipe for a spatchcocked turkey!

Roast Turkey - Spatchcocked with Gluten Free Gravy
Ingredients
1 roughly 14 lb turkey
¼ cup margarine (or butter softened)
1 ½ tsp salt, divided plus more for sprinkling over turkey and seasoning gravy
2 tsp dried sage
½ tsp dried thyme
freshly ground pepper
2 cloves garlic, minced
1 lemon
1 onion, quartered, skin left on
1 carrot, cut in 2 inch sections
1 stalk celery, cut in 2 inch sections
1 cup dry white wine
4 cups chicken stock
2-3 Tbsp cornstarch
water
Instructions
Preheat oven to 450 degrees F.
Remove giblets and neck from turkey and reserve.
Using a good sharp pair of kitchen shears, cut along both sides of backbone, remove, and reserve.
Remove any excess fat.
Once oven reaches 450 degrees F, put neck and backbone in a large high sided skillet or large pot and roast in the oven for 30 minutes.
Turn turkey over so breast is up. Press down on breast bone to break it and make turkey lay flat.
Mash together margarine, 1 tsp salt, 2 tsp sage, ½ tsp thyme, a generous amount of freshly ground black pepper, and minced garlic.
Take some of the margarine paste and starting from the bottom of the breast and the top of the thighs, reach under the skin and rub it all over the turkey meat, saving a little bit to rub all over the surface of the skin, too.
Sprinkle the turkey all over with salt and pepper.
Spread turkey out on a wire rack over a foil-lined sheet pan.
Cut the lemon in half and put the halves cut side down under the breast on the rack.
Once neck and backbone have roasted about 30 minutes, remove pan from oven and drain rendered fat into a container and discard.
Put turkey in oven and roast at 450 degrees F for about 90 minutes until deepest part of breast reaches 150 degrees F and thighs reach at least 165 degrees F.
Meanwhile, to make the gravy, add giblets to pan with backbone and neck, and heat on stove browning giblets.
Add 1 cup wine, boil, and scrape browned bits from bottom of pan with a wooden spatula, until wine is reduced by half.
Add 4 cups chicken stock, onion, carrot, celery, ½ tsp salt and a generous grind of black pepper.
Bring to a boil, reduce heat, and simmer covered while turkey cooks.
Once turkey has reached 150 degrees F in deepest part of breast and 165 degrees F in thighs, remove from oven and let sit uncovered at room temperature for about 20 minutes before carving.
While turkey is resting, drain stock that has been simmering into a large saucepan through a strainer to remove solids.
Bring to a boil and let cook about 5 minutes to concentrate.
Mix 2 Tbsp cornstarch with 2 Tbsp water and stir into stock to thicken gravy.
Let cook, stirring occasionally, another couple minutes.
If gravy needs more thickening, add additional Tbsp cornstarch and water mixture and cook another minute or two.
(You can also add more chicken stock if you feel it's gotten too thick or you want more volume of gravy.)
Check seasoning of gravy for salt and pepper and serve with turkey.