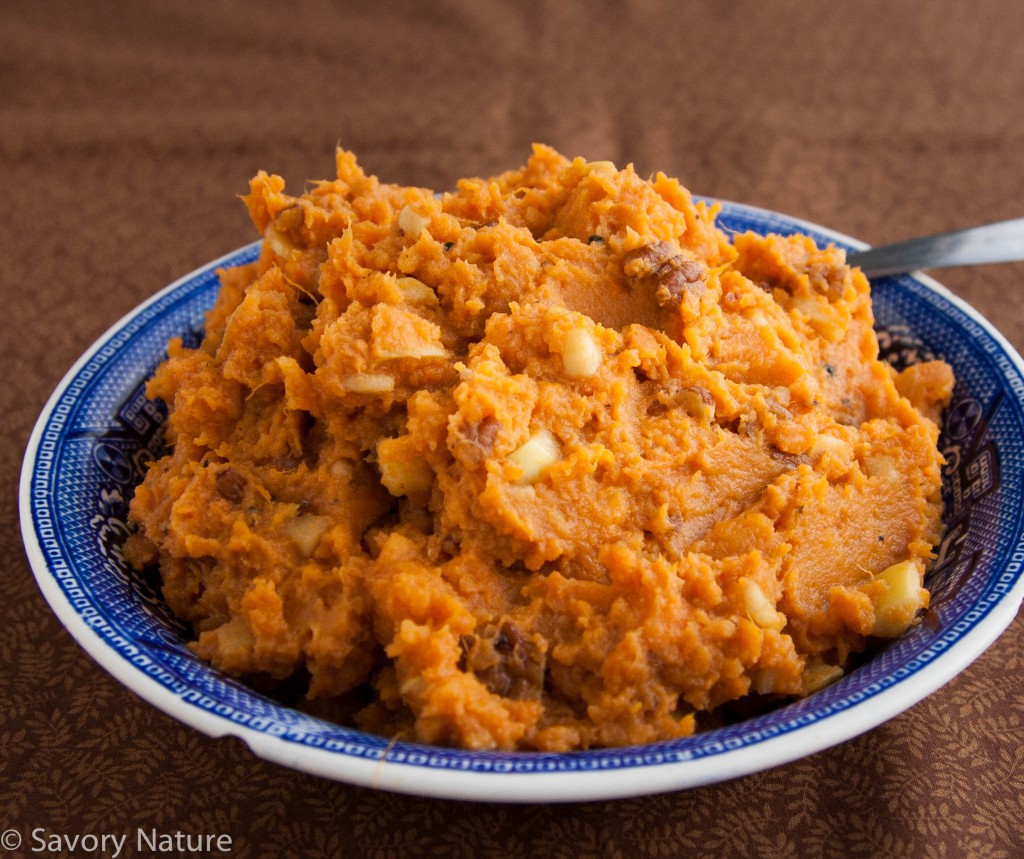 I love sweet potatoes all year round, but they're especially popular during holiday season. This recipe incorporates some additional seasonal ingredients, apple and pecans. All these fall foods combine in a super easy dish to make that is just so good!
Sweet potatoes are great for you, too, with plenty of fiber, the vitamin A precursor, beta-carotene, and antioxidants called sporamins.
There are a variety of ways to cook mashed sweet potatoes. You can dice them and boil or roast them, but I find the easiest way of all is just to microwave the whole sweet potato and scoop it out. The apple and pecan get briefly sautéed in some margarine (or butter) and brown sugar. You simply mash the sweet potato, mix in the margarine/pecan/apple mixture, season with salt and pepper and you're done!
Just because this dish is easy, doesn't mean it won't impress! It's perfect for a festive holiday meal as well as a great every day dinner side dish.

Sweet Potatoes with Apple and Pecans
Ingredients
3 medium sweet potatoes
1 small apple, cored and diced
⅓ cup pecans, chopped
¼ cup margarine (or butter)
2 Tbsp brown sugar
¼ tsp salt
freshly ground black pepper to taste
Instructions
Pierce sweet potatoes in several places with a fork.
Microwave on high 6 minutes.
Turn over and microwave another 6 minutes.
Check if tender when pierced with a fork. If not microwave until they are tender.
Cut sweet potatoes in half lengthwise and allow to cool enough to handle.
Meanwhile, melt margarine with brown sugar in a skillet over medium high heat.
Add pecans and cook stirring occasionally for 2-3 minutes until you can start to smell the nuts.
Add apple and cook another minute stirring.
Scoop out sweet potatoes into a large bowl.
Mash with a potato masher.
Add apples and pecans with margarine and salt and pepper.
Mix well.
To serve, reheat in the microwave.