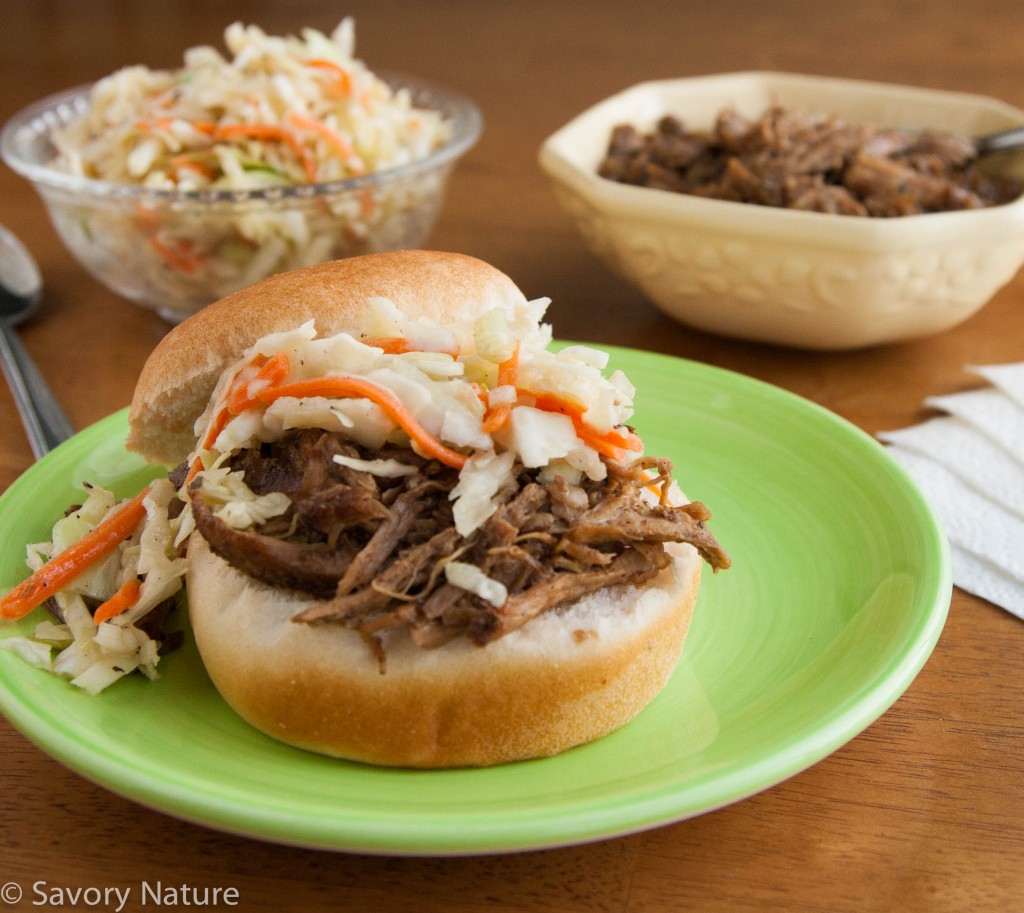 There's something about slow cooker pork. It's juicy, fall apart tender, and almost melts in your mouth! And who doesn't love the slow cooker? Turn it on in the morning and come home to a hot comforting meal! What could be better?
Slow Cooker Pork is at its most awesome with the right cut of meat.
Certain types of meat really benefit from slow cooking, especially those with a bit of fat and plenty of collagen. The collagen breaks down and the fat acts as a baste to yield amazingly tender meat. The pork shoulder butt roast in this recipe is that kind of cut. It comes out super tender, and will shred easily with a fork.
Some simple seasonings really elevate the flavor of these Slow Cooker Pork Sandwiches.
The pork is rubbed all over and in a cut through the middle with a brown sugar, chipotle, garlic, onion, sage spice mix. Apple cider, balsamic vinegar, and bourbon combine in a cooking liquid that turns into a lightly sweet tangy sauce. Separating off the fat from the sauce, and boiling the sauce down to concentrate the flavors before mixing it with the shredded meat, makes for a juicy, tasty sandwich filling while minimizing the calories.
A cool, crunchy slaw is the perfect complement to the succulent pork in these Slow Cooker Pork Sandwiches.
The Maple Dijon vinaigrette on the slaw has a nice little bite. To keep things really quick and easy just use a bagged pre-cut coleslaw. Mix the slaw and dressing, and let it marinate for at least a half hour before you shred the pork.
Pile the pork and slaw on a gluten free bun and dig in!

Slow Cooker Pork Sandwiches w Maple Dijon Slaw
Ingredients
For the pork:
A 3 ½ to 4 lb pork shoulder butt roast (you may need to get an 8 pounder and freeze half for later use)
For the spice mix:
1 Tbsp Kosher salt
2 Tbsp brown sugar
1 tsp chipotle powder
1 tsp garlic powder
1 tsp onion powder
1 tsp black or white pepper
2 Tbsp loosely packed dried rubbed or crushed sage
For the cooking liquid/sauce:
½ cup apple cider
2 Tbsp balsamic vinegar
2 Tbsp bourbon
For the Slaw:
16 oz bag of pre-cut coleslaw
3 Tbsp white wine vinegar
3 Tbsp extra virgin olive oil or canola oil
1 Tbsp Dijon mustard
1 Tbsp maple syrup
¼ tsp salt
Freshly ground black pepper to taste
Instructions
Dry surface of pork roast with paper towels.
Make a slice through the middle of the roast, but don't go quite all the way through.
Mix the spice mix: Kosher salt through sage.
Rub spice mix all over outer surface and inner cut surface of pork roast.
Fold pork roast back together and place in slow cooker.
Mix apple cider, balsamic vinegar and bourbon and pour around (not on) pork roast.
Cover slow cooker and set heat to low.
Let cook for 8-9 hours until fall apart tender.
Meanwhile mix dressing for slaw: white wine vinegar through black pepper in a large bowl.
Add coleslaw and toss to coat. Refrigerate at least a half hour.
Remove pork from slow cooker to a cutting board and pull apart into shreds with 2 forks.
Pour liquid from slow cooker into a fat separator and reserve cooking liquid discarding fat layer on top. (If you don't have a fat separator you can pour liquid into a narrower vessel and ladle off the fat on top.)
Pour defatted cooking liquid into a saucepan and boil it down on the stove until about a cup remains.
Mix shredded pork with sauce to coat.
Layer pork and slaw on gluten free buns and chow down!