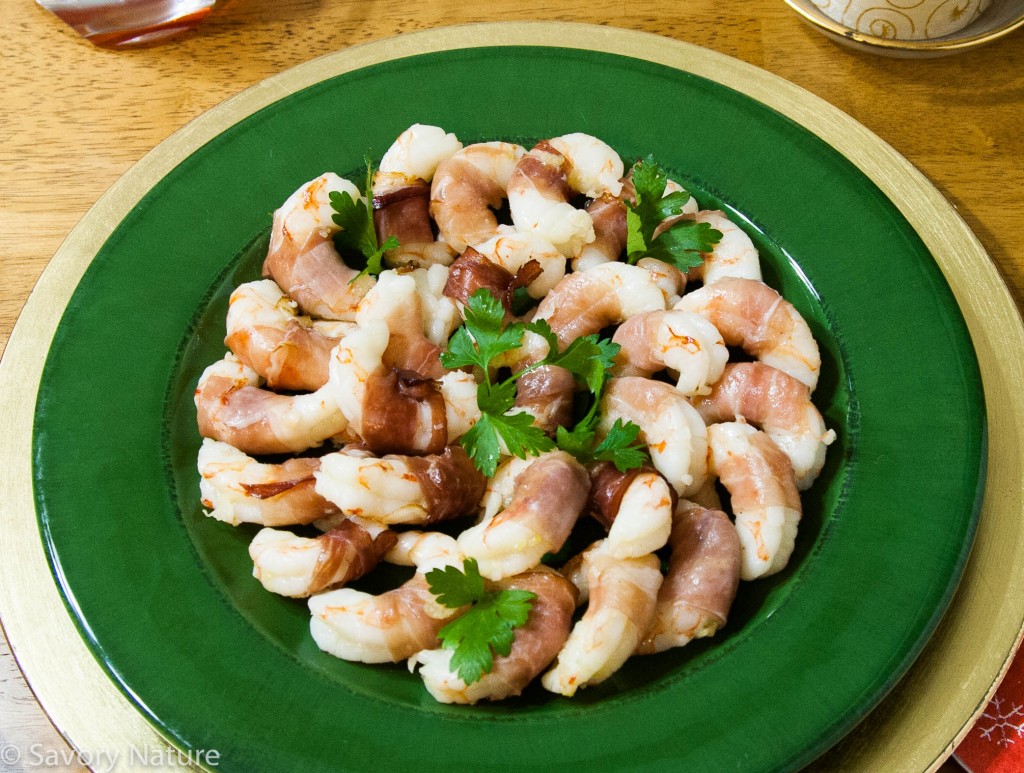 I'm posting a couple of appetizer recipes this week. They're so popular at holiday parties! Every year, when we decorate our Christmas tree, we have what we call snack dinner – basically a whole bunch of appetizers. We pick at the food while we reminisce about all the special ornaments, and before we know it we have a beautiful tree, and we are stuffed! We always make too much!
This Prosciutto-Wrapped Shrimp recipe, and the one, which will follow in a couple days, were part of our spread this year. There's something about the shellfish/pork combination that is just so appealing. Bacon-wrapped scallops are a classic, and these Prosciutto-Wrapped Shrimp have the same sweet shellfish wrapped in salty, porky goodness going on!
So if you're tired of shrimp cocktail, and want to give something a little different a try, this Prosciutto-Wrapped Shrimp recipe's for you. It's a little work wrapping the shrimp, but you can get the assembly done ahead, and just pop them in the fridge. When it's party time, they only bake about 13 minutes (hope you're not superstitious!).
Arrange them on a plate with a few parsley sprigs for color and watch them disappear!

Prosciutto-Wrapped Shrimp
Ingredients
1 lb shrimp (20-40 count per pound size works well), peeled and deveined
3 Tbsp extra virgin olive oil
2 cloves garlic, minced
¼ tsp salt
About 5 slices of prosciutto
A little fresh parsley for garnish
Instructions
Mix oil and garlic in a microwave-safe bowl and microwave on high 1 minute. (This will cook the garlic a little and get the flavor into the oil.)
Let oil cool down a few minutes.
Mix shrimp, garlic/oil, and salt in a zip-lock bag and refrigerate at least a half hour.
Slice each prosciutto slice lengthwise in 3 strips and then cut the strips in half crosswise, yielding 6 pieces prosciutto from each slice.
Preheat oven to 375 degrees F.
Wrap a piece of prosciutto around the center of each shrimp and place shrimp on a rack over a sheet pan.
Bake shrimp at 375 degrees F for 8 minutes.
Turn all shrimp over and bake about another 5 minutes until shrimp are just cooked through.
Arrange in a circular pattern on a plate, garnish with a few parsley leaves, and serve warm.