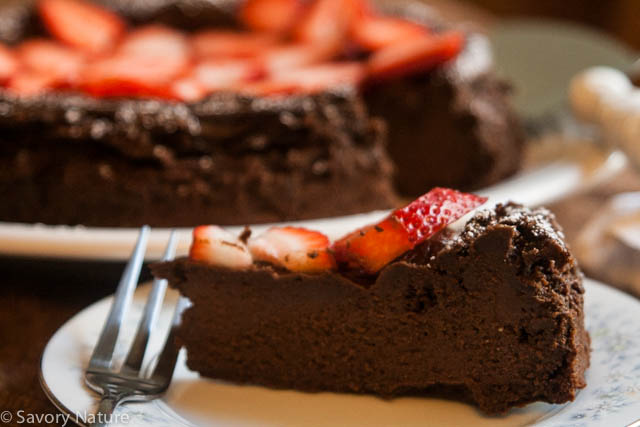 Are you looking for the perfect festive holiday dessert? Well, this is your ticket!
We don't indulge in dessert at our house very often – pretty much just holidays and birthdays. So when we do it's an occasion to be celebrated and the dessert better be a real treat! I originally made this for my daughter's birthday. In addition to gluten and dairy intolerance, she's mildly allergic to soy, peanuts and tomatoes.
Sublime Flourless Chocolate Cake!
Fortunately I have this awesome flourless chocolate cake recipe and it can be made dairy and soy free. I took this to a Christmas party last year with rave reviews from everyone – gluten sensitive or not! One person told me it was a "food crime" in jest! It tastes too rich to believe it's not bad for you. But if you take a very small piece and believe me a small piece will satisfy you, it really isn't bad health wise. Mind you, you don't want to be eating this everyday – lots of calories there – but for a rare splurge, eat it guilt-free!
Making It Gluten Dairy and Soy Free
I found this flourless chocolate cake recipe on the glutenfreegoddess blog. She makes it with butter. You could do that, not an option for us with the dairy problem, but I think it's every bit as rich and tasty made with Earth Balance margarine, which has a healthier fat profile –  more mono and polyunsaturated fats and less saturated fat. It calls for dark chocolate, but try and find any that doesn't tell you it's made on equipment shared with wheat and several other allergens. I found some wheat, dairy and soy free semi-sweet chocolate chunks made by Enjoy Life at Whole Foods Market that work great in this recipe. I've adjusted down the amount of sugar accordingly because the chocolate is sweeter. This cake bakes longer than it would made with butter, but it will come out just as rich and fudgy! I top it with a little sifted powdered sugar and sliced strawberries to make it pretty and give it that fruity pop!
This rich and beautiful flourless chocolate cake will WOW your friends and family!

Flourless Chocolate Cake – Gluten Dairy and Soy Free!
Ingredients
16 oz gluten, dairy and soy free semi-sweet chocolate chunks (like Enjoy Life brand)
¾ cup light brown sugar, packed
¼ cup plus 2 Tbsp granulated white sugar
¾ cup very hot strong coffee
1 cup margarine (Earth Balance and Smart Balance have healthy fat profiles. If you need dairy and soybean oil free, Earth Balance makes a soy-free blend.)
2 Tbsp unsweetened cocoa powder
8 large eggs
1 Tbsp vanilla extract
Powdered sugar
Sliced strawberries
Instructions
Preheat oven to 350 degrees F.
Prepare a 10-cup springform pan by lining it with parchment coated with margarine.
Put the chocolate chunks in a processor and pulse until broken up into small bits.
Add the sugar and pulse until you get a uniform sandy grain.
Pour the hot coffee into the feed tube with processor running and the chocolate will melt. You may need to scrape down the sides and reprocess to get a uniform batter.
Add the margarine in spoonfuls and the cocoa powder and pulse to mix.
Add the eggs and vanilla and process until smooth. The batter will be liquid and creamy.
Pour batter into prepared pan.
Take a long piece of aluminum foil and wrap it around the entire pan allowing it to stick up above the pan.
Bake at 350 degrees F in the center of the oven about an hour and 25 minutes. Start checking it every 10 minutes after an hour. When it's done the center will appear dry and a toothpick inserted in the center will come out just about clean with maybe a crumb or two. If the outside browns too much before the center is dry you can fold down the foil over the edges.
Let cake cool completely. Then cover with plastic wrap and refrigerate for at least three hours or overnight.
To serve sift powdered sugar over the cake and top with sliced strawberries.