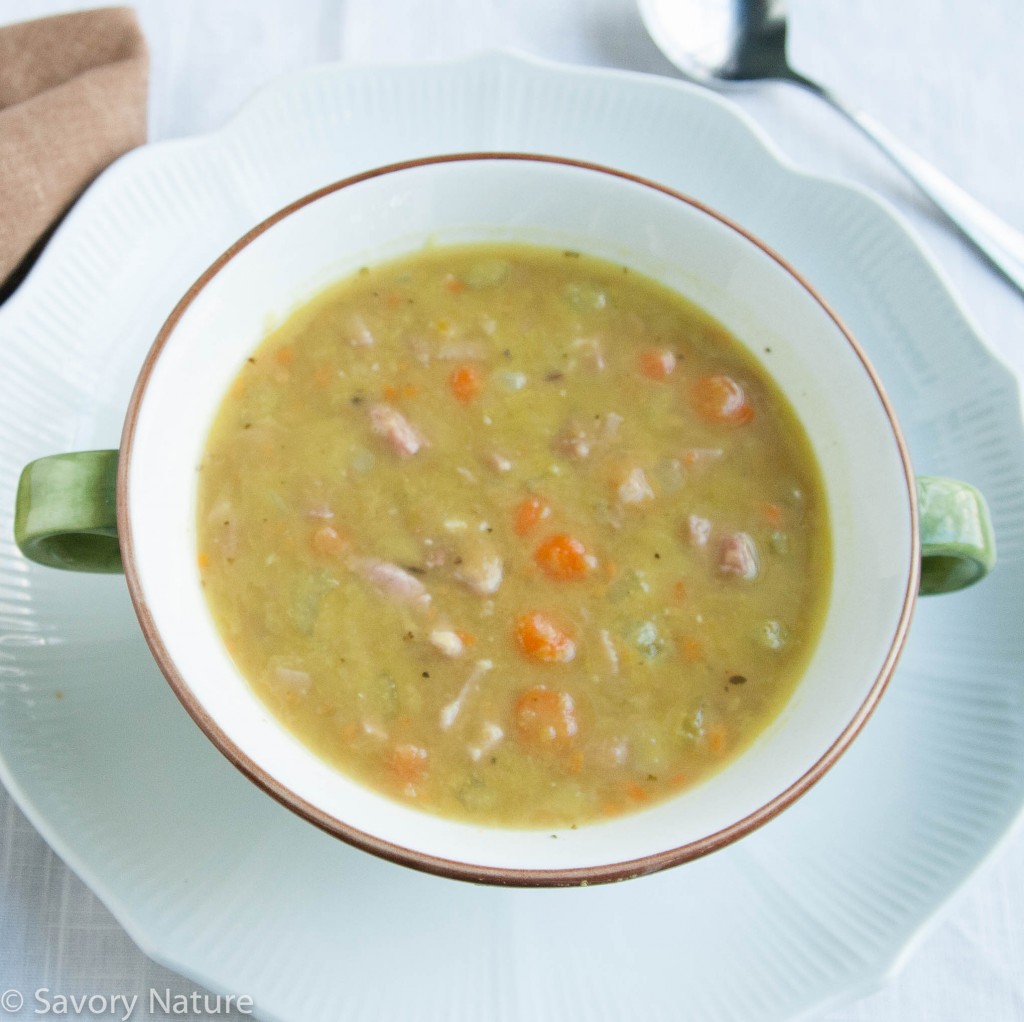 Did you have a ham for Christmas dinner? If you did, you've probably got some leftovers. Yay! There are so many things you can do with them. How about grilled ham and cheese sandwiches – so tasty, or chop a little into an omelet? Want something a little more elaborate? I'm devoting my next couple posts to two satisfying ways you can enjoy that smoky salty pork goodness yet again.
Split Pea Soup is so creamy and satisfying!
Split pea soup is a classic winter soup that's the perfect way to extract that hearty flavor from your ham bone, and use some of the meat as well. All the veggies in it: carrots, celery, onion, garlic, and of course the split peas make it so flavorful, and high in fiber and healthy, too!
After all the fancy, decadent foods of the holidays, this creamy Split Pea Soup is comfortingly simple and satisfying.

Split Pea Soup
Ingredients
1 pound bag of split peas, rinsed and drained
1 ½ Tbsp olive oil
1 ½ cup peeled and chopped carrot
1 ½ cup peeled and chopped onion
1 large celery stalk, chopped
1 minced garlic clove
2 cups chicken stock
6 cups water
A ham bone (or 2 rinsed ham hocks)
A bay leaf
¼ tsp each of salt, dried thyme, rubbed sage, dried tarragon, and dried marjoram
Freshly ground black pepper to taste
1 to 1 ½ cups chopped ham
Instructions
Heat oil in a large pot over medium high heat.
Add carrot, onion, and celery and sauté about 5 minutes until starting to soften.
Add garlic and stir about 30 seconds until aroma comes.
Add chicken stock and scrape bottom of pot with a wooden spatula to release any browned bits.
Add water, ham bone, split peas, bay leaf, salt, thyme, sage, tarragon, marjoram, and black pepper.
Bring to a boil, reduce heat and simmer, cover tilted for 45 minutes.
Remove ham bone and let the bone and the soup cool a little.
When it's cool enough, strip meat off of bone and chop.
Using an immersion blender or a blender, puree about half of soup (and mix back together).
Add chopped ham and ham from bone to soup.
Reheat and serve.