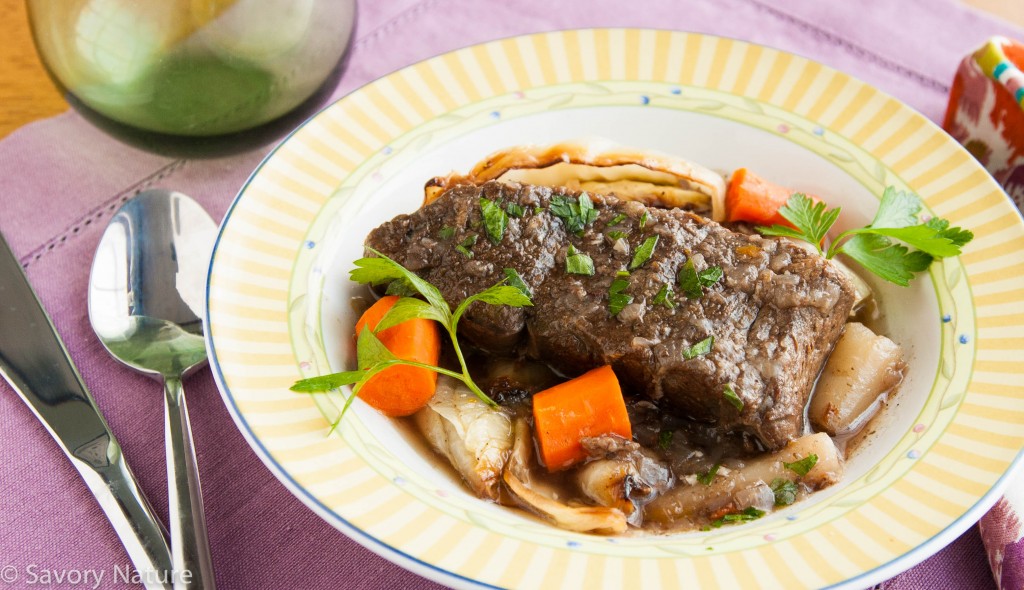 This is the time of year when stews are front and center. They just seem to chase the chills away and warm you from the inside out.
Beef short ribs are one of the best cuts for stewing or braising. They develop such wonderful flavor and tenderness. A lot of fat, as well as collagen, will be rendered during the braising process, moisturizing the meat. When the cooking is done, all this excess fat can be removed from the broth, leaving all that wonderful beefy taste, but limiting the calories.
The Asian-inspired seasonings here have become favorites of ours for stews. They're aromatic yet subtle, and yield a full flavor profile that is just so pleasing!
You could serve these braised short ribs over noodles, but we chose to go with earthy roasted cabbage. It's way more healthy with plenty of fiber and phytonutrients, as well as very few calories. And it just plain tastes better! Roasting really brings out its best.
This recipe cooks for a while so it's great for a lazy weekend afternoon. Turn on a game and let the short ribs braise away.
Baby, it's cold outside! Warm up deliciously with these Braised Short Ribs Over Roasted Cabbage!
Braised Short Ribs Over Roasted Cabbage
Ingredients
8 boneless short ribs (about 4 lbs )
Kosher salt
1 large onion, finely diced
1 ½ tsp brown sugar
1 ½ tsp Chinese five spice powder
3 Tbsp fish sauce
4 cloves crushed garlic
2 stalks lemongrass cut into 3 inch lengths and bruised
1 bay leaf
2-3 Tbsp grated fresh ginger
2 whole star anise
4 Tbsp cooking oil, divided
3 cups chicken stock
5 carrots, peeled, cut into 1 inch lengths
1 cabbage, open outer leaves removed, cut into 8 wedges (do not remove core - it will hold each wedge together during roasting)
2 Tbsp cooking oil
Salt and black pepper to taste
2 Tbsp finely chopped parsley (optional)
Instructions
Trim ribs of exterior fat and silver skin.
Sprinkle liberally with Kosher salt and refrigerate uncovered 1 hour.
Mix 1 ½ tsp brown sugar, 1 ½ tsp Chinese five spice powder, 3 Tbsp fish sauce, 4 cloves crushed garlic, 2 stalks lemongrass cut into 3 inch lengths and bruised, 1 bay leaf, 2-3 Tbsp grated fresh ginger, and 2 star anise in a medium bowl.
Heat 2 Tbsp oil in a large Dutch oven over medium high heat until almost smoking.
Sear beef on all sides and remove (you'll probably need to do 2 batches and may need more oil for second batch.
Saute onion in 2 Tbsp oil in same Dutch oven over medium heat, 3-4 minutes until soft but not browned.
Pour in seasoning mix from bowl, and stir spices 1 minute.
Add 3 cups chicken stock, bring to a boil, scraping bottom of Dutch oven to release browned bits.
Return meat to Dutch oven.
Reduce heat and simmer covered for 2 hours.
After 1 ¾ hours, place a baking sheet lined with foil in oven and preheat oven to 425 degrees F.
Mix cabbage pieces in a large bowl with 2 Tbsp oil and salt and pepper to taste.
Place cabbage pieces on heated sheet pan and roast.
At the same time add carrots to stew, cover and simmer an additional 30 minutes.
Cabbage roasts for 15 minutes, then turn over and roast another 15 minutes.
Cut cores from cabbage pieces to serve.
Strain cooking liquid from stew into a large glass measuring cup or bowl, and either ladle fat off top or run through a fat separator to remove fat.
Discard fat in an appropriate container.
Pour defatted cooking liquid back in with beef and carrots/onions, and serve over roasted cabbage in shallow bowls.
Sprinkle with parsley if desired.
Notes
Preparation time includes 1 hour sitting in refrigerator, dry-brining.