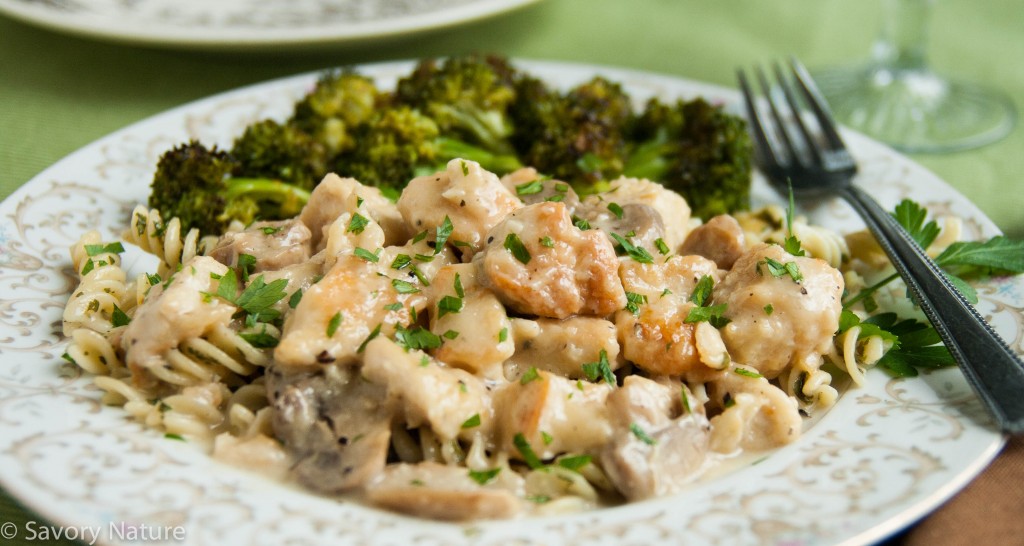 Do you have any favorite recipes that are so easy to make and taste so good that you make them often? This Chicken Vermouth is that type of recipe for my family, and I bet it will become one for yours, too! It comes from an old cookbook called Ideals' Quick and Delicious Gourmet Cookbook by Naomi Arbit and June Turner. I've adapted it to be gluten free and dairy free, and made a couple other minor changes. The recipe was actually for veal, and we've done it with pork, too. The technique is quite versatile.
The key to making meltingly tender chicken is to slice the chicken breasts in half horizontally to make them thinner, and then to pound the meat to tenderize it. Then you dredge it in sweet rice flour (also called glutinous rice flour – found at Asian markets) and brown it. Remove it, sauté a little garlic, add vermouth and a bit of lemon juice, and scrape up all those tasty browned bits. Then you add back the chicken along with some canned mushrooms, and let it simmer 15 minutes.
I generally serve this over some lightly buttered gluten free noodles to soak up the wonderful sauce.
Pairing it with a green vegetable is nice. Something that's really easy to do is toss some broccoli with oil, sprinkle with salt and roast at 425 degrees F while the chicken simmers. It browns and caramelizes, but keeps just a little crunch – so easy and so good!
So there's a delicious, nutritious dinner – tender, garlicky Chicken Vermouth over noodles with roasted broccoli all in about 40 minutes. Yay!

Chicken Vermouth
Ingredients
2 large chicken breasts (about 1 ½ lbs)
¼ cup sweet rice flour (also called glutinous rice flour and found at Asian markets)
3 Tbsp olive oil
1 clove garlic, minced
4 oz can of sliced mushrooms, drained
½ tsp salt
Freshly ground black pepper to taste
1 cup dry vermouth
1 Tbsp lemon juice (bottled is ok)
2 Tbsp finely chopped parsley
Instructions
Lay chicken breasts flat and slice in half horizontally, yielding 4 thinner pieces.
Lay out pieces on a board covered with plastic wrap.
Cover chicken with plastic wrap and pound to about half their thickness to tenderize.
Discard plastic wrap and slice chicken into about 1-inch pieces.
Heat 2 Tbsp oil in a large skillet over medium high heat.
Put sweet rice flour in a shallow bowl and dredge half of chicken in it tossing to coat.
Place chicken in skillet and allow to brown on one side (about 2 minutes).
Then flip and brown on the other side.
Remove browned chicken to a bowl (try to leave oil in pan).
Add remaining Tbsp oil to pan and repeat dredging and browning process with remaining chicken. Remove to bowl.
Add minced garlic to pan and sauté about 30 seconds, then add vermouth and lemon juice.
Heat, scraping with a wooden spatula, to release all browned bits from bottom of pan.
Add chicken back to pan along with drained mushrooms.
Bring to a boil, and then lower heat and simmer covered 15 minutes.
I suggest serving the Chicken Vermouth with gluten free noodles to soak up the sauce and a green vegetable. See the notes for how to make roasted broccoli.
Notes
If you'd like to accompany the Chicken Vermouth with roasted broccoli, toss fresh broccoli florets with a little olive oil and spread on a foil-lined sheet pan. Sprinkle generously with Kosher salt. Preheat oven to 425 degrees F and roast about 15 minutes until browned in spots and just barely fork tender. Give the broccoli a stir about halfway through the roasting.