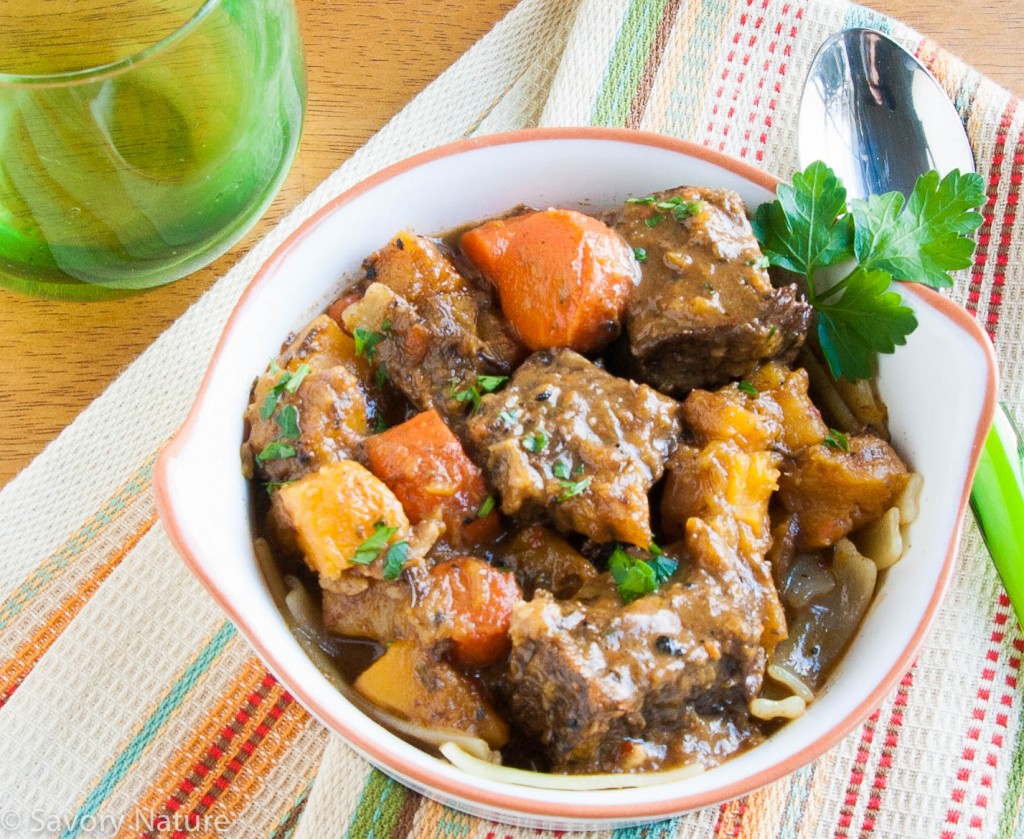 I've debated whether it's wise to publish 3 beef stew recipes in 3 months. But the bitter weather has whipped me into a stewing frenzy! There's something about a hearty beef stew that offers such comfort against the cold grip of winter.
My last couple beef stew-ish posts have been with Asian flavors, a Vietnamese Slow Cooker Pot Roast and Braised Short Ribs over Cabbage. This is a more traditional American beef stew, although it has a lot of wine in it – what doesn't taste better with some wine in it? And, yeah there's a little Calvados or brandy, too – if some is good, more is better? Don't worry – it all mellows out in the cooking. Another thing that's a little unusual is the butternut squash – being mildly sweet and starchy it makes the stew more filling. And the color is pretty, too.
I have to thank my husband for the development of this recipe. He combined some ideas from a variety of sources to wonderful effect. For instance browning the whole chuck roast, rather than cubing it, and then browning. This gives you that wonderful seared flavor, while retaining the juices. Thank you J. Kenji Lopez-Alt of Serious Eats for this idea. Kenji actually cut it into 3 steaks and seared it, but we figured why not just sear the whole thing – feel free to do it either way.
Secondly, we simmer the beef slowly with large-form vegetables and herbs to develop the flavor of the broth and then remove those vegetables, and add chopped vegetables for the last half hour of cooking. If we just left the vegetables in the stew for so long they would get mushy. This way we get the essence of their flavor, but have some just fork-tender veggies too for texture. Kudos to Daniel Gritzer also of Serious Eats for this idea.
The seasonings in this beef stew are warming and lively: smoked paprika, cinnamon, ginger, crushed red pepper flakes, sage, tarragon and Dijon mustard. We expanded on some inspiration from Cooking Light (fave magazine) here. It all comes together in one of the most warming, savory, satisfying stews you will ever have.
Serve this Beef Stew with Butternut Squash and Carrots over gluten-free noodles or just on its own and chase the cold away!

Beef Stew with Carrots and Butternut Squash
Ingredients
About a 2 ¼ pound beef chuck roast
Kosher salt
Freshly ground black pepper
7 Tbsp sunflower oil or other good high temperature cooking oil, divided
2 medium onions, peeled and cut in half through the core
2 large carrots, peeled, cut in half crosswise and then lengthwise
4 cloves of garlic, lightly crushed
¼ cup Calvados (or brandy)
2 tsp smoked sweet paprika
1 tsp ground cinnamon
½ tsp ground ginger
½ tsp crushed red pepper flakes
1 sprig of fresh sage
One 750 ml bottle of inexpensive chardonnay (not kidding – pour the whole bottle in)
1 cup peeled and chopped carrots (2-3 carrots)
4 cups peeled and chopped butternut squash
2 Tbsp Dijon mustard
1 tsp dried tarragon
Gluten-free noodles, cooked according to package directions (optional)
2 Tbsp finely chopped parsley (optional)
Instructions
Sprinkle chuck roast all over with Kosher salt and let sit 1 hour uncovered in the refrigerator.
Heat 3 Tbsp oil in a large Dutch oven over high heat.
Add chuck roast to pan and sear on both sides.
Let the roast sit.
Meanwhile, heat 2 Tbsp oil in the Dutch oven over medium high heat and add the 2 halved onions, 2 large carrots, cut crosswise and then lengthwise, and the 4 cloves of lightly crushed garlic.
Saute about 5 minutes until browned.
Add ¼ cup Calvados (or brandy) to Dutch oven, along with smoked sweet paprika, cinnamon, ginger, crushed red pepper flakes, and bring to a boil, scraping bottom with a wooden spatula to release browned bits.
Add bottle of chardonnay and sage sprig.
Cut beef into 1 ½ inch cubes and add back to Dutch oven.
Simmer with lid tilted 1 hour.
Meanwhile heat remaining 2 Tbsp oil in a large skillet over medium high heat and saute chopped carrots and squash about 5 minutes until they begin to brown. Set aside.
After 1 hour of simmering, take sage sprig and vegetables out of Dutch oven and discard.
Add in chopped carrots and butternut squash along with Dijon mustard and dried tarragon.
Simmer, cover tilted, 30 minutes.
Serve with gluten-free noodles if desired.
Sprinkle with parsley (optional).
Notes
Preparation Time does not include the hour the roast sits, salted, in the refrigerator.