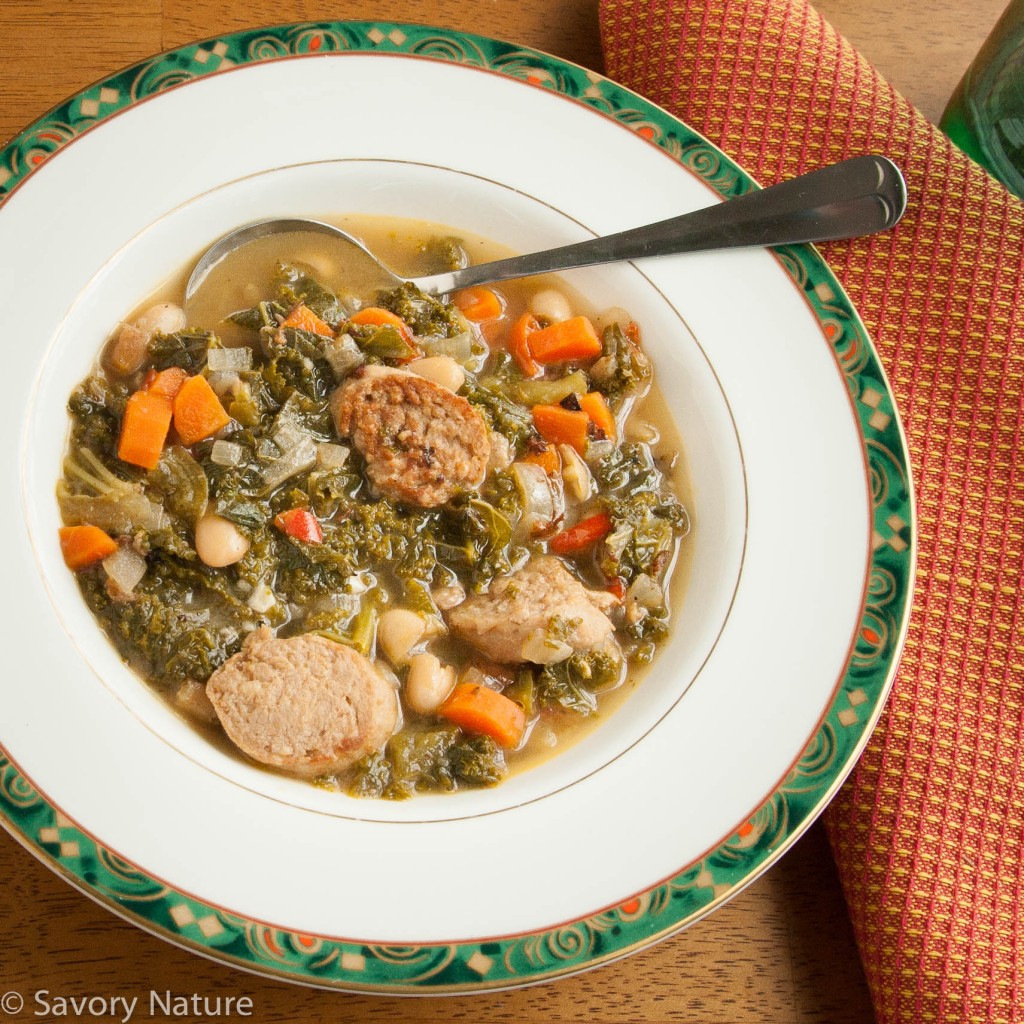 Soup is such winter comfort food. This Sausage Bean and Kale Soup nourished my family as we weathered winter storm Jonas recently. We felt so snug and warm as we enjoyed our soup, while listening to the freezing rain hit the dining room window outside.
This Sausage Bean and Kale Soup recipe takes the classic pairing of sausage and peppers and unites it with carrots, cannellini beans and that ever so popular super food, kale. The result is a soup that is as healthy and nutritious as it is hearty and delicious! Better yet this Sausage Bean and Kale Soup is quick and easy to make, too!
Soup is good food! Warm up to a hot nourishing bowl of comfort with this Sausage Bean and Kale Soup!

Sausage Bean and Kale Soup
Ingredients
4 sweet Italian turkey sausages
¼ cup olive oil, divided
1 medium onion, chopped
½ a red bell pepper, chopped
½ a green bell pepper, chopped
2 carrots, peeled and chopped
Salt and freshly ground black pepper to taste
1 tsp crushed red pepper flakes
½ tsp fennel seeds, ground
4 cloves garlic, finely chopped
⅓ cup dry vermouth
3 cups chicken stock
1 14 oz can of cannellini beans with their liquid
7 oz water
8 cups kale (tough stems removed), chopped
1 Tbsp Dijon mustard
Instructions
Fill a large pot halfway with water and bring to a boil.
Add sausages, turn off heat and let sit 5 minutes.
Meanwhile chop vegetables.
Remove sausages from pot, discard water and wipe out pot. (Cooking them a little before slicing them keeps them from falling apart.)
Heat 2 Tbsp olive oil in pot and add onion, bell peppers, carrots, salt and pepper, crushed red pepper flakes and fennel.
Saute about 5 minutes until vegetables are softened.
Remove sautéed vegetables to a bowl.
Blot sausages dry with paper towels and slice.
Heat remaining 2 Tbsp olive oil in pot and add sausage slices.
Saute them a few minutes until they're browned.
Add vermouth to pot and boil, scraping bottom of pot to release browned bits.
Add chicken stock and cannellini beans with their liquid.
Swirl about 7 oz of water around in the cannellini can to loosen up residual bean paste and pour into pot.
Add sautéed vegetables back to pot.
Bring to a boil, reduce heat, cover and simmer for 8 minutes.
Add chopped kale and Dijon mustard to pot and simmer covered an additional 10 minutes.