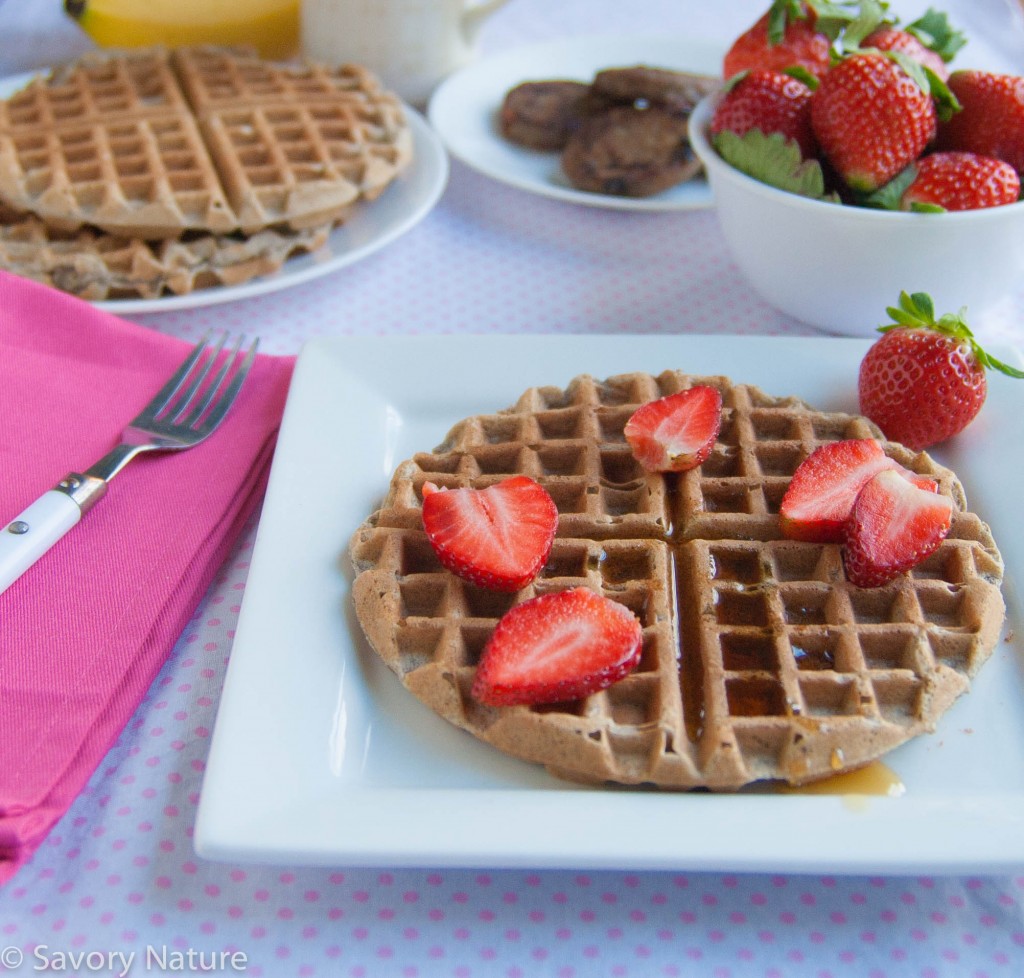 Who doesn't like waffles? They're so light and fluffy with all those little nooks for holding syrup or whatever you choose to put on top. And with Valentine's Day coming, these gluten free waffles are perfect for treating your sweetie to a special breakfast!
If you eat gluten free, you'll love this Banana Buckwheat Gluten Free Waffle recipe. Heck, even if you're not gluten free, you'll enjoy these waffles! They're dairy free, too, but you could certainly use milk if you want.
The buckwheat lends a nice whole grain flavor and a healthy dose of fiber. It's cut half and half with white rice flour so it's not too heavy. The banana is my daughter's idea. She likes to make us banana pancakes, and we just love it when she makes them! The banana flavor is just so delicate and pleasing. Well, it's great in waffles, too!
Sliced strawberries make these Banana Buckwheat Gluten Free Waffles extra festive!
If you like, top your waffles with bright red sliced strawberries in the spirit of Valentine's Day. Strawberries and bananas have such complementary flavors – guess that's why they show up in smoothies and yogurt so often. And of course a little drizzle of maple syrup is nice, too.

Banana Buckwheat Gluten Free Waffles
Serves:
About 9 large waffles
Ingredients
1 cup buckwheat flour
1 cup white rice flour
¾ tsp salt
1 Tbsp baking powder
2 Tbsp granulated sugar
2 eggs
2 ripe bananas (a little bit over-ripe makes them easier to mash)
1 ½ cups coconut milk beverage (or your favorite milk substitute (or milk if you like))
⅓ cup margarine, melted (I used Smart Balance which is dairy free.)
Sliced strawberries (optional)
Maple syrup or your favorite topping
Instructions
Mix dry ingredients: buckwheat flour through sugar in a large mixing bowl.
In a medium bowl whisk eggs until well blended.
Add bananas and mash with a potato masher.
Add coconut milk beverage and melted margarine and mix well.
Pour liquid mixture into dry ingredients and whisk to mix well.
Preheat waffle maker and pour about ½ cup batter into center of waffle maker.
Follow waffle maker instructions to cook waffles.
Serve immediately.
Top with sliced strawberries and maple syrup if desired.
(If you have leftovers, I recommend reheating them in the toaster or the oven to crisp them rather than in the microwave.)