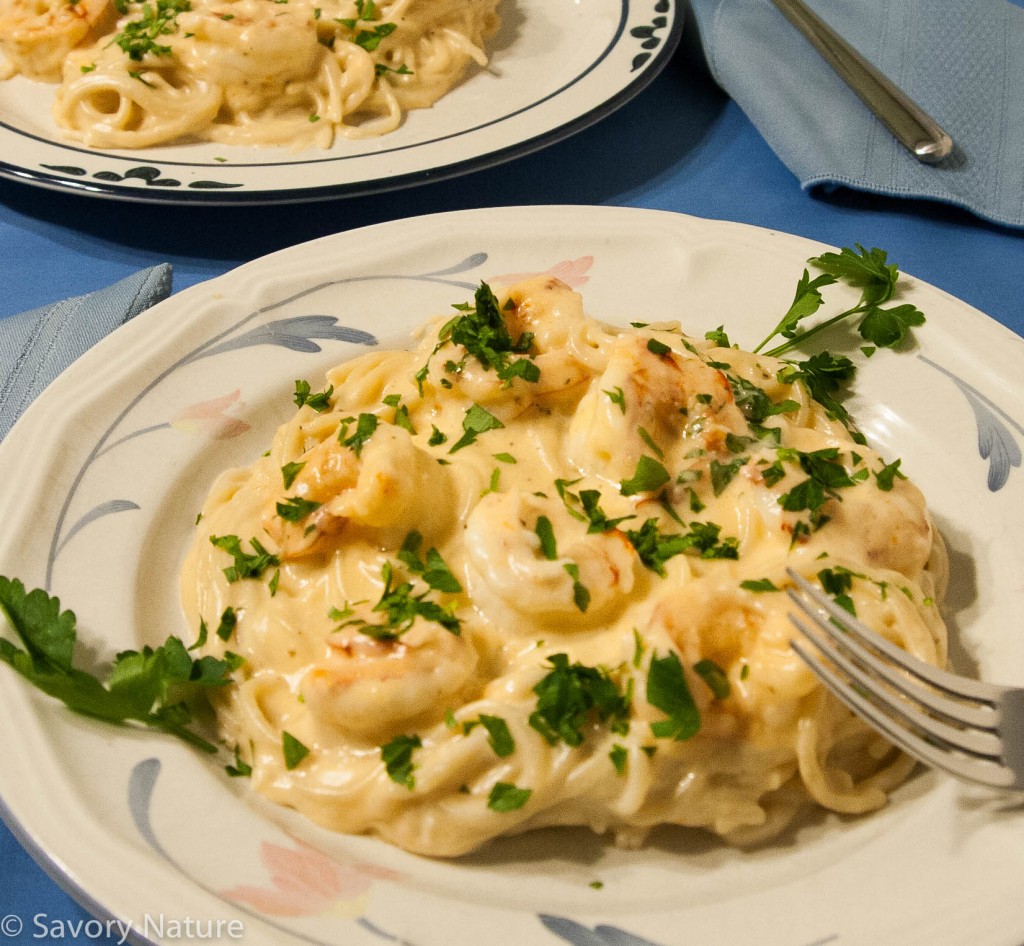 Sweet succulent shrimp in a creamy cheese sauce over gluten free spaghetti – it's just so amazingly good! The conventional wisdom is you don't mix cheese and seafood. Well, sorry, they're just plain wrong! This dish just makes you go "Ahhh." It's so satisfying, yet the cheese sauce is subtle and doesn't overpower the shrimp at all. The sauce coats the shrimp, the pasta, and your mouth with velvety soft deliciousness. If you like Fettuccine Alfredo and like shrimp, you will love the combination in this Shrimp Alfredo!
I used Toscano cheese (from Trader Joe's). It's a lovely, semi-hard, gently flavored Italian cheese. If you can't find it, Parmesan or Asiago would work well, too.
This Shrimp Alfredo is a great over-the-top entrée for a busy weeknight or for a romantic dinner for two. It takes very little time, especially if you use peeled and deveined shrimp.
A little candlelight, a side salad, this Shrimp Alfredo, and maybe a glass of chardonnay – heaven!

Shrimp Alfredo - Gluten Free
Ingredients
1 lb shrimp, peeled and deveined
1 ½ Tbsp olive oil
3 Tbsp margarine
3 Tbsp sweet rice flour (also called glutinous rice flour, found in Asian markets)
2 ½ cup milk
½ tsp dry mustard
½ tsp salt
½ tsp granulated onion
Freshly ground black pepper to taste
3 oz Toscano cheese (or Asiago or Parmesan), grated
10 oz gluten free pasta, cooked according to package directions
2 Tbsp finely chopped parsley
Instructions
Melt margarine over medium heat in a medium saucepan.
Mix in sweet rice flour and stir 1 minute.
Very slowly add milk, stirring with a whisk, so you don't get lumps.
Add dry mustard, salt, granulated onion and black pepper.
Cook over medium heat stirring frequently about 10 minutes until thickened (you want it almost boiling but not quite).
Add cheese and stir to melt.
Meanwhile, heat water for pasta, cook according to package directions, and drain in a colander.
When pasta and cheese sauce are about halfway done, heat 1 ½ Tbsp olive oil in a large skillet and sauté shrimp until just cooked through.
Add pasta and cheese sauce to skillet and toss to coat.
Divide pasta/shrimp mixture between 3 plates, sprinkle with parsley and serve.